Celebrating 15 (independent) years of Think Company
This month marks our 15th year of operation. While we're proud of this milestone, we're most proud of our longstanding status as an independent company.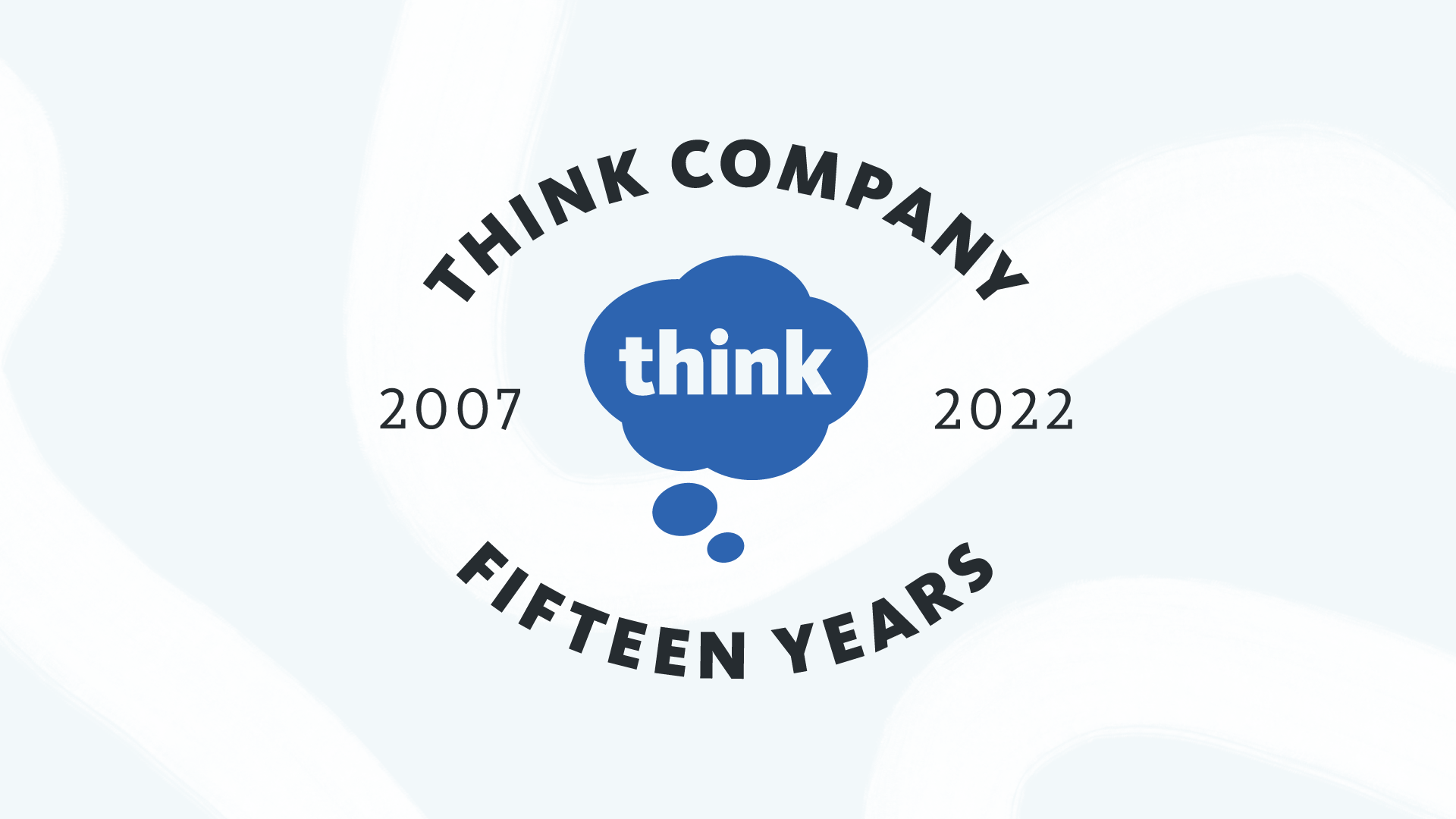 09/23/2022
This September, we're celebrating 15 years in operation. For Thinkers as well as our friends and partners—some who have been cheering us on since our founding in 2007—this is an exciting moment of reflection as we think about the next 15 years and beyond. Today, we're extremely proud of the size of our team (over 150 Thinkers!) as well as our depth of expertise in improving experiences by designing better digital tools for customers and employees.
While operating for 15 years is a noteworthy accomplishment, a critical aspect of our success is tied to our owners' (Carl White and Brian McIntire) commitment to remaining an independent company despite a trend toward consolidation in our industry. With the agreement and support of company leadership, we've preserved an enduring perspective on why this company began, how we want to work with clients and each other, and what principles are non-negotiable to us, especially in our field.
15 years by the numbers
160+
Innovative, ambitious client organizations who have partnered with us to push their industries
430+
Current Thinkers (150+!) plus Think alumni who have contributed to our field's excellence, growth, and community
48
Local and national recognitions received for our work, business, and people
Our status as "proudly independent" is what allows us to maintain a standard of service and a culture we're dedicated to evolving in a few essential ways:
High quality, consistent work
We want to remain profitable and to continue to grow, but being an independent organization means that we don't have investors pressuring us to grow at a rate that doesn't align with our core values. This means we can focus on doing what's best for our clients and the people they serve without pressure to deliver mediocre work on an unreasonable schedule.
A focus on humans
Because we are driving against realistic goals, we are able to focus our effort on the people impacted by our work. We build tools and services focused on the humans who will use them. Clients meet the actual teams they'll work with. Business decisions are based in empathy for the people that make up the company—which contributes to everyone feeling happier and healthier at work.
Being an independent (singular) organization means that there's consistency in the "product" our clients get, because we work as one team. Our clients meet their real team, and get to know and trust us as partners.

Think's independence allows us to be human centered in everything we do.

Our founders and executives see us and know us as whole and unique individuals. When business decisions are made, they are made with each of us in mind.

Privatized organizations sometimes get bogged down in hierarchy and excessive structure; at Think, our independence allows us to be flexible internally and externally.

As we've debated how to approach organizational challenges, someone on our leadership team eventually asks, 'What do our core values tell us to do?' If we answered to investors who only measure success in multiples, that would never happen.

Our team's talent allows us to deliver top-tier value. Our company's values allow us to deliver that value with confident integrity.
Agency in business and creativity
Without needing to work within the limits of a larger organization (with an already-established hierarchy and structure), we still have the flexibility to make decisions based on experimentation and feedback—internally, and in our creative work. This approach helps us continue to innovate.
… With no plans to change our status
Leadership at Think Company is still committed to remaining independent into the future. We're optimistic about where that commitment might take us, and how it'll affect the people connected to the work we're so passionate about. Thanks for celebrating 15 years with us!
Send us a postcard, drop us a line
Interested in working with us?
We scope projects and build teams to meet your organization's unique design and development needs. Tell us about your project today to start the conversation.
Learn More