In 2014, Think Company introduced six core values that describe "who we already are—the ways in which we interact with one another every day; the behaviors and values that we Thinkers are committed to—that make us all really enjoy being at work": Be excellent, Be nice to people, Be honest, Work together, Continuously improve, and Be of service.
Sitting above our core values is our core purpose to envision, design, and create experiences that enhance people's lives. In our day-to-day work, we exhibit these values with each other, our clients, partners we work with, and especially the people we create experiences for.
What our core values mean to us
The truth is that our core values are essential to the success of Think Company and the relationships we create and maintain well beyond our time together at work.
To show just how seriously we take these values on a regular basis, each quarter the company is asked for nominations to award a Thinker who embodies our core values most. The awardee is given the "Uncle B." Award, which is announced during our quarterly all-staff meeting.
Former Thinker Stephen Miller summed up well how interconnected these core values are in his "Be of service" post: "To be excellent, we must continuously improve. To improve, we need honest feedback—which is always best delivered kindly. We all work together to achieve our individual and organizational goals. To be of service is to holistically embody the rest of our core values—something we trust our coworkers to do every day."
We are constantly seeking honest feedback and critique from each other in order to "continuously improve." One recent DEI survey we launched using the CultureAmp engagement platform revealed that for some, our core value "Be nice to people" makes it hard for team members to give critical feedback because that feedback might not be viewed as "nice." This made us think about whether this core value was inadvertently causing strain for some, or holding others back from doing their best work or being the best teammates possible.
What's lacking in "Be Nice to People"?
Our CEO Russ Starke originally wrote about "Be nice to people" when we first developed our values. His main point was that Think Company rejects the notion that "being nice" isn't part of the recipe for success, as many other companies and leaders might suggest. And in fact, treating people with genuine care and respect can be anything but the path of least resistance, but the effort often yields better results in relationships and for the business overall.
The spirit of this post is something that we still believe in today. There is nothing wrong with being nice to people and it is still something we exhibit in our daily interactions. However, we've found that a culture of "niceness" can be a hindrance. It can unintentionally dictate a way of being that may not be in line with everyone's life experiences. Niceness implies being agreeable, and that can undermine another one of our other core values, "Be honest."
Because we are human, we naturally interpret and embody our core values in unique ways. Core values are not meant to be prescriptions for behavior, but rather a description of the way we already work and interact as Thinkers. So although they are presented as short and direct phrases, there is a lot of nuance in how we exhibit them.
At Think, we don't deliberately go through our day saying, "these are the core values I'm going to show today." They're just who we are. We are a company led by our values and not by an external facade we try to keep up due to external pressure. We get things wrong, we own up to that, and we find ways to make it better the next time.
After hearing from Thinkers who gave their honest and valuable feedback, we knew we had to shift this language, but at first, it wasn't clear exactly what we would change it to and how we would go about changing it.
The process of evolving a core value
There was no precedent set for this kind of evolution. When writing core values, it is not expected that they will need to be updated that often. The original values remained relevant and unchanged for over six years.
First, the Diversity, Equity, and Inclusion committee at Think Company led an effort to evolve "Be nice to people" with the help of all Thinkers. We talked through a few alternatives based on team feedback to present to everyone, including "Be kind to people" and "Care about people." We wanted the entire company to be involved in the process so that the core value resonated with as many people as possible.
That idea led us to put the final decision up for a company-wide vote. It was the most fair and inclusive way to evolve this core value.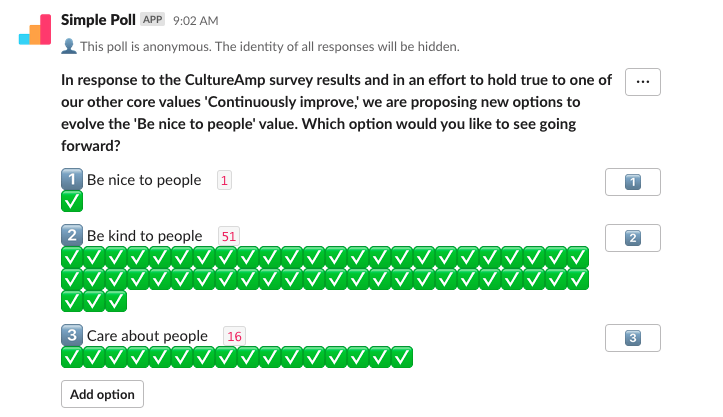 We made a full day of it. Due to being fully distributed during the COVID-19 pandemic, we opened up an anonymous Slack poll in the morning to capture the votes. By lunch, "Be kind to people" was the resounding option preferred to replace "Be nice to people." After the vote, we got together as a company for a virtual lunch to talk about the results of the poll and the impact this process and change had on everyone.
Phil, one of the earliest members of the company, saw merit in both "Be kind" and "Care about people" as replacements for "Be nice." He understood why so many chose "Be kind," but also saw how we care about people, explaining, "…Think Company is an exceptional place for me where people do exhibit caring in so many ways; for example, we design and build accessible [experiences] even when we don't have to because it matters and that's caring."
But a handful of Thinkers expressed a strong and consistent example of the distinction between nice and kind, which seemed to resonate with most of the team and directly address the need for a change: kindness implies action beyond the surface level; it goes deeper than simply agreeing with someone to avoid conflict.
Be kind to people
Moving forward, we're officially replacing "Be nice to people" with "Be kind to people" in our list of core values. This may seem like a minor change with little impact to our day-to-day or the way we interact with our team and clients, but we beg to differ. We believe it's essential that our core values are accurate and regularly reviewed for the impact that the words have on the way we operate. The last thing we want is for these values to lose meaning over time because we didn't want to put the effort into evolving the language as the team evolves.
As Russ explained it in a recent discussion on this process, a seemingly small change can have a large impact: "It's easy to look at this process and say, 'really? You invested your time and energy as a company into changing the word 'nice' to 'kind'?' Yes, we did. Because in the same way actions matter, words matter."
This post wouldn't be possible without the support and partnership of the DEI Committee at Think Company, as well as editing contributions from Suzanne and Mackenzie. 🙏🏾
---
Send us a postcard, drop us a line
Interested in working with us?
We scope projects and build teams to meet your organization's unique design and development needs. Tell us about your project today to start the conversation.
Learn More