Over the summer, around 60 Thinkers moved into their desks inside our new Philly studio—a space that's now triple its original size and designed by us! With construction officially complete and a beautiful space coming to life, we've had time to step back and reflect on this design challenge. Come walk through it with us.
We moved into our flagship Philly studio in early 2017. At the time, this space was already built and designed as a contemporary workspace with desks, a kitchen, and restrooms, and it only required minor upgrades to meet the basic day-to-day needs of our team's working style.
Over time, as more Thinkers moved into this studio and our team itself evolved, we quickly reached capacity and realized that our space needed to grow and evolve with us. We decided it was time to expand into the full second floor of the historic Philadelphia Building and create an ideal working environment from scratch.
The Design Challenge
The plan to expand immediately solved the problem of where to grow, but it also gave us a new challenge: research, design, and iterate on an ideal design and technology studio for the needs of those who use it. We also embraced the chance to step out of our comfort zones as digital-focused experience designers and roll up our sleeves to create a beautiful and functional physical space.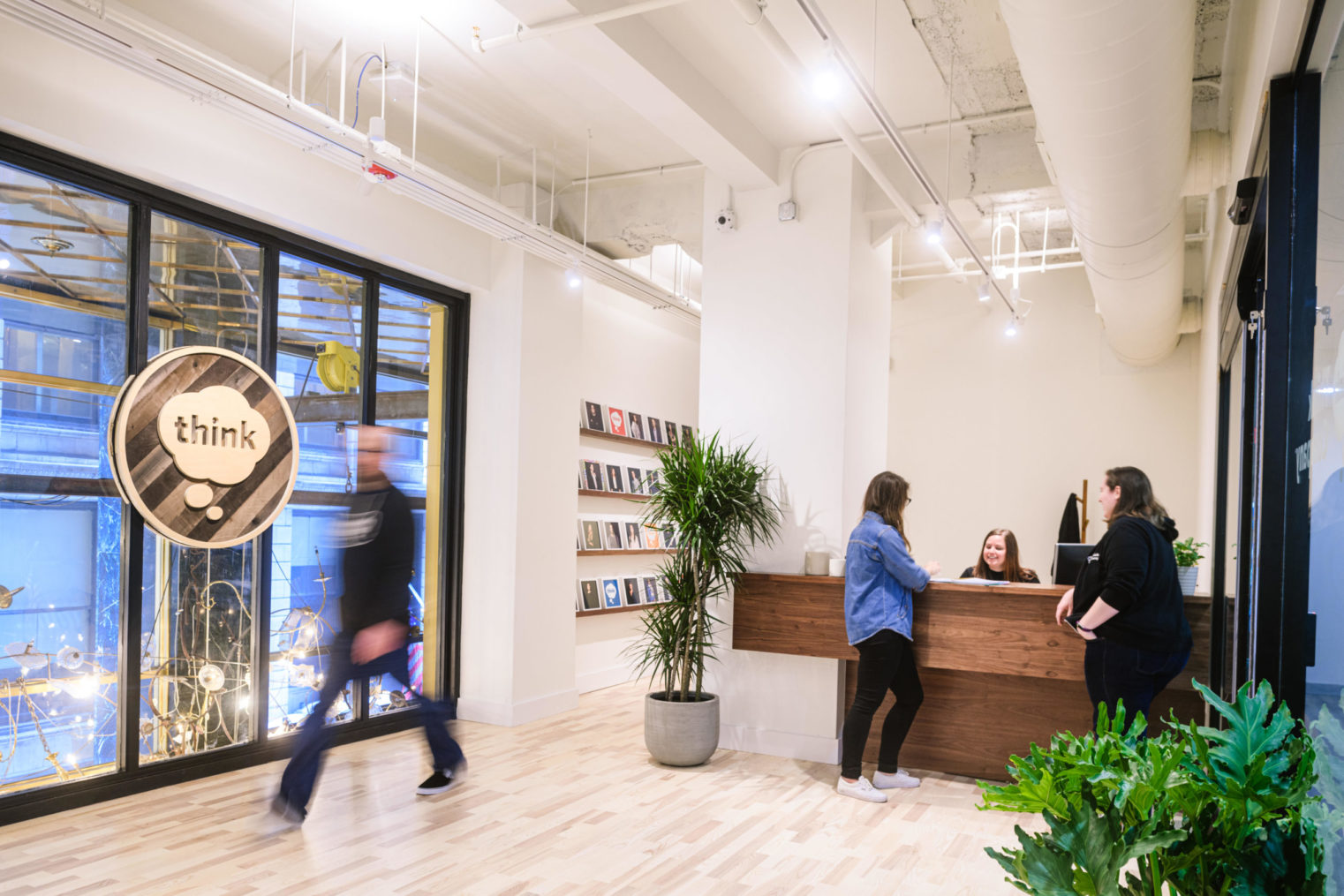 Using our Process
When consulting with our clients, we follow an evidence-based design process that includes research, prototyping, design, building, and iteration at every step. To attack this challenge using a method we trust (and have seen yield amazing results), we took our own medicine and applied these same steps to the build out.
First, we created an internal team of Thinkers with various skills in research, design, and user experience. This effort involved an employee survey, diary study, interviews with different teams, and inspiration gathering from other collaborative work spaces. All this to identify what worked and didn't work about our current space—and what our dream space would look like if given no limits. Thinkers Mark Schuber and Lee Kernke contributed in significant ways throughout this effort. Thank you!
We learned what our team values: both social and quiet space, opportunities for community connection as well as privacy, a premier client experience, ample collaborative meeting and ideation space, a fully-accessible environment, new facilities for the various needs of individual team members, natural sunlight, good coffee, and music, among many others.
Team members contributed thoroughly to the space layout and interior design decisions all the way through to a collaborative room-naming system and furniture decisions for spaces like the new mother's room—all so that the space is beautiful, comfortable, and functional, representing Think Company's aesthetic and values.
As we're actively using the space, we're adding more character through small details, iterating on our initial designs, and adapting based on how our team is actually using the space.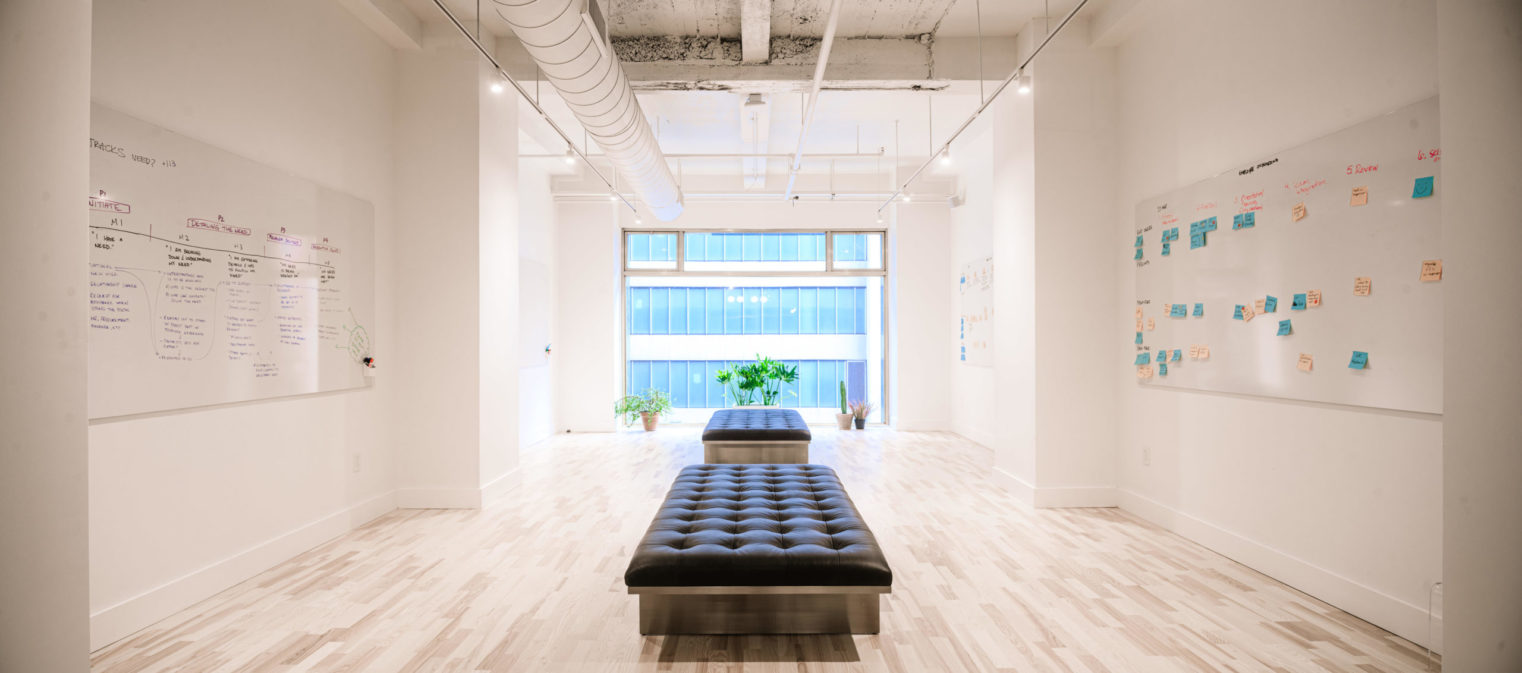 Features
The current features of our new studio include:
Open collaboration and social space:

Two traditional Think Spaces with comfortable couches and chairs, whiteboards, and screens designed to facilitate non-hierarchical collaboration and ideation during meetings
An open "gallery" space for sketching and group collaboration
A kitchen and social space with a coffee bar, tables and chairs, meal preparation space (including two microwaves to handle the lunch-time rush), small group lounge spaces with couches and chairs, and other gathering-focused details like a shared book collection and record player

Options for quiet and individual work:

Several private rooms with doors and tables for one or two people to use for small huddles or off-the-cuff phone calls
A "quiet corridor" with desks and a communal "study" area for focused concentration

Accessible design and ADA-compliant features:

Elevator access to the suite, auto-open front doors, roomy meeting spaces, and other features designed for an accessible physical experience
4 fully-accessible restrooms

Private areas for employee use and comfort:

A fully-outfitted mothers' room
A multi-purpose room for employee meditation, religious practices, or quiet breaks
Nine all-gender, individual restrooms

Space for learning and community building:

A modular design in the common space allowing employees to organize social and community events in a number of formats and layouts

Custom furniture designed and built to meet specific needs:

We partnered with local carpenters Moseley + Killian and Pilote Studios to outfit our meeting, social, and work spaces with pieces that support the unique functions of each area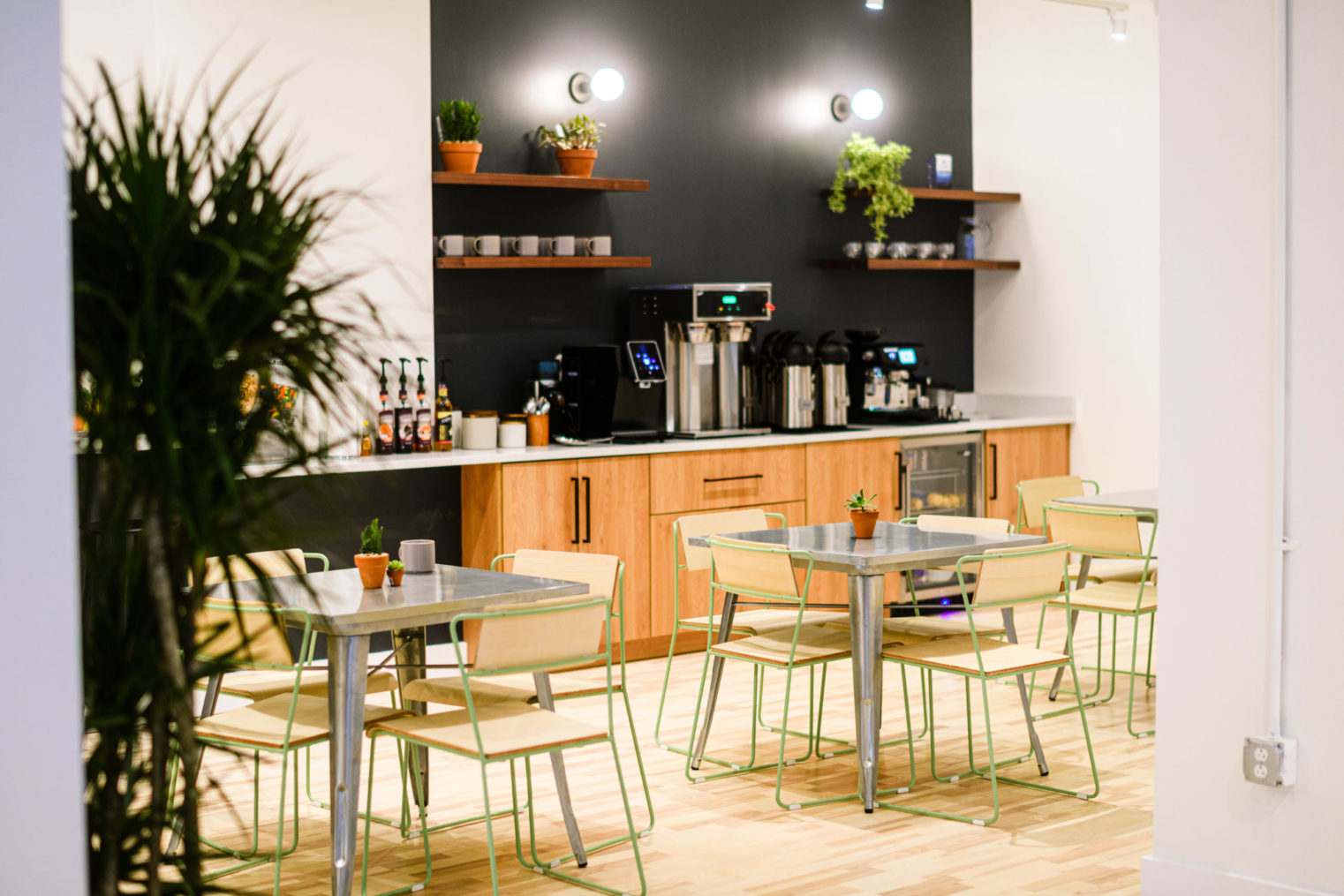 Iteration
The new studio is now open and fully operational, but we're treating it as a lab for fostering collaboration rather than a static and unchanging space. We designed it with the need to evolve in mind, allowing us the flexibility to tweak key details as needed. Between our ever-evolving technology needs, settling on efficient furniture layouts, and creating comfortable spaces for our growing team, iterative change will be ongoing for some time.
* * *
If you want to see the space for yourself, keep an eye out on social media as we're planning to host community events in the coming weeks and months.
THANK YOU to our entire team of Thinkers for their insight, support, and patience throughout this journey. Special thanks also to builders McDonald Building Company and Goldman Properties, the owners of the Philadelphia Building, for their collaboration and partnership with our team.
---
Send us a postcard, drop us a line
Interested in working with us?
We scope projects and build teams to meet your organization's unique design and development needs. Tell us about your project today to start the conversation.
Learn More