Recently, our summer intern suggested a blog post on the origin of the name "Think Brownstone"—something that, come to think of it, we get asked often enough that it's probably high time to put it out there officially!
You'll likely find the explanation to be equal parts mundane and interesting, but great things often come from humble beginnings—and we're no exception. Brian and I have known each other for over 15 years now, and prior to TBI we worked at a few different organizations together. When we were part of UX teams under the umbrella of larger IT organizations, we learned how to communicate and seamlessly integrate with our brethren in development—an invaluable skill set that is core to who we are now and a big differentiator for us as designers. But the landscape was also different then, and both internal management and executives on the client side didn't always see the value in UX investment (especially user research). We're glad that tide has turned, but even back then we always thought that our services could be better explained, positioned, and most importantly, utilized at the very start of the process to ensure success (i.e. not thrown in at the end to put some "polish" on systems and interfaces that were hopelessly flawed out of the gate).
We naturally started gravitating toward other folks who were kindred spirits—people like Russ for instance (who we've also now known for going on 15 years), who weren't content to just keep their heads down and not make waves, but were constantly asking "how can we do this better?" Trying to make improvements inside of very restrictive environments of course led to prophetic declarations like:
"Someday, we're just gonna do this ourselves. We'll create a company that's focused on experience design, and on making decisions based on good, objective research. We'll be at the table from the very beginning, challenging and working side-by-side with the project sponsors, and we'll get out from under being sold as a "nice to have" add-on. We'll get a brownstone somewhere, and create an environment that lends itself to collaboration. High ceilings, natural light, and windows that open."
That mantra was repeated for probably 10 years, shared with a very small crew of people, and eventually distilled down into the shorthand of "well, someday when we do 'Brownstone', we'll do this differently."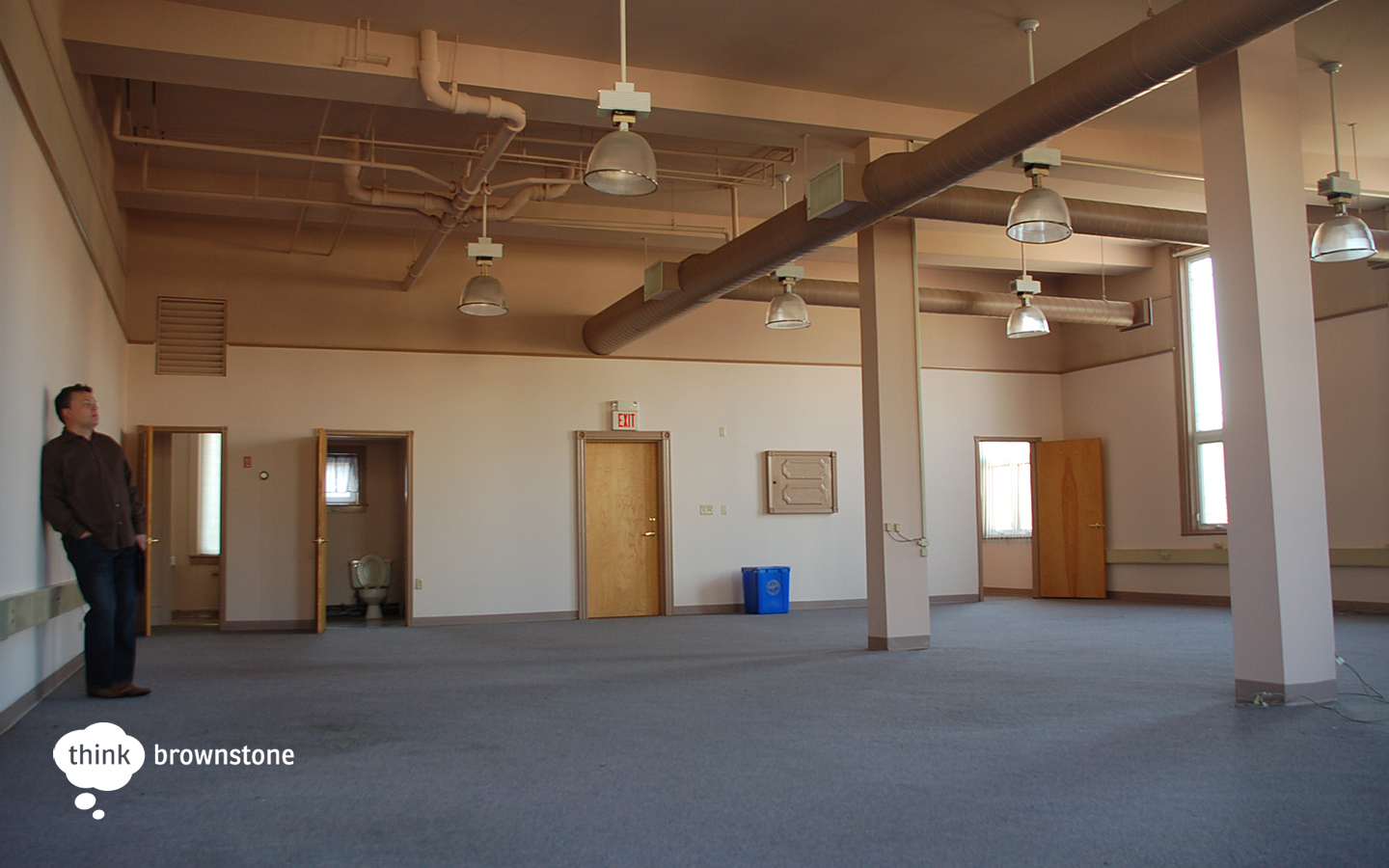 In 2007, Brian was doing some freelance for a dear client of ours (still a client today) that asked him to slowly build a design team for a major initiative. At first, there was room for one additional person. I got the call that it was "time to do 'Brownstone'. For real." In a blaze of glory I quit my job, took the leap of faith, and we founded a new company (triumphant sound effect). In a not-so-inspired moment, we called it "Brownstone Creative Partners" (sad trombone sound effect).
"What are you guys, a law firm?"
We heard a lot of that, and once we had expanded a bit more (we brought Russ on a few short weeks after founding, and Phil followed pretty quickly after), we got a lot of resumes from architects (since our tagline back then was "Architects of Experience"). Live and learn! When it was time to branch out a bit and diversify our client base, we needed a website—and most of the URLs we tried were already taken. By law firms. In an inspired moment, Brian tried to register "Think Brownstone" (as in, "need UX help? Think Brownstone…"), and it was available. I'd love to say that we thought long and hard about it, but at the time it was more like "that's available? Good enough for now."
In short order, the vibe of the comments started to change. Clients started calling us "The Think Team", "The Think Guys", and referring to the company as Think Brownstone. That raised our eyebrows, and coupled with the fact that Brownstone Creative Partners had too many characters to fit on our checks (that might've been a nice detail to know up-front), we decided to officially change the name to Think Brownstone, Inc.—officially abbreviated as TBI.
It has snowballed from there and formed so much of our identity…the Think Spaces™, Think Sessions™, Think Books™, our iconic logo…a happy accident? Perhaps. But great experience design is not an accident. Think Brownstone.
---
Send us a postcard, drop us a line
Interested in working with us?
We scope projects and build teams to meet your organization's unique design and development needs. Tell us about your project today to start the conversation.
Learn More