Our Work
Advancing research by democratizing data
PolicyMap—a Certified B Corporation—launched a comprehensive update of their data and analytics mapping application.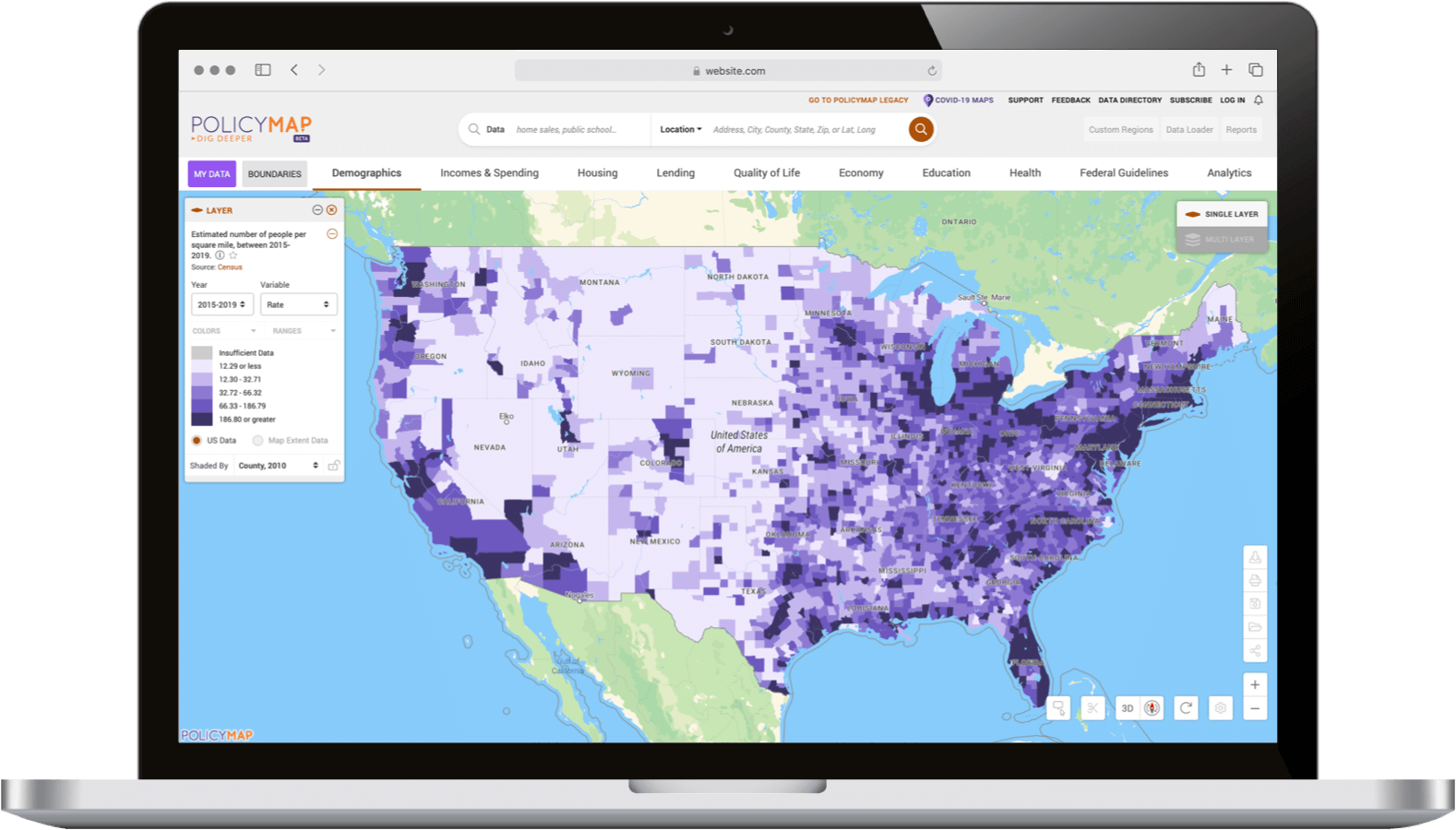 Summary & Goals
PolicyMap aims to remove the technical barriers of plotting data on maps. They came to us wanting to grow their business and attract new customers without disrupting the current users that rely on their platform. The underlying technology that powered their mapping platform had become antiquated and could no longer support their ambitious feature roadmap, so it was essential that the new version prioritize function, performance, and scalability.
Services
Data Visualization
GIS Replatforming
Industry
Geospatial Mapping
Integrated Data Research
Business Intelligence
Analytics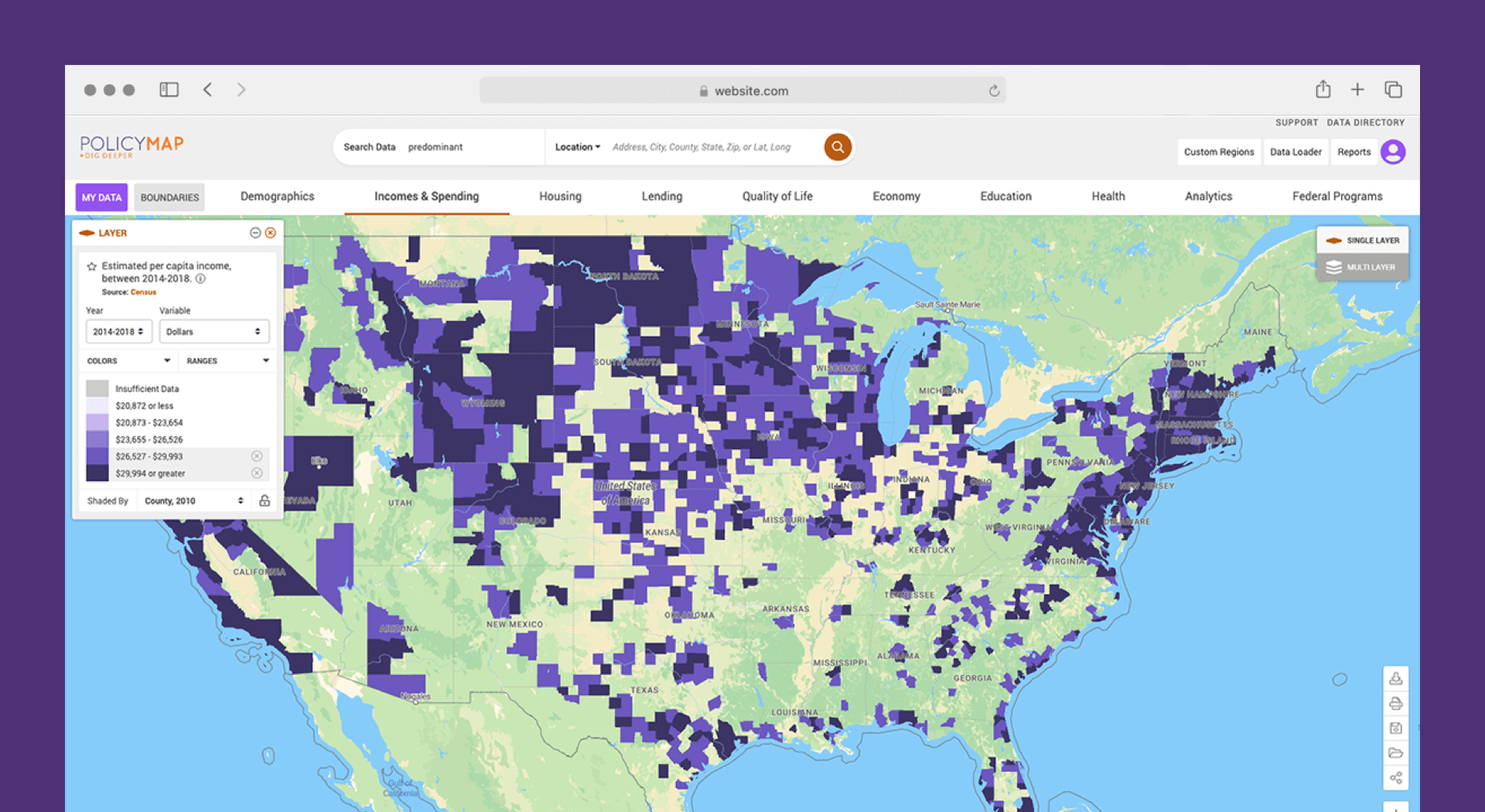 AGILE WORKFLOW TO IMPROVE PROCESSES
Recognizing the benefits of adopting an Agile work environment, we helped PolicyMap improve their internal processes by showing them our workflow and demonstrating how we leverage collaboration tools like Jira. We collaborated closely with the PolicyMap team through a series of design sprints, constantly passing sketches and in-flight work back and forth.
We even assisted PolicyMap with their hiring process, identifying the developers that would be needed to integrate the new front-end work and support enhancements on an ongoing basis.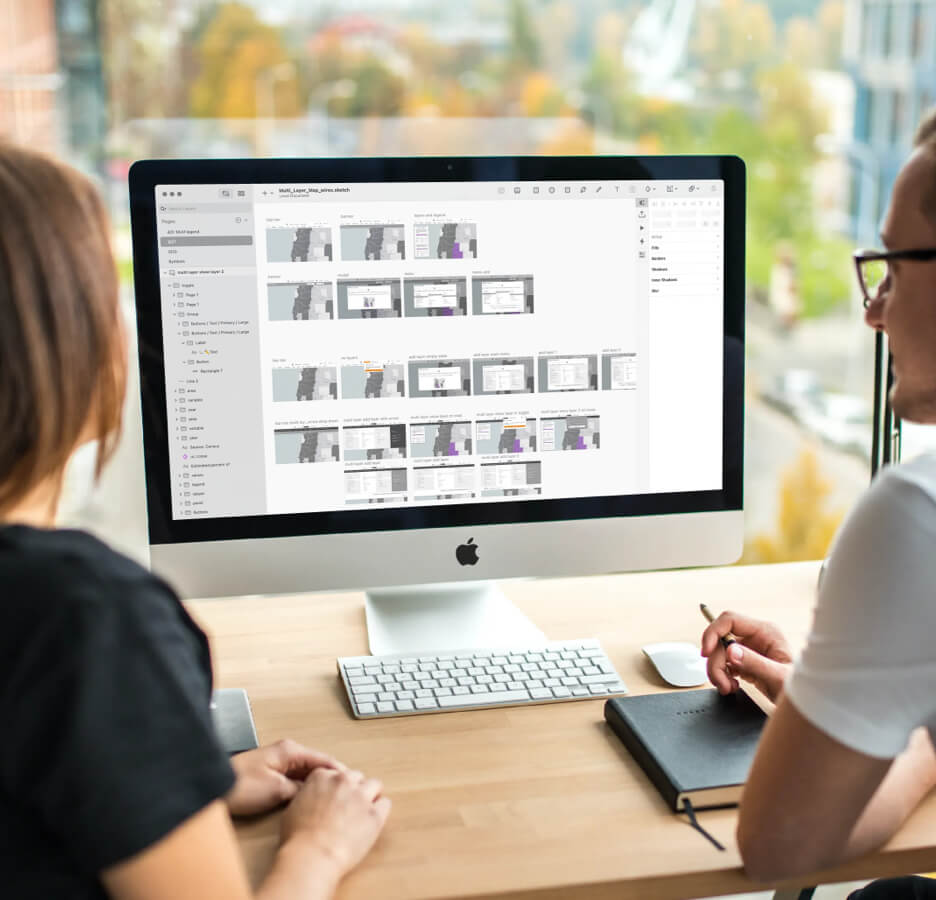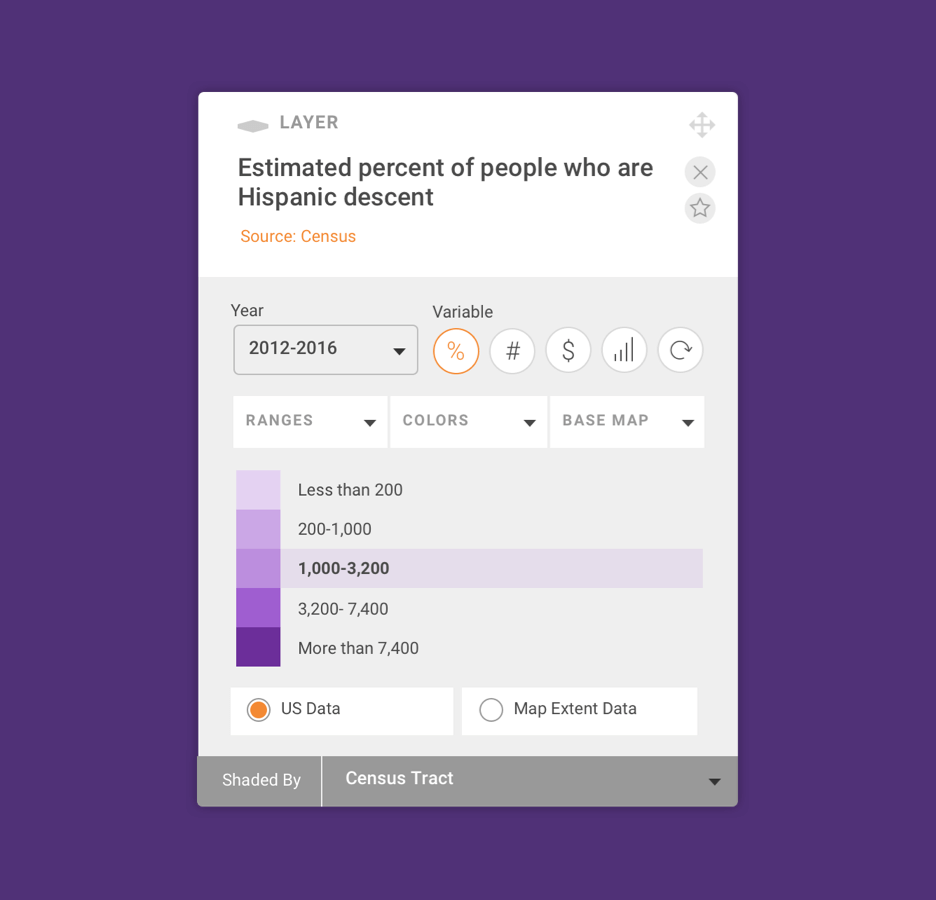 ENHANCING THE PRODUCT INTERFACE
We worked closely with PolicyMap to simplify the product interface and unify the design language across the application to ensure a clear and consistent user experience across all features. In doing so, we were able to elevate valuable but elusive features while retaining ample real estate for the application's focal point: the map itself.
RAPID FEATURE PROTOTYPING
After the initial design work, design and development worked collaboratively to perfect features and bring ideas to life. Instead of a waterfall handoff, our designers and developers paired up to make sure each component looked and worked as it should.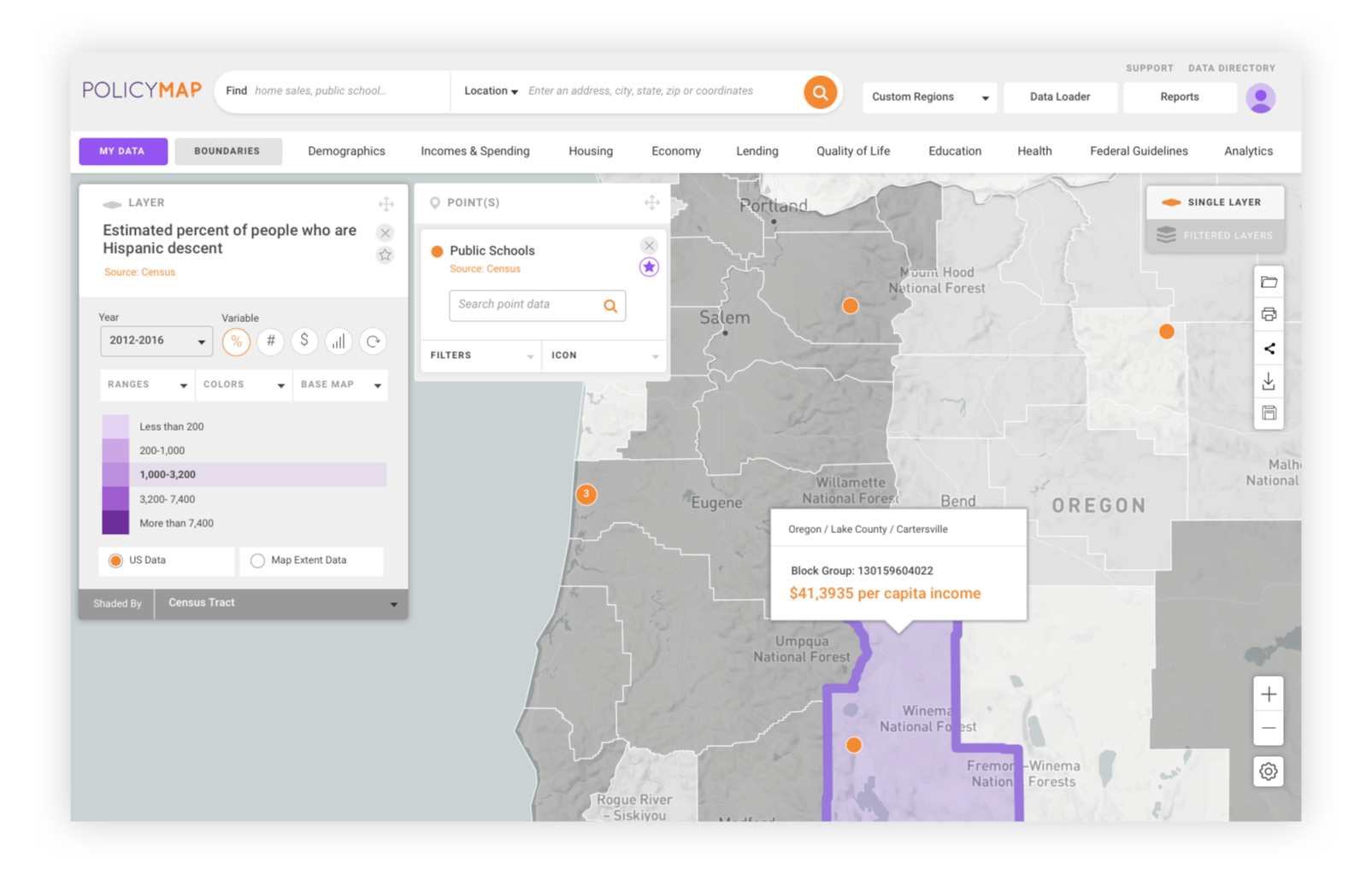 A COLLABORATIVE DEVELOPMENT PROCESS
Our developers and PolicyMap's developers worked conjointly in the same codebase to build and deploy new features on the revamped platform. Additionally, we helped PolicyMap bring their source control management up to date with a collaborative review process in Git using BitBucket.
We frequently consulted on decisions that would increase key performance metrics including the speed at which complex data renders on the map.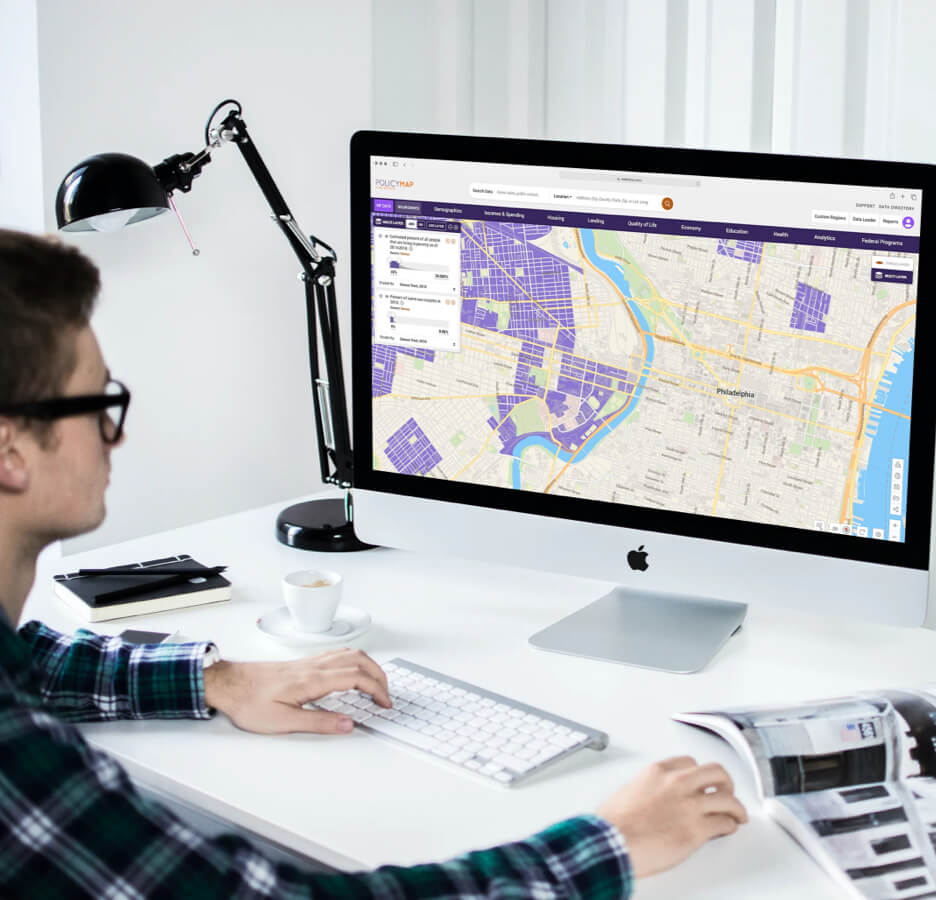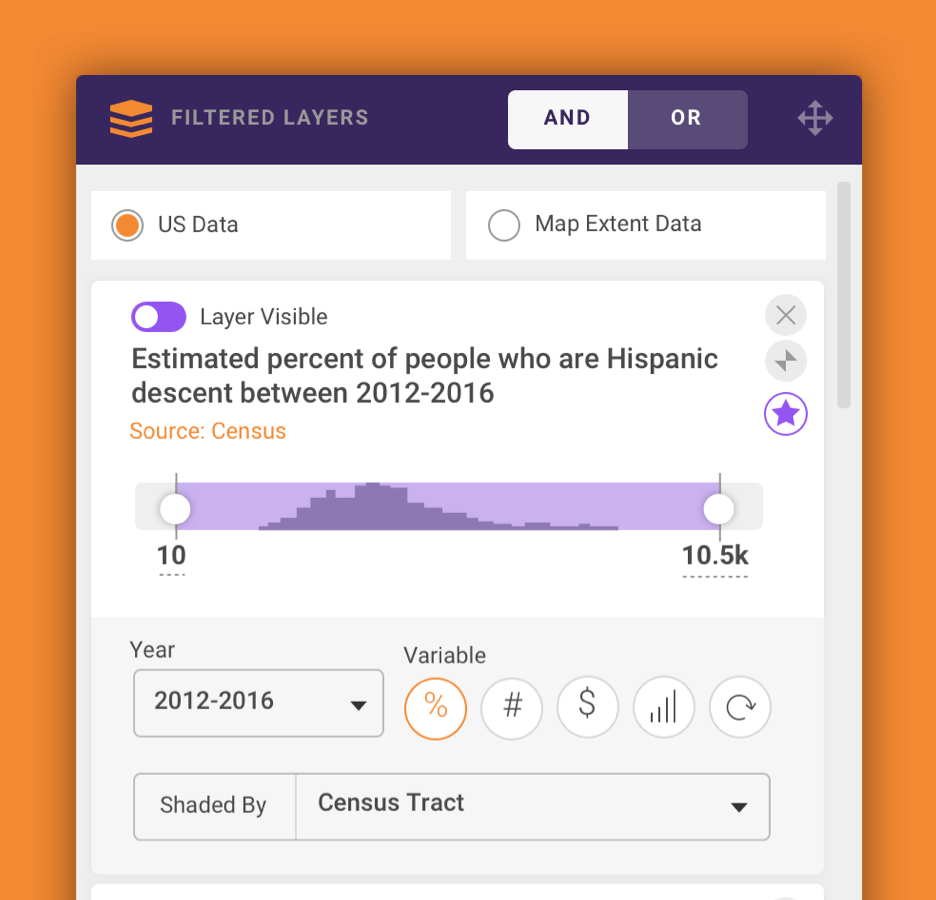 BUILDING A DIGITAL FOUNDATION
PolicyMap now has the foundation and systems in place to more effectively enhance their product. By refining the user experience to be more intuitive, we were able to reveal insightful data in more areas of the interface. For advanced users, we surfaced previously hidden features and controls, providing more power to explore, learn, and share critical insights through the data and analytics platform. We continue to help develop and integrate front-end components into the PolicyMap system.
Drop us a line
Let's talk about your project
We scope projects and build teams to meet your organization's unique design and development needs.
Start a conversation
Want to see more?
Check out some more work.