The Think Blog
What design leaders can learn from FiveThirtyEight's evolution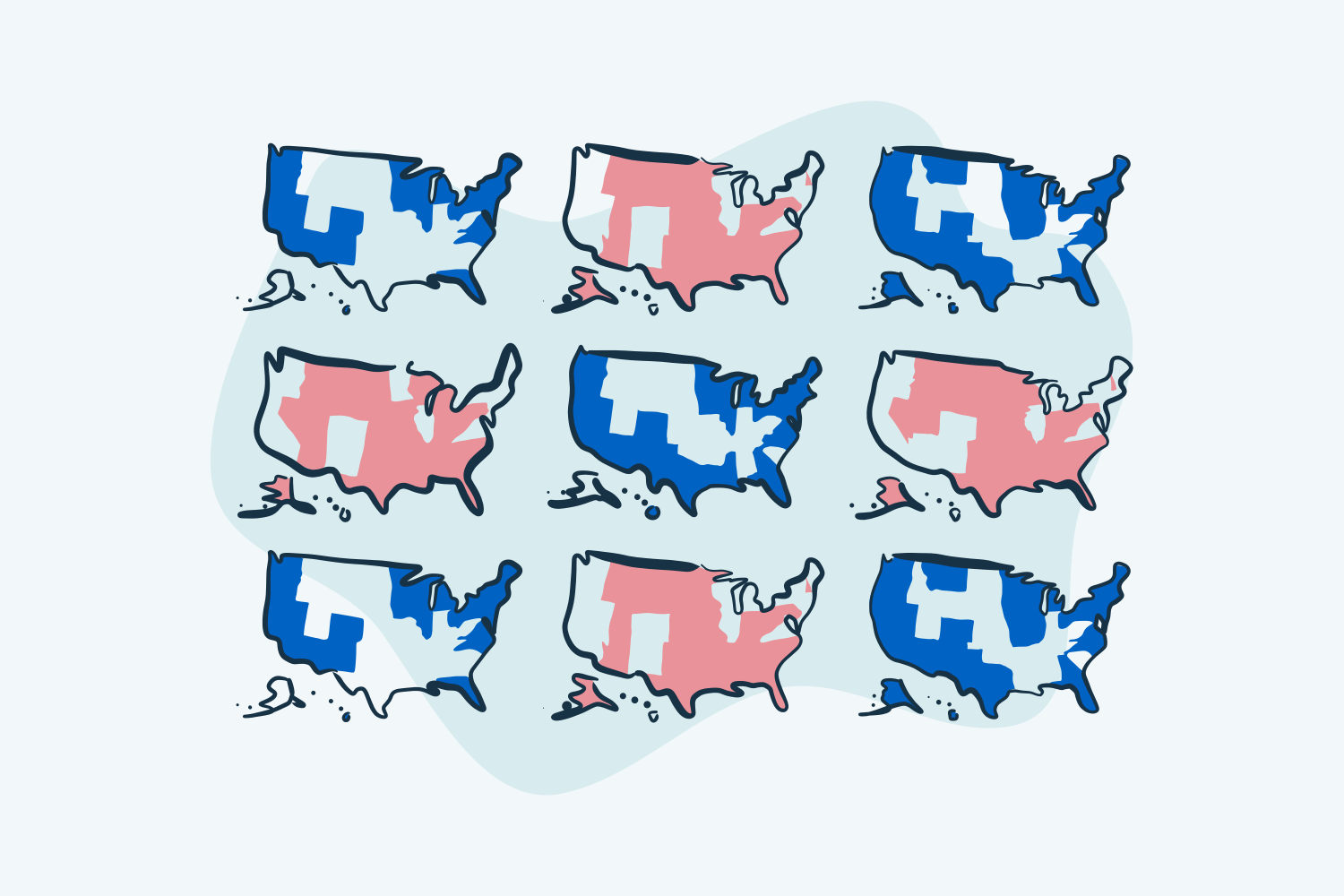 FiveThirtyEight is a website that produces data-oriented content on current events in politics, economics, and sports. Much of their content uses a unique statistical methodology developed by Nate Silver, Editor in Chief. Because their content is data-rich, they focus on presenting information in a visually-digestible way. For many of us in the UX and design field, Nate Silver and the team have been a regular source of inspiration in design and data visualization over the years.
When I started working at Think Company in 2008, it was a presidential election year and I was obsessed with the election. I started gravitating towards Nate's original blog and ended up writing about how he presented his work through design and data visualization.
Here we are, four presidential campaigns later, and I've made it an election cycle-tradition to review the work of Nate and FiveThirtyEight from a UX perspective.
In the early days, Nate simply posted images he created using graphing tools. These days, his team of analysts and interactive designers showcase their skills not only through the art of data journalism and statistical modeling, but also interactive design. I've been waiting on the edge of my seat to see what FiveThirtyEight's 2020 Forecast would offer, and when it launched in August, it did not disappoint.
After watching the evolution of this site and team over so many election cycles, I've observed some trends in their approach that have no doubt contributed to their continued popularity. Below are some design lessons I think UX practitioners and leaders can take away from the FiveThirtyEight team to apply to their own work.
Be Open about your Design Process
One exciting thing for data viz nerds like me this year is that Anna Wiederkehr, their Sr. Visual Journalist, wrote a great piece on their design process. She explains that, fittingly, the team started with goals, then worked through a process—complete with looking back at old designs, producing wireframes, and exploring new ideas. Anna tells a compelling story of the forecast's design that any designer, technologist, or project stakeholder should read.
One of FiveThirtyEight's hallmarks over the years is that they've always been open about their work. They've shared the details of their model and invited input from the crowd. I love that they've chosen to give their audience a similar view into the design process and the minds of their designers.
When you're working on a complicated challenge—in this case, presenting large amounts of data in a digestible way—sharing your process openly with your extended team, company, and customers will hold you accountable to the decisions you are making and the reasoning behind your process. It can also give your customers an opportunity to share feedback, which we'll get into shortly.
Use What Works While Experimenting and Adapting
As you can learn through Anna's post, the team also explored a variety of content models—opting to embrace a simpler, modular approach that adapts to the variety of form factors their audience would be using. Additionally, they explored a variety of data visualization techniques. They kept some old favorites, like the winding path, while embracing some new techniques, like the swarm at the top.
As FiveThirtyEight has evolved over the past twelve years, so have designers and firms like Think Company that specialize in design and technology. Data visualization has become a speciality of ours and an important component of UX, so it's exciting to see FiveThirtyEight explore methods like Bee Swarms to tell a compelling data story. It's also exciting that FiveThirtyEight is constantly applying their brand of data journalism in new ways, like their How to Vote interactive, for example, which tracks changes in voting methods and regulations in each state. If you want more, Anna is pretty active on Twitter—sharing more thoughts and encouraging feedback on design and data visualization.
It's essential to experiment with new methods and approaches to give your audience and customers more of what they want and need. You can and should follow emerging trends, try something new, keep what works, and move on to the next thing when something doesn't work out as planned.
Make it a Point to Collect Frequent Feedback
Designers and design leaders know the value of collecting feedback from your customers and your peers. Feedback is an essential component of doing our best work, and it's a key part of continuous improvement—a philosophy that FiveThirtyEight has clearly applied to their work as well. It's clear that feedback is important to them, too, given their openness and interaction with audience members via Twitter. Nothing is perfect, and every design, tool, and organization can always be working towards a more ideal state.
In the spirit of sharing feedback, I have a few thoughts to share for the FiveThirtyEight team.
First, I would love to see Anna's article expand into a series exploring how data journalists work. I'd be very interested in learning about the relationship between their designers and technologists, and how those interactions shaped what we see on the site. These graphs are highly-customized work—a far cry from the static images posted back in 2008. These types of interactions are not easy to pull off and require design and technical prowess as well as a strong collaborative bond between designers and technologists.
The first time user experience (FTUE) is effective, but it becomes a distraction on subsequent visits. A good FTUE is critical to develop a strong foundation for your audience, so I applaud the effort. After a week of visiting I found myself scrolling through a big, distracting hero image and block of latest news to get to where I wanted to land—the bee swarm. The hero image does an ok job of showing the variety of outcomes output by the simulation, but it's a lot of real estate that buries the lede on repeat visits. In many FTUE situations, users are given the option to hide instructional materials on subsequent visits, or the system does it for you.
Fivey Fox is fun, but a little too cutesy for my taste. This is the type of feedback that designers can find frustrating since it's subjective and isn't goal oriented. While I think Fivey distracts from the seriousness of the material, I'll admit that I don't notice him after multiple visits. What is a design leader to do with this kind of feedback? I'd recommend checking to see if Fivey is distracting from the content in any other qualitative research, and to be open to monitoring whether or not there is an underlying UX problem.
I should also note that my original draft of this blog post was begging for a link over to the National Polls page. Before we could publish the story, the link was added below the forecast change module. Not only is FiveThirtyEight continuously improving their site, they are somehow reading my mind!
Most Importantly, Embrace Change
FiveThirtyEight has come a long way since my first visit in 2008. They've grown iteratively over time, and they've become a leader in data journalism. This is how design works: test out new ideas, see how they perform, embrace what works, and improve on what doesn't work. If you read about how their model functions and think about their evolution, it's clear that embracing change is in their DNA.
I challenge those of you who are designers and leaders to take these lessons from FiveThirtyEight and apply them in your work and at your organization. Over time, the evolution of your tools and services will be just as compelling.
---
Send us a postcard, drop us a line
Interested in working with us?
We scope projects and build teams to meet your organization's unique design and development needs. Tell us about your project today to start the conversation.
Learn More