Services
Software Development and Consulting
Think Company provides custom software development services that support your business goals by bringing to life the exceptional user experiences your teams and customers expect. 
Our software developers are passionate about crafting code that is as beautiful and as elegant as our designs. At Think Company, we believe in open web standards, progressive enhancement, accessibility, and making things fast. 
Our highly-collaborative, user experience-focused approach to software development ensures an efficient path to delivering the right solution—minimizing risk, cost, and time to market.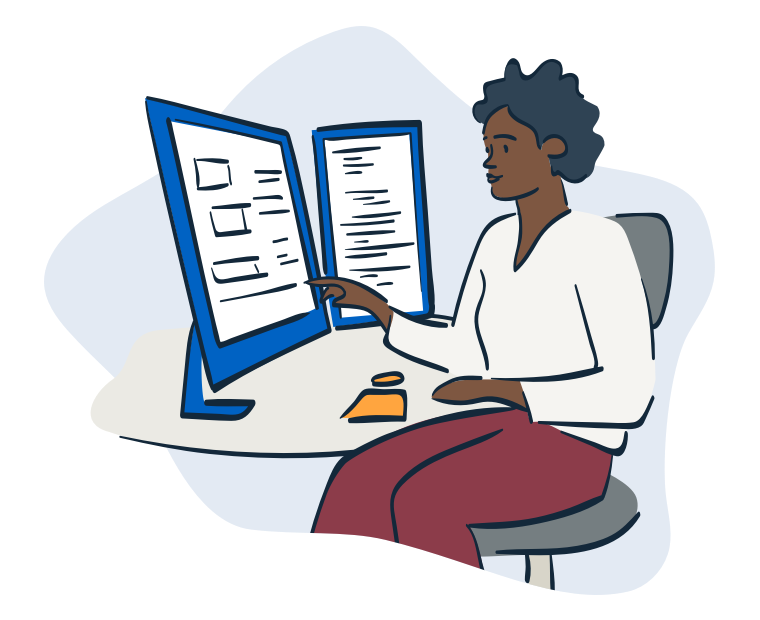 Software Technology Consulting
Understand your technical goals and plan how to get there.
Your Goal
Understand how to approach a custom software development project and get aligned on expected costs.
Our Approach: Technology Discovery Exercise
We conduct a technical discovery exercise so you can understand the size, scope, and effort required for your software development project. This evaluation informs design constraints and the approach to development, delivery, and collaboration.
Your Goal
Update a legacy application without breaking things in the back end.
Our Approach: User Acceptance Testing
We build full-stack user acceptance test suites that provide quick feedback and prevent issues that arise when altering or updating custom software.
Your Goal
Understand how well our current systems are meeting our business needs.
Our Approach: Software Technology Audits
We perform technical audits that compare the current state of your technology with your goals—guiding strategic recommendations to enhance performance.
Your Goal
Move away from our legacy platform to improve the user experience.
Our Approach: Platform Evaluation
We provide CMS platform evaluations that synthesize the capabilities of each CMS platform, the strengths of your organization, and the needs of your users.
Custom Software Development
Develop custom software systems that meet your unique business needs.
Your Goal
Find software developers who are experienced in modern JavaScript frameworks.
Our Approach: Dedicated Software Engineering Teams
Our team of skilled React, Angular, and Vue engineers can work alongside your team. We're familiar with the spectrum of needs from both growing product companies to large-scale enterprise applications in highly-regulated environments.
Your Goal
Improve the quality and consistency of our user interfaces across a variety of applications.
Our Approach: Design Systems
We create design systems—well-documented component patterns for use in React, Angular, Vue, or vanilla JavaScript. The resulting documentation provides your entire organization with the tools and knowledge they need so that everything they create looks beautiful and follows your content rules.
Your Goal
Better manage the content on our website to improve the user experience.
Our Approach: Content Management System (CMS) Development
We build and customize content management systems, including their setup, their implementation, and content migration.
Your Goal
Teach your dev team the importance of front-end development.
Our Approach: Design & Software Development Workshops
We can train your team in our software development process for integrating design into your custom software build, evolving your current practices.
Your Goal
We have data, but don't know how to organize things to make information clear.
Our Approach: Data Visualization Design
We are experts at data visualization—we design and build beautiful and flexible charts and graphs, and can work with you to turn data into actionable information as part of a larger workflow.
Software Consulting
Effectively communicate change through your organization.
Your Goal
Decide on one content management platform.
Our Approach: Platform Evaluation and Specifications
We provide CMS platform evaluations that assesses the capabilities of each platform, the strengths of your organization, and the needs of your users.
Your Goal
Select the right JavaScript framework for your application.
Our Approach: Framework Research and Recommendations
We draw on our deep experience and our current research to make a recommendation that goes well beyond "framework of the week," and takes into account all the business realities that will help you make the right decision.
Your Goal
Document your development needs for an RFP.
Our Approach: Prototyping and Conceptualization
During the elaboration phase, we document and develop the requirements of your project, including proofs of concept and prototyping. This effort results in clear and comprehensive documents that elicit more from a vendor than just a stack of checkmarks.
Send us a postcard, drop us a line
Interested in working with us?
We scope projects and build teams to meet your organization's unique design and development needs. Tell us about your project today to start the conversation.
Learn More