We recently worked with a leading pharmaceutical organization to launch a new customer portal. Building a robust content strategy and implementation plan ensured the portal would launch successfully and the product owner could plan, create, and publish valuable medical content long after launch.
In regulated environments, we often see that content creation can be complicated, slow, and challenging to maintain over the long term. Content strategists can help navigate the constraints of regulated environments and refocus the content strategy around what the customer or end-user needs and how to deliver the right content to that person on the proper channels at the right time. 
But what happens after this content strategy plan is created? If you don't plan for execution, even the best strategy will fail, and content chaos will ensue or creep back in. This is where content operations are crucial. 
What is content operations?
If content operations sounds like a new term, let's define it. 
Content ops supports the people and systems an organization needs to consistently deliver useful, usable content. It integrates and orchestrates all of the complex, moving parts of the content ecosystem.
Content operations are a hub for everything between developing a content strategy and delivering content to users. Content operations puts your content strategy into action by building alignment across people, processes, and systems or tools. 
In practice, this involves a content strategist working to understand how content moves through an organization and finding opportunities to save time, reduce churn, reduce the risk of errors, and build better connections across teams at critical points in the workflow. A content strategist can also help support the change management and training required to adopt new content processes or workflows successfully. 
While creating a digital content strategy itself is relatively straightforward, executing it after its creation is crucial to its success. 
Establishing content operations in a regulated environment
In this specific project, as the customer portal was being designed and built, we were also concluding the initial content strategy phase:
We had identified what types of content would be published, what the publishing workflow looked like, and guidelines for content delivery and governance.

We mapped the content to the digital portal designs, which were going through final regulatory reviews.

Developers were starting to build components.
This is the perfect time to shift gears and think about operationalizing and executing that strategy. With the complexity of this digital portal, we needed to make an actionable and realistic plan to address the details of content execution:
In this environment, what steps are needed to move content through creation, approval, and production to deliver it to the portal? 

How can we combine all the people, processes, and systems required to get to content from strategy to actual delivery?

What systems and tools are in use, and what systems and tools might we introduce to streamline content workflows?
How we used Airtable as a content operations tool
This is where we saw an opportunity to use Airtable as a content operations solution. If you're unfamiliar with Airtable, it is a robust, low-code relational database that feels like a more powerful version of Excel. Airtable can store and map complex sets of content and data, allowing you to build simple, web-based views for collaborators and stakeholders to interact with content. 
The portal project team was already using Airtable as a CMS or asset management system to gather and prepare content for eventual migration to the future portal. Since we already had so much of our work in Airtable, it made sense to leverage Airtable for our content operations and workflow needs as well.

Airtable Interfaces rolled out right as we entered this phase of the work. Interfaces were a perfect fit for this project since they allow you to engage different collaborators and stakeholders with your Airtable data, but in a simple, web-based, actionable view—no need to overwhelm folks with your entire database. We could house all of our content ops information in the Airtable CMS and then use Interfaces to create actionable views and dashboards for various teams.  
We used Interfaces to:
Ask content owners to submit content for publication

Suggest content edits and get owners to accept changes

Manage a history of content changes from regulatory reviews

Work with the developers to handoff finalized content for migration into the CMS

Show the product owner (client) our progress with dashboards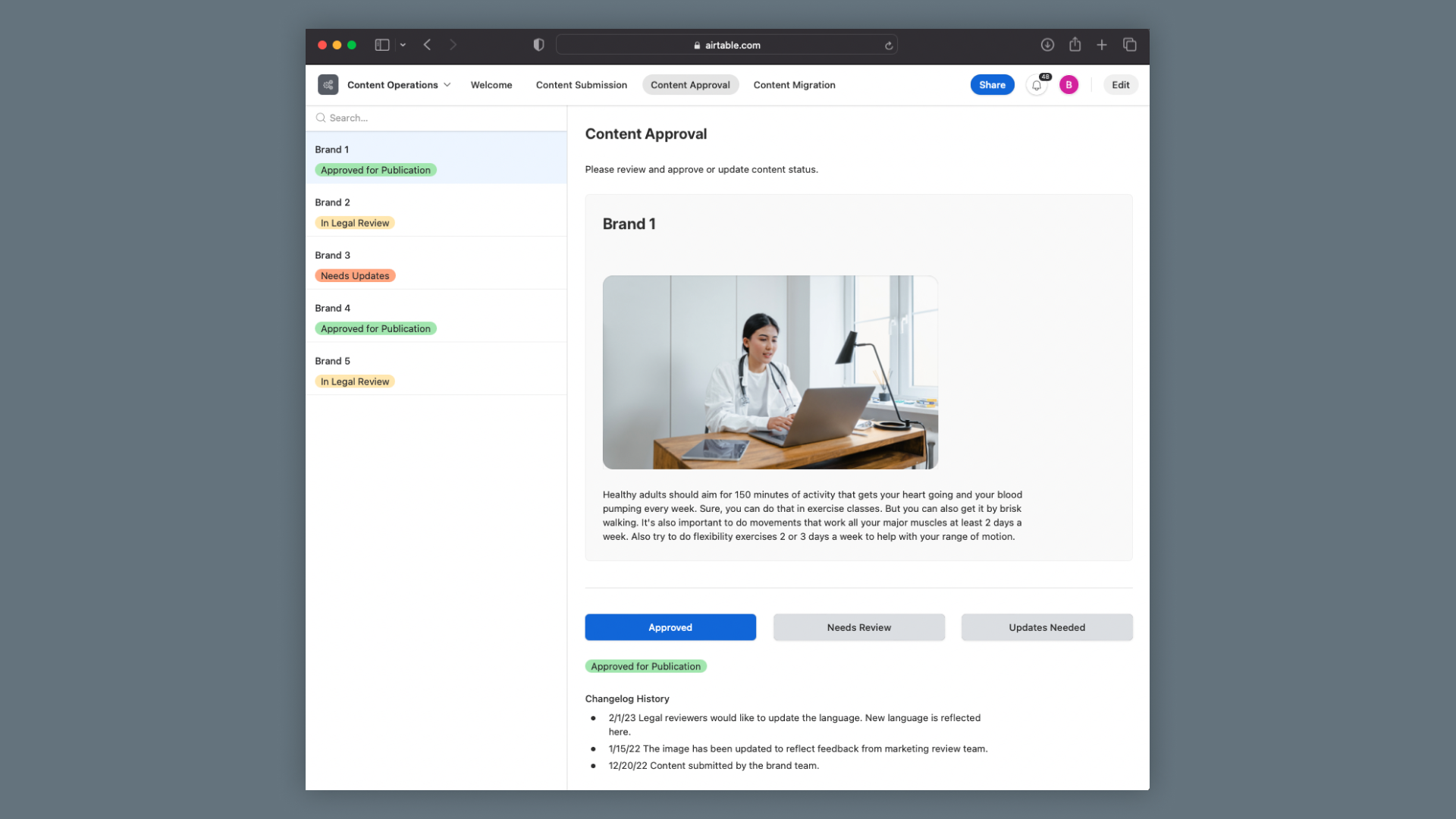 Streamline content handoffs
Many teams may manage their content intake, edits, and handoffs through long email chains with attached red-lined documents, which can introduce a greater risk for errors and gaps. Enterprise content operations are complex, especially in a regulated industry, so we needed a sophisticated solution to streamline the workflow and manage all of the moving parts in one place. 
Support reviews & edits
Regulated environments mean there were a lot of reviews needed. If content changed, the portal team could house the latest version, a changelog of what was altered and why. This gave our team a comprehensive view of legal, compliance, editorial, and marketing content changes. 
Migrate content
Since this was a new portal, the actual CMS was still being set up—so there was no place to load ready content. We temporarily utilized Airtable for content management so we could start working with and preparing content beforehand.  
Closer to launch, when the live CMS became available, we were able to manage the migration of content by giving content migrators access to an Interface view. The Interface showed exactly which content should be placed within each CMS field, leading to a quick and accurate migration to the live CMS environment.
Track progress
Using this approach improved collaboration with our client stakeholders too. Our stakeholders and their leadership team could view an Interface dashboard with high-level progress of content milestones. For stakeholders who wanted to dive deeper into any content, the dashboard also offered a secure, read-only view of each piece of content and any next steps, edits, decisions, or associated changelogs.
The content process is just as important as the plan
Airtable's Interfaces and workflow capabilities acted as a hub for our content operations, allowing us to share content and get actions and decisions as needed from all of the people involved. 
End-to-end content experts put your great strategy and governance plan into action to ensure a scalable content creation process that can succeed.
Are you ready to improve your content operations process? Our team of experts can help. 
---
Send us a postcard, drop us a line
Interested in working with us?
We scope projects and build teams to meet your organization's unique design and development needs. Tell us about your project today to start the conversation.
Learn More