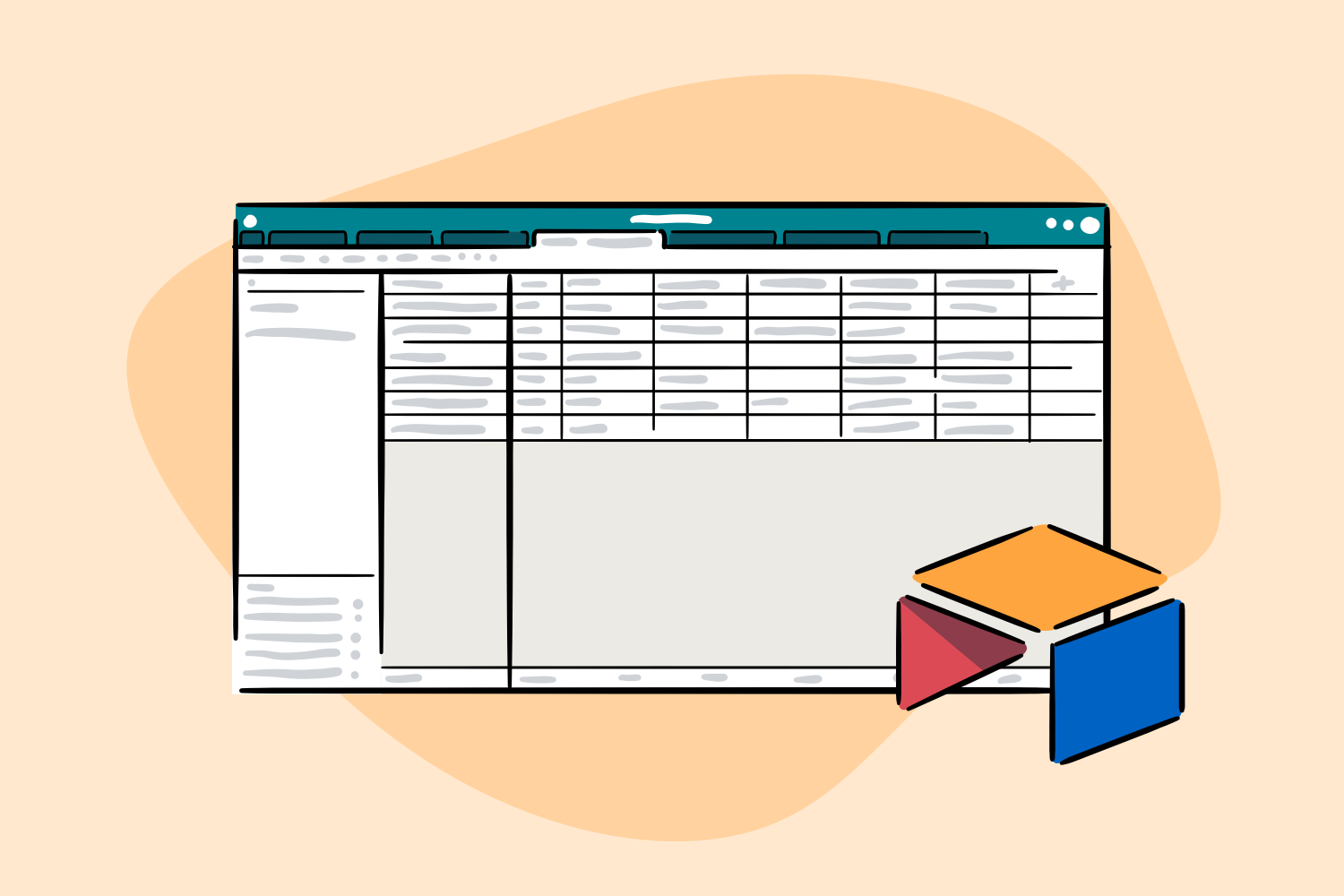 What is Airtable?
Airtable is a tool that enables one to filter, sort, organize, and transform content and information. It's similar to a spreadsheet, but with the added powers of a database—and much better UX. Data in an Airtable base can be organized relationally, allowing for unlimited views and uses.
As designers, content strategists, and thinkers with our minds wrapped up in complex UX projects daily, our team has fully embraced Airtable and found several handy uses for it in our project workflow.
Airtable tips to improve your workflows
Here are some Airtable tips we've picked up while incorporating this powerful app into our work and a few use cases for how we've improved our client's workflows with customized Airtable solutions.
1. Take advantage of Airtable's view options
While many tools give you a few or only one view option, Airtable allows for (what seems like) unlimited ways to view your information. For example, the more traditional grid view might be great when sifting through client data, but the card view is great for outward-facing projects when sharing information or assigning tasks to key stakeholders.
One user-friendly view is the Kanban board. With easily-moveable cards, you can create digestible data on the surface with the ability to click on cards to dive into the finer details. There are a ton of uses for a Kanban board: you can assign tasks to collaborators, sort items by priority, and generally make any kind of data organized, flexible, and good-looking for internal and external use. Here's how to set up a basic Kanban board.
2. Develop Airtable surveys to gauge success
The survey function in Airtable is a great way to gauge satisfaction, garner feedback, and collect important contact information from various users—then share the data with others as needed.
Our team recently used Airtable survey forms to create a survey to better understand the friction in design-to-developer handoffs now that we're working in a hybrid work environment. It's easy to set up, and the form allows you to drag and drop fields—customizing for single-line text, multiple-choice, rating, and much more.
We've also been using the survey feature to gather feedback on our webinars. We can send the public-facing survey to attendees—who receive a simple form to fill out—and our team can view the submitted feedback form from all webinars in the entire series over time… in one giant view.
3. Use Airtable templates to enhance uniformity and efficiency
Opening up Airtable for the first time can be a little overwhelming since it looks suspiciously like Excel or Google Sheets, but the capabilities are much more dynamic. Having templates in place helps users start to navigate the platform. Setting up a template can also provide a great resource for teams, and it's something that Thinkers are doing across practice areas to share knowledge and increase efficiency.
Airtable template examples
If you're just getting started in Airtable or testing out new ways of using the tool, templates can help. Airtable templates are pre-filled with a structure and sample content, and there are many use cases to choose from like a content calendar, user research planner, or project tracker. They're a great place to start and can be modified to meet your specific needs.
Internal data collection
In a recent team meeting, our content strategists shared the Airtable template they were working on for user interview data collection. It was interesting to see them work through the template live, as they're no stranger to Airtable and have been using it for content audits for years.
Design Systems organization
Our design team set up a base to audit and organize each asset of a design system. Through rich visual options (unlike those of Google sheets), Airtable is the perfect platform for managing illustrations, buttons, logos, and much more. We can also implement linked record fields and assign tags to move through the board quickly.
Team deliverables libraries
Our team also created a deliverables library template, which is a resource for anyone looking for examples to reference when starting a new project. Team members can submit deliverables through a form available to the whole company (the same external-facing form mentioned above), which then inputs that deliverable into the appropriate location and format—creating a seamless submission process.
The flexibility of Airtable is excellent; and creating one source of truth helps save time in future projects and keep your team on track.
4. Embrace Airtable's flexibility and don't be afraid to change course
On the other hand, if the data collection isn't flowing the way you'd like it to, try something new. Our tools are constantly evolving, and so should we. Don't limit yourself if you're stuck in a template that doesn't make sense for a project.
For example, our team recently discussed where to place instructions within a client-facing Airtable. One option is to add descriptions to tables and views, but for some, this is just not enough information to clarify the task at hand.
When we found our client a little lost, a team member suggested we implement a Kanban card view as the first tab within the table so that when clients opened the base, they had clear instructions for how to use the tool. Setting up an onboarding atmosphere by creatively adapting a Kanban view helped clear up confusion quickly.
5. Lean on the Airtable community when you're stuck
One substantial positive about using Airtable is the community and wealth of information. If you ever find yourself stuck, the Airtable community is a great resource to help develop a solution and find more Airtable tips. You can use your industry peers and teammates as a resource, too. We have a few Airtable superfans on our team who are always willing to help with the ins and outs if we find ourselves stuck, and their guidance saves us a lot of time and frustration.
Airtable use cases from Think Company
Not only are we Airtable superfans, we're proud Airtable Services Partners. Its capabilities and new features continue to shape the way we use Airtable. Below are a few use cases of how we've created customized Airtable solutions for our clients. 
Content operations
We recently worked with a leading pharmaceutical company to launch a new customer portal. This involved creating a robust content strategy and process for the product owner to plan, create, and publish important medical content well after the launch—a challenge in regulated environments. 
Airtable's Interfaces and workflow capabilities acted as a hub for our content operations, allowing us to share content and get actions and decisions as needed from all of the people involved. Interfaces allowed content owners to submit content for publication, review and edit content, and manage the history of content changes for regulatory reviews. Once the content was ready, it also streamlined the handoff of finalized content to developers for migration. 
Content management systems
Our designers, content strategists, and developers enjoy the collaborative opportunities Airtable offers across disciplines. We recently used Airtable as a content and data management solution for a new application and realized the benefits of using this tool in a new way. 
Airtable acted as a strong foundation, and we utilized an Airtable to Figma plugin that allowed designers to use the content directly in their designs and the developers to use those designs from the design system to streamline the development of the application. 
Airtable benefits and endless possibilities 
There are many uses for Airtable—whether you're looking to synthesize user interviews, create and manage content operations, manage and audit your design system, and much more. We're  still discovering new capabilities regularly. There's something exciting about that!
Are you interested in customized Airtable solutions? Let's chat.
.  .  .
Updated on July 20th, 2023
---
Send us a postcard, drop us a line
Interested in working with us?
We scope projects and build teams to meet your organization's unique design and development needs. Tell us about your project today to start the conversation.
Learn More