What we do
Digital Strategy & Visioning
A clear strategy aligns your team around a common vision for the future that drives real and measurable change. However, articulating that strategy is easier said than done. Intentional digital strategy and visioning efforts rally your team and become the touchstone for all the work leading up to successful initiatives.
For your vision to be effective, it must simultaneously inspire through its scope and reassure through its acknowledgement of reality. We'll work with you to craft a digital strategy that is both energizing and achievable given your timeline, budget, and skills stack.
Contact Us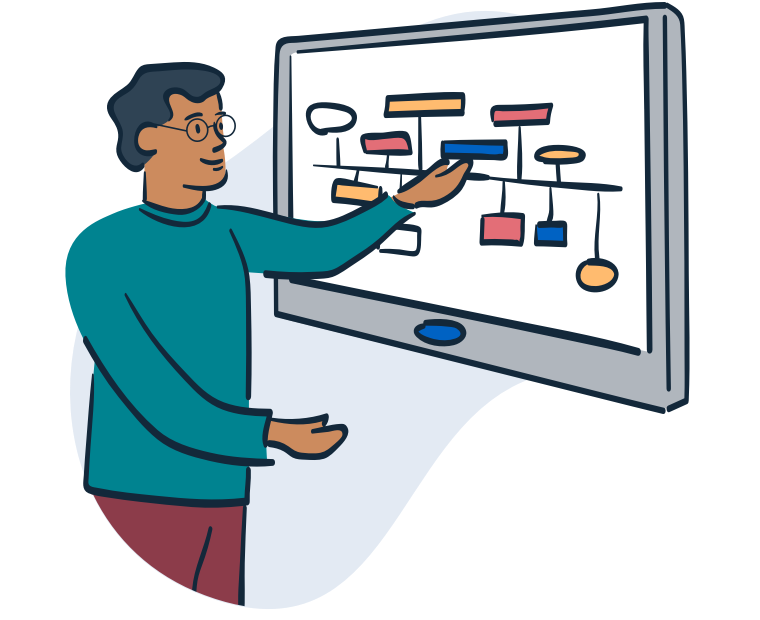 Strategy Visioning
Build the foundations of a digital strategy that ensures efficiencies and measurable results.
Your Goal
Define clear goals and guidelines for your team to follow.
Our Approach: Digital Vision Exploration
We take you and your leadership team through a series of interactive Think Sessions, where we explore your digital vision and see how it aligns with the goals of your organization. Then, we help you identify indicators for success and determine how they should be measured. These exercises provide us with the raw materials to develop guiding principles for your initiatives that your teams can use to focus and validate their digital efforts.
Your Goal
Ensure your digital strategy and vision embodies the expertise and domain knowledge of your team.
Our Approach: Stakeholder Sessions
Your team is an important source of experience and wisdom. We'll gather their input in stakeholder Think Sessions using tested frameworks to explore the current state of your organization and the people involved. Then, we'll brainstorm and prioritize tactics to get the work done. As needed, individual stakeholder interviews help dive deeper into each leader's perspective.
Your Goal
Test your digital strategy and vision in the marketplace.
Our Approach: Competitive Design Research
Our team will conduct competitive and comparative analyses of the market landscape, ensuring we are not only looking at the competition, but also at other industries that may be tackling the same challenges or engaging similar target audiences in ways that align with your goals . We will also conduct qualitative and quantitative research to build an objective, evidence-based model of the needs, preferences, and actual behaviors of the audiences you are targeting.
Digital Strategy
Define the road ahead and measure impact.
Your Goal
Ensuring your entire team is aligned with your proposed digital strategy.
Our Approach: Personalized Storytelling to Showcase Success
We can help tell the story of the current vs. future state of your digital strategy in a way that resonates with everyone on your team. These stories can include journey maps, touchpoint maps, and service blueprints that document the systems, processes, and emotional states your users experience as they interact with your products, services, and each other. Then we'll tell the story of success in future vision use cases and strategy roadmaps that lay out a pragmatic approach to achieve your goals.
Your Goal
Make a customer-first approach to digital products and services.
Our Approach: Design Thinking Workshops
We can provide design thinking workshops tailored to your goals and organizational dynamics. We educate your team about the design thinking process using practical, real-life examples. Participants learn how to apply design thinking to their own work and lives by contributing to group exercises that build empathy, brainstorm solutions, and present findings.
Implementing Your Digital Strategy
Communicate and manage change to improve your digital systems.
Your Goal
Implement cross-organizational service design, break down silos, and gain alignment across your organization.
Our Approach: Personalized Change Management
By establishing guiding principles and change management, we can help you articulate your expectations to everyone as change occurs, understand the channels and preferences of your audiences, develop a communication plan, and proactively communicate to everyone in your business ecosystem.