Design and Technology Guides
A Guide to Design Thinking
Understanding Design Thinking: A Beginner's Guide
At Think Company, design thinking is at the core of nearly everything we do. This approach and process helps us solve complex problems and powers our ability to find actionable goals and sustainable solutions. 
We've put together this beginners' guide to design thinking to share how our teams use it and to empower you to take advantage of its benefits for yourself.  If you're new to design thinking—or want to get a greater sense of how you can implement its principles for better business outcomes—you're in the right place.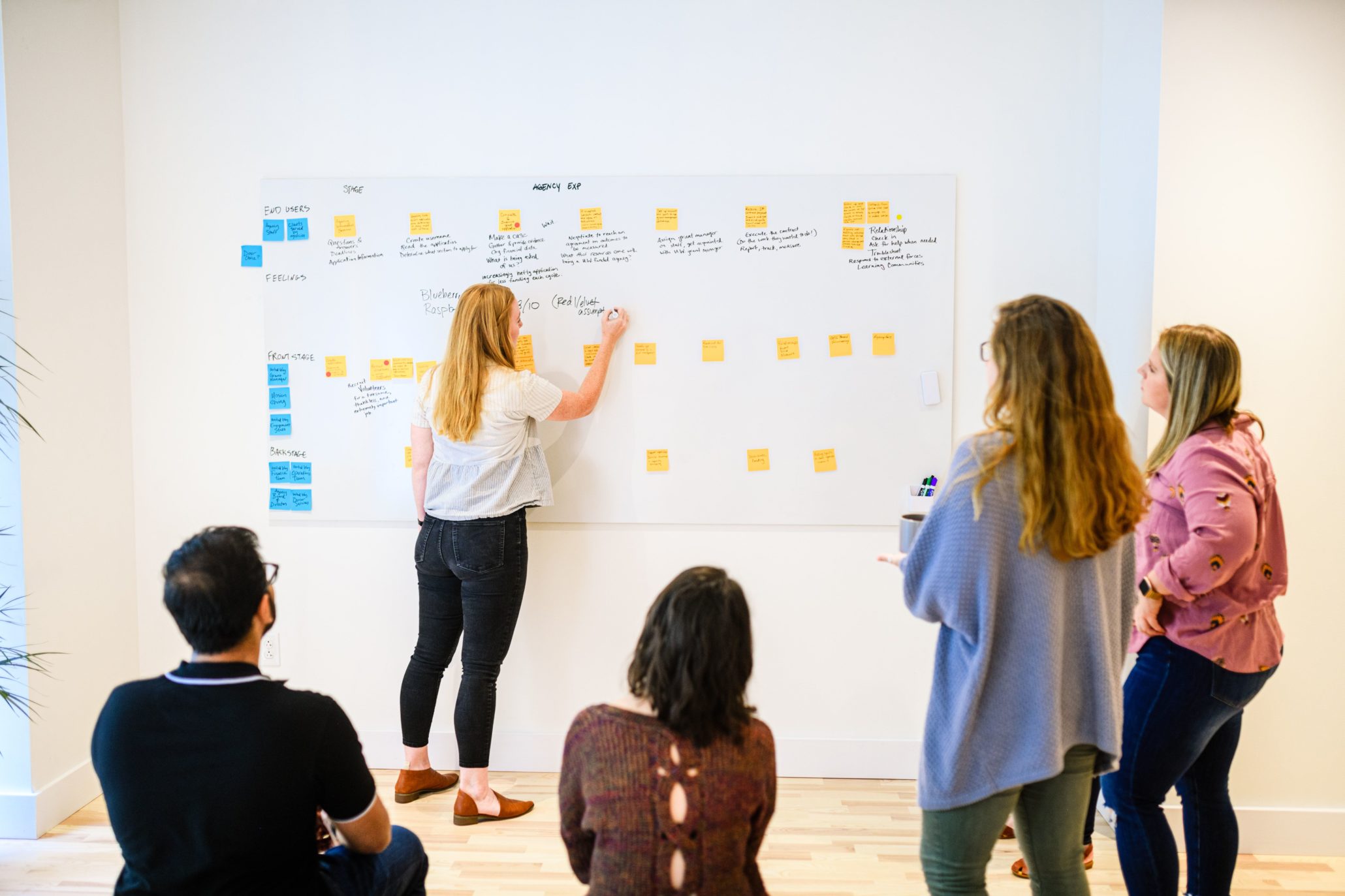 What is Design Thinking?
Design thinking can be challenging to define. It's often described as a combination of a strategy, a method, and a worldview. At Think Company, we use design thinking as an approach for practical and creative problem-solving. 
Design thinking is all about creating innovative solutions with the user at the center, which involves turning ideas into tangible things that can be tested and improved. This human-centered approach translates to impactful and dynamic solutions that evolve with the user.
How do UX and Design Thinking Work Together?
User experience (UX) design and design thinking are both centered around the user and built on empathy, so many people think they're the same thing. The reality is that they're two distinct processes, and they work together beautifully.
UX design lives "close to the ground" in the practical implementation of designs and ideas; design thinking often lives higher up the mountain at the strategic level. Design thinking invites practitioners to explore a problem conceptually, incorporating user needs, technical feasibility, and industry best practices to form a solution.
In other words, design thinking focuses on finding solutions, while UX design is the practical creation and implementation of these solutions.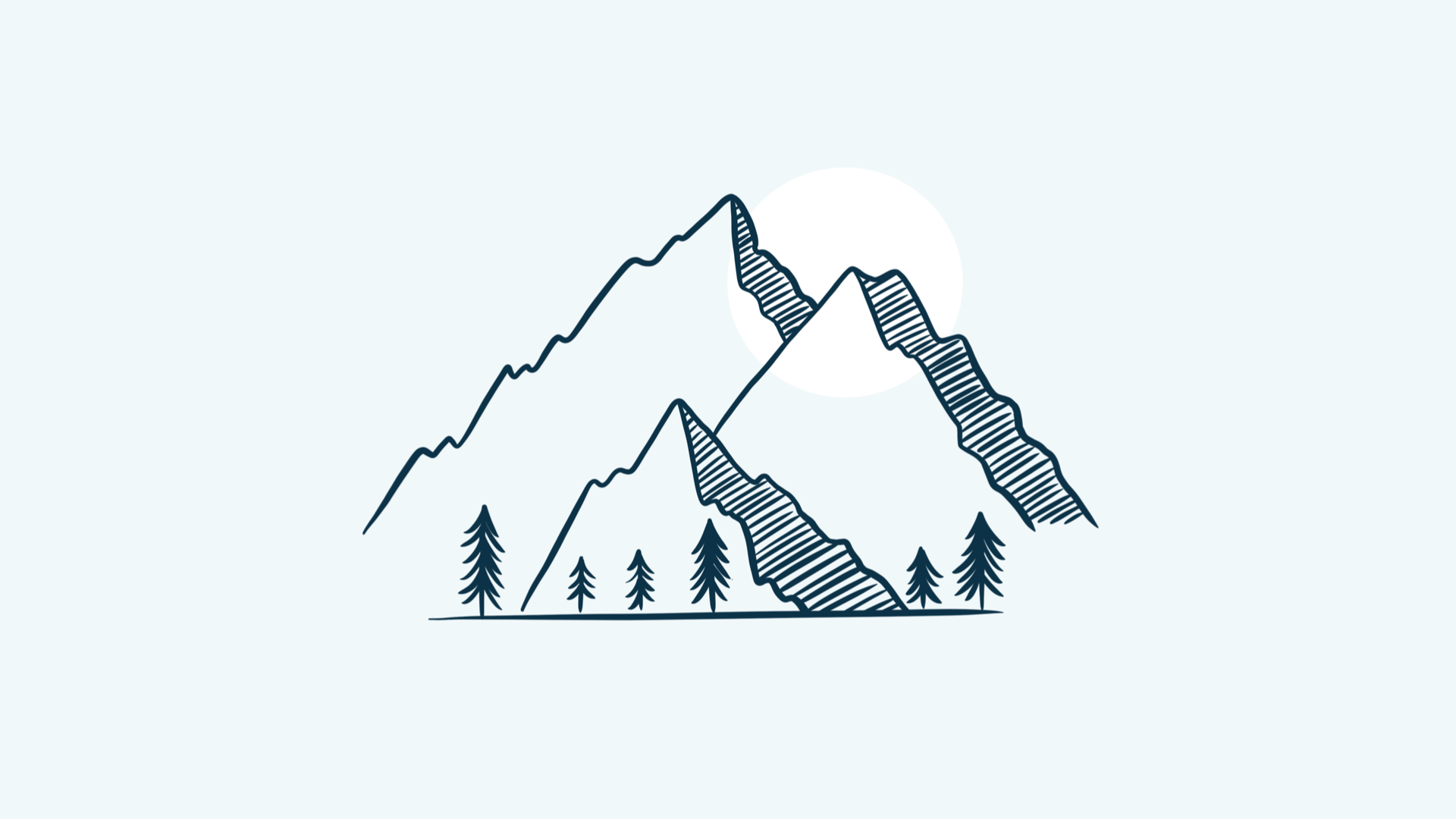 Why is Design Thinking Important?
Since the term "design thinking" was coined in 1969, organizations have utilized its principles to solve big and small problems across many industries. Our teams use design thinking to center the user in the solutions we create and help us innovate to serve the user. Design thinking helps our teams research, prototype, and test solutions to reveal new and effective ways to meet users' needs.
The importance of design thinking in our processes can't be understated. Designing without centering on the user's needs and pain points results in static and inflexible products that aren't sustainable solutions for the user or the organization. With design thinking, teams are empowered to think bigger and generate new and often unexpected ideas. Design thinking creates an opportunity to access unique insights and create dynamic and effective solutions with exciting iterative possibilities.
The Design Thinking Process
As we've talked about, design thinking is both an ideology and a process. The design thinking process is a sequence of distinct steps that guide our teams through problem-solving and help us maintain focus on the user.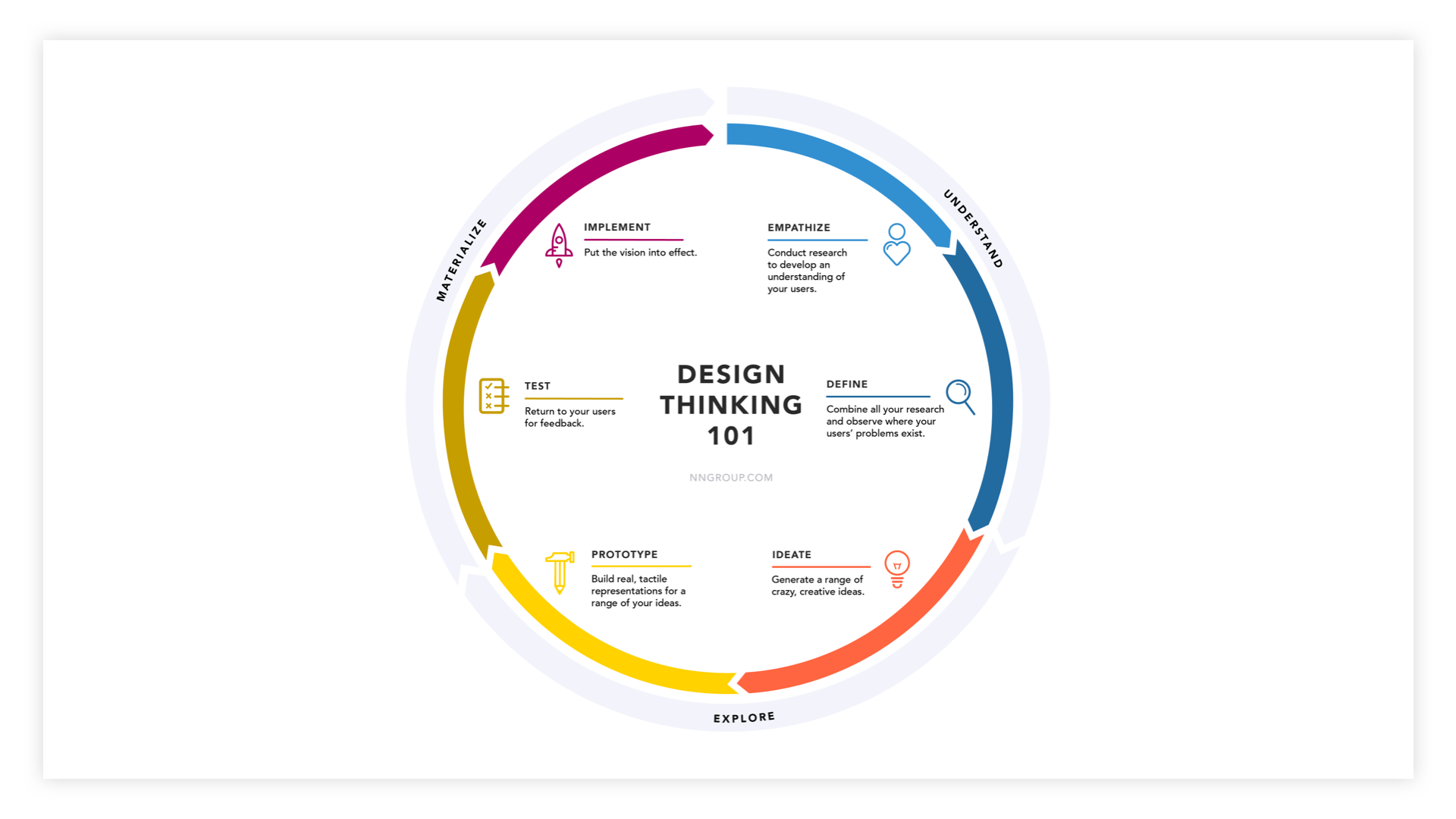 6 Steps of Design Thinking
The six stages of the design thinking process can stand alone but work best when utilized together. However, the stages of design thinking aren't necessarily always run sequentially. Our teams often run different elements at the same time or repeat certain phases iteratively.
Empathize
The first natural stage in design thinking is empathizing with the user. Practically, this looks like conducting research to develop knowledge about what your users do, say, think, and feel. Empathy maps are often developed in this phase to create a shared understanding of user needs.
Define
Once you have a more definite sense of your user's needs, the "define" stage invites you to examine and analyze them. Defining users' needs sets the stage for addressing and resolving those needs.
Ideate
After uncovering and defining your users' needs, the next step is ideation, or finding solutions to those needs. This is often a very creative, abstract part of the process where it can be helpful to "go big" with your ideas and play with unique solutions
Prototype
Once you've identified potential solutions to your users' unmet needs, it's time to narrow the field to the most practical, exciting ideas. By building prototypes of these concepts, you can see how useful they are and understand how they function for your users.
Test
Prototypes require testing. By ​​asking real users to test your designs, you can access data about users' experience of your ideas. If your prototypes perform well, it's time to move to implementation. But if your ideas aren't resonating with users, this is an excellent time to go back to the ideation phase.
Implement
If your testing phase has shown that your ideas are real solutions for users, it's time to bring the vision fully to life. Implementing the concept puts it to work in the real world for a broader range of users, where you can continue tracking its effectiveness over time.
Design Thinking with Agile
Design thinking and agile can be seen as separate approaches, with teams forcing a decision between agile or design thinking. But there's no need to silo the methods—these processes can work together to support practical problem-solving.
Applying design thinking in an agile environment helps create a product development process that is both efficient and user-centered. Teams who utilize design thinking to generate innovative solutions to solve user problems can apply those changes with short agile sprints. These short sprint cycles create a process that is dynamic and adaptable as things change throughout the project.
Benefits of Design Thinking
Now that we've gone over how design thinking is used and implemented, it's time to talk about how it practically benefits teams (and their users):
Drives innovation

Design thinking is all about challenging assumptions and established beliefs, encouraging all stakeholders to think outside the box. This fosters a culture of innovation that extends well beyond the design team.
Creates dynamic products

When your users are at the center of the creation process, the products that result are dynamic and flexible. Rather than being bulky and quickly outgrown, these products evolve as your customers evolve.
Reduces time-to-market

Since users' actual needs are driving the creative process, design thinking generates practical and needed solutions. Design thinking can significantly reduce the time spent on design and development—especially when utilized in an agile environment.
Improves customer retention and loyalty

It may be obvious, but creating user-centered products means that your customers find them more helpful and fun to use. This translates to a customer base that relies more and more on your product, so they keep coming back.
Whether you're establishing a Design Thinking culture on a company-wide scale or simply trying to improve your approach to user-centric design, Design Thinking will help you innovate, focus on the user, and ultimately design products that solve real user problems.
Putting Design Thinking Into Practice
At Think Company, design thinking helps us work through problems and guides us in searching for actionable goals and sustainable solutions. We've seen design thinking streamline the product creation timeline and lead our teams to meaningful, creative solutions that meet real user needs. Products designed this way are dynamic and engaging because they're built with the user in mind. Is it time for your team to start implementing design thinking principles?
Want to see more?
Explore best practices in Design
Send us a postcard, drop us a line
Interested in working with us?
We scope projects and build teams to meet your organization's unique design and development needs. Tell us about your project today to start the conversation.
Learn More