Updated 2022
We recently went through the process of articulating our company's core values. Guided by Ari Weinzweig's recipe for writing your guiding principles and Jim Collins' description of what constitutes a core value, we set out to write down the essential, enduring tenets about which we are so passionate that we would never, under any circumstances, give them up.
Articulating our core values was not an exercise in writing about who we want to be. Rather, it was an attempt to describe who we already are—the ways in which we interact with one another every day; the behaviors and values that we Thinkers are committed to—that make us all really enjoy being at work.
This article is the first in a series of posts that will describe each of our core values in greater detail. First up: Be excellent.
Excellence for its Own Sake
Sure, we all want to receive glowing 360º reviews from our coworkers and positive feedback from our clients (who expect excellence—as they should), but what's remarkable to me is that the people I work with aim for excellence because they just really care on a personal level about doing great work. Thinkers embody Jim Collins' description of "those who turn good into great" in that we are "motivated by a deep creative urge and an inner compulsion for sheer unadulterated excellence for its own sake." (emphasis added)
It Starts with Great People
Building a team full of people like this isn't easy, and our recruiting process is vigorous. If a candidate catches our eye, we do an initial screening call. Then, we set up a hiring manager interview. After this step, we set up a "Think Exercise" with a few more members of the team. Candidates can choose between presenting a custom solution to a hypothetical design or technology challenge, or sharing some past work and walking through the process they used to reach the final product. All of this is a huge investment—but it's worth it.
We do this continuously, for every position, regardless of whether we have an immediate need to hire or not. This means we're usually ready to bring on great candidates when the need arises, and it also means that a new Thinker often doesn't really seem new—we've been getting to know them for months.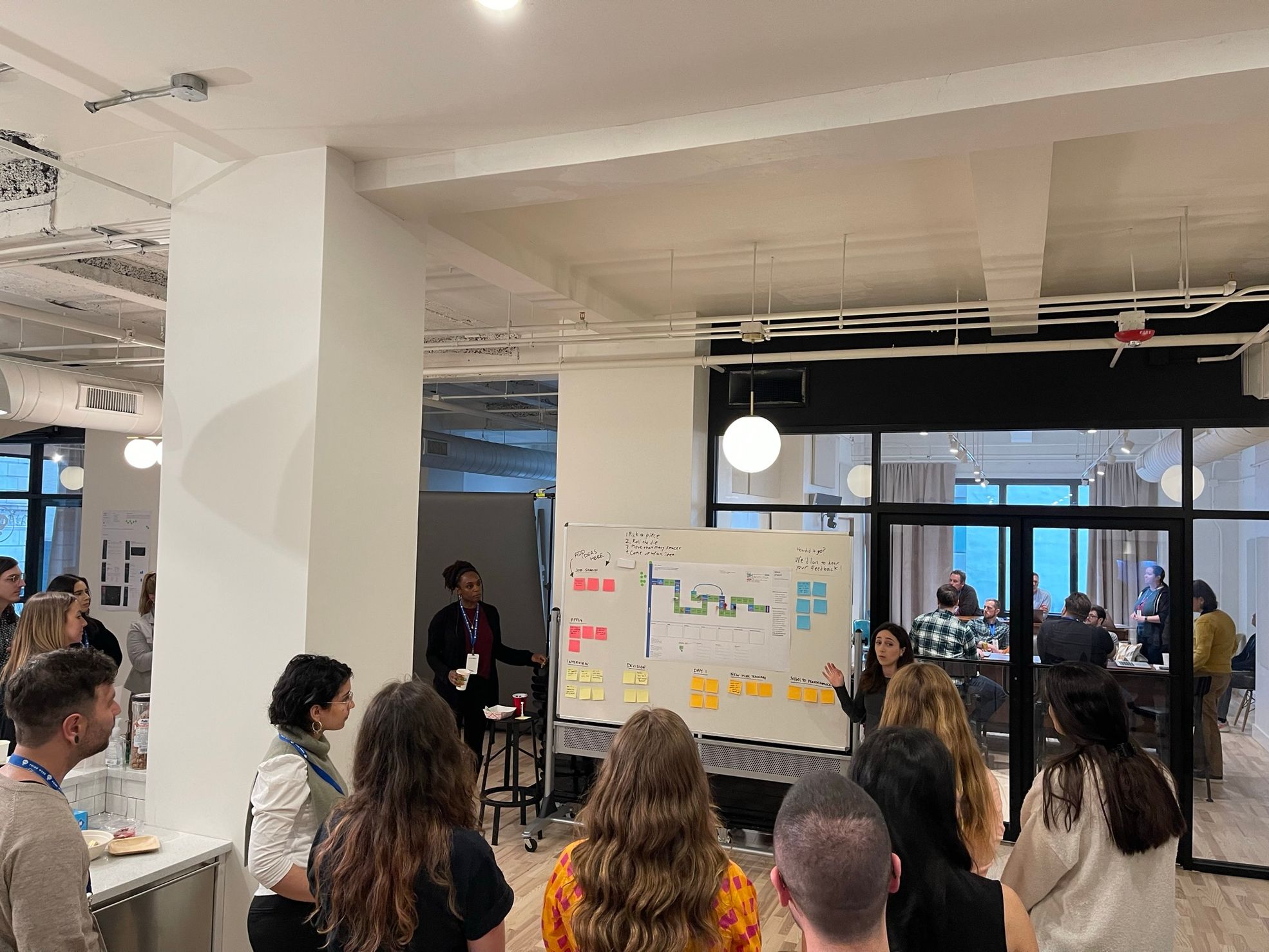 The Essential Rhythm of Routines
When someone joins Think Company they are welcomed into a cadence of regular touch points with their coworkers. These routines (and a few others) are in place to make sure we all have the support we need to do our job really well:
One-on-Ones: Every manager at Think Company meets one-on-one with each of their team members every other week for one hour. Managers proactively schedule these meetings, setting them up to repeat bi-weekly at the same time of day (so a "rhythm" can be established). We always ask, "How are you doing?" and "How can I help you?" and we may also review project work, discuss professional goals, or get better acquainted on a personal level.
DIGs: Our team is diverse and we encourage collaboration and knowledge sharing between our disciplines—even beyond project work. There's a DIG (Discipline Interest Group) for each department (Project Management, UX Design, Visual Design, and Development) and everyone is welcome to join any DIG that they're interested in. And each DIG meets every other month over lunch for a project show-and-tell, to talk about lessons learned, or to discuss relevant design and technology tools/trends.
Cross-Functional Cohorts: These small group cohorts provide an opportunity for peers across disciplines, outside of their everyday project teams, to connect regularly and discuss targeted topics related to day-to-day work.
"No Silly Questions" Sessions: These facilitated group conversations provide a time for us to understand how each discipline works in a judgement-free, open, and collaborative space. We provide an opportunity for Thinkers to ask questions, and various Thinkers, including a few "experts" on the topic, weigh in to help share knowledge and perspective.
Think Week: Every quarter, the entire company gets together (both physically and virtually) to connect during a week-long series of events. The events are educational and social, and are meant to help Thinkers across the country connect on a regular basis.
Excellence In Business, Too
Great people need the foundation of great business practices in order to continuously do great work together. Sustained excellence in business practices for us also has been the result of a commitment to consistent, important routines: Our Leadership Team meets weekly to track and forecast financials in real-time. Carl, Russ and I have breakfast every Friday to discuss a wide variety of company issues as they arise. Our sales and delivery teams get in sync at weekly project scoping and resource planning meetings.
As we've established new systems and processes to support our growth over the past few years, it has been increasingly important to write stuff down. And as our organizational structure has taken form and our leadership team has grown, having documented core values has become a vital piece of the puzzle. In his book A Lapsed Anarchist's Approach to Building a Great Business, Ari Weinzweig does a great job of describing why: "Guiding principles [or core values] form a framework within which we can more effectively make day-to-day decisions. Decisions in business are rarely black and white. A clear ethical framework makes our decision-making more consistent and effective in the midst of uncertainty and change—which in turn helps the organization develop in a positive and progressive way."
Has your organization or group taken the time to write down your core values? If not, feel free to download our Core Values Workshop Facilitation Guide and get to it!
---
Send us a postcard, drop us a line
Interested in working with us?
We scope projects and build teams to meet your organization's unique design and development needs. Tell us about your project today to start the conversation.
Learn More