While I've been a writer for as long as I can remember (my second grade novella, Aliens Kidnap Some Horses and They Fight in Space, was before its time), I'm primarily involved in the user experience side of things here—research, wireframes, and information architecture. However, when approached by a client in higher education to help them consolidate and optimize their content, it felt like the perfect opportunity for me to mix both callings.
The project was not just about content strategy; it was a top-down restructuring of their primary website and branding efforts. From initial research design and journey mapping to wireframes and branding, we were involved every step of the way.
For those of you looking to get your feet wet or better understand what goes on (and goes wrong) in helping a century-old organization modernize their content into a cohesive structure and process, here are my top three tips.
1) You're not just planning the plan. You're planning the plan for the plan.
When clients need content strategy, you're developing the process by which they (or a freelance copywriter, or even you and your team) create new content. You fully expect to create a publishing strategy which covers:
sources of information and visual media
voice and persona documents
topic recommendations and instructions for submitting ideas
points of approval
editing processes
word choice and grammar guidelines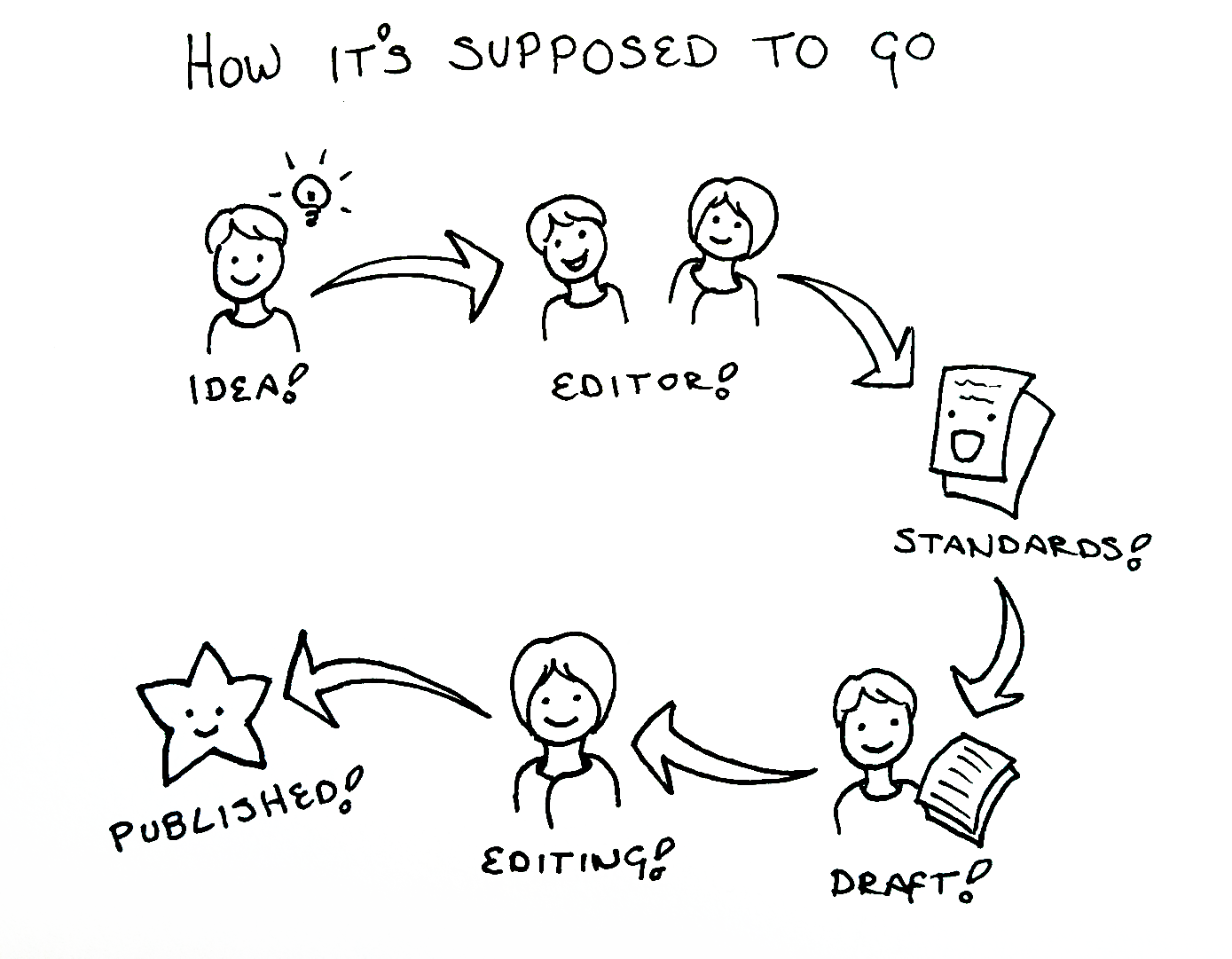 The client needs to experience the transition from no structure to following a content strategy in order to understand the additional responsibilities they're taking on when thinking about what they produce. If your client has one point of contact for creating and moderating content, and that person has other responsibilities within the company, everyone involved is in for a rude awakening when the amount of effort that content strategy takes comes to light.
Oftentimes, it falls to you to work with them as an advocate and talk to the rest of the company to get people on board. You want to teach them how to follow guidelines so that the end result resembles a pipeline instead of a free-for-all funnel, and you want to keep everyone's eye on the big picture instead of their own personal agenda.
How do you teach them to do these things? Swap roles. The people who will act as the editorial gatekeepers follow your process—gathering data and creating a few content pieces. Walk them through the revision and approval cycles required as many times as it takes, until the client can answer the following questions without your help:
Why are we creating this content?
Who is the audience?
Where does this fit into our current publishing plan?
What's a reasonable and accurate estimate for how long this will take to create?
How are we maintaining it?
(Sorry, there's no "when." Avoid what's beautiful for what works!)
This can be a very tough process for your client. They may realize the gaps in their organization as well as the effort it actually takes to produce what looks like a simple piece. It's your job to be the guiding hand. Build these "content creation tutorials" into your project plan, because you could just toss your client a fish… but teaching them to fish is the level of excellence you want.
2) Sometimes your job is to help them sell. More often, it's to help them stop selling.
Higher education—like a lot of industries—is in a rough spot right now. With newer generations becoming disenchanted with the value of a degree, slashed funding, and faculty retention concerns, institutions are pulling out all the stops to attract matriculants. Even Top 5 organizations like our client can fall into the trap of marketing versus providing information, not realizing that good information is inherently good marketing.
In our earlier research phase, every single interviewee said that what they want most from their website is clear, easily-found information about topics like curriculum, faculty, tuition, and entry requirements. Do you see "learn how to expand my capacity for blue-sky thinking in a dynamic, ever-changing marketplace" on there? Didn't think so.
Furthermore, our findings indicated that the website never played into the potential student's decision to apply. They wanted the basics and then to be directed to someone to talk to. By taking marketing speak out of the equation, we trimmed away more than 50% of the content they'd need to maintain moving forward, and users didn't feel talked-down to. Two birds with one stone.
3) Your content isn't just their destination—it should be the journey, too.
In fact, if your work stops at the blocks of copy on the page, you're doing your client a disservice.

It happens more often than any of us want to admit, but placeholder copy in wireframes and mock-ups often ends up going live when a site is launched. And what let users down most often on our client's legacy site was that sections were named and organized by internal descriptors, not by how the public or potential students would look for it.
For example, a simple swap from 'Cost Breakdown' to 'Tuition & Financial Information'—even with no change in the structure or other copy on the page—would help users find what they were searching for much faster.
As one of the IA/UX people on the project, navigational and infrastructure text changes were in my hands from the beginning. But for those who don't have this advantage, remind the client that writing ads or a company profile is only 60% of the job, and get as much control over all the copy on the site as you can. What's the point of all that beautiful, consistent content if users can't get there?
Content strategy is a rapidly-growing field that remains shrouded in mystery for many. It doesn't have to be, and it should become part and parcel of any organization's well-considered user experience.
At the end of the day, it's not just words. It's your brand, your voice, and your product.
---
Send us a postcard, drop us a line
Interested in working with us?
We scope projects and build teams to meet your organization's unique design and development needs. Tell us about your project today to start the conversation.
Learn More