Services
Technology and Design Consulting
To keep up with the ever-changing needs of your organization, you must make sure your systems and processes evolve to keep up with industry standards. Avoid the challenges that come with growing teams,  products, and services with dedicated software engineering consultants. 
By investing in technology and design  consulting, your team's skills and bandwidth will be used effectively to build products with increased speed and agility. Most importantly, you'll be able to boost team morale and productivity—which ultimately leads to better results.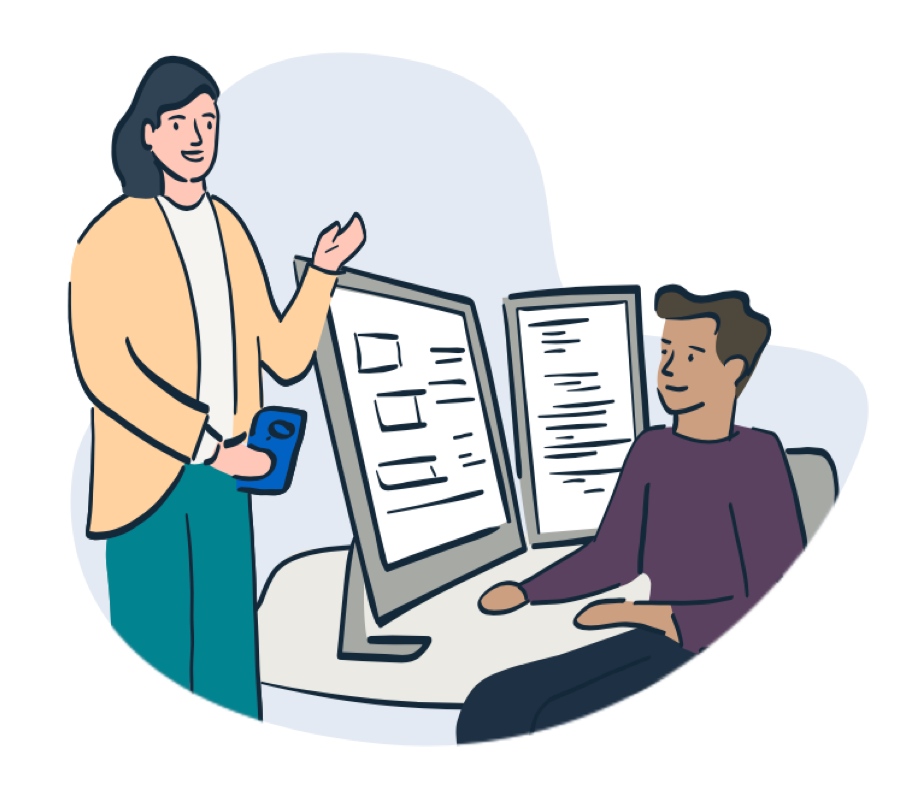 Digital Strategy
Plan your digital future and evolve as an organization.
Your Goal
Accurately describe your business needs for an RFP.
Our Approach: Identification and Visualization
Well-informed project descriptions result in meaningful RFP responses. We can help add clarity to this process by conducting Think Sessions to investigate software engineering and design requirements. We can structure your Request for Proposal, adding visualizations and prototypes as necessary.
Your Goal
Accomplish your initiative in a phased approach.
Our Approach: Agile Software Process
An Agile approach to software requires iterative designs that change over time. We can ensure flexibility by introducing a well-constructed design system and a strategic product roadmap that will keep short-term efforts focused on providing value. Then, an Agile process can produce predictable outcomes for design and development efforts.
Team Growth and Retention
Build cohesive, passionate, and performant development and design teams.
Your Goal
Hire a development team to maintain your new application.
Our Approach: Recruitment Consulting and Development
We can design a flexible framework to understand which tasks are core to the business and which can be outsourced. Then, we'll help identify the size of the software development and design team you need, organize roles, write job postings, and review candidates.
Your Goal
Set your technology team up for success as your company continues to grow.
Our Approach: Technical Architecture Evaluation
Our team can help to define, clarify, and achieve your goals. We'll leverage socio-technical architecture to discover areas where your codebase may not be aligned with your growth. We can then work with your team  to build plans to address pain points.
Your Goal
Improve employee morale and reduce turnover.
Our Approach: Organizational Software and Technology Evaluation
We evaluate your organization for burnout factors, and we design process remediation plans and implementation timelines that show the path to a clean, modern development lifecycle.
Software Development and Workflow Consulting
Ship more software and enhance team workflow.
Your Goal
Increase sprint output and reduce team stress.
Our Approach: Project Management Consulting
Our SCRUM-certified team breaks down the complexity of large products into functional workstreams. This integrated approach ensures each member of your team knows their role and has a manageable workload. Combined with a design system, these coordinated efforts increase efficiency and build consistency with each release.
Your Goal
Maintain development team workflow as your organization grows.
Our Approach: Organization and Workflow Analysis
We employ research tactics to evaluate your technical team and associated organization to identify strengths and weaknesses in team structure, technology, systems, or processes that affect the development team's ability to get work done.
Your Goal
Improve your organization's technologies to meet your design needs.
Our Approach: Custom Technology Implementation Plans
We'll create an execution plan with concrete steps, timelines, estimates, and priorities to get your team working towards goals that align with your business strategy, technical vision, and team's capabilities. This information, combined with a clear understanding of your business and technical needs, will allow us to recommend specific tools, processes, and technologies.
Send us a postcard, drop us a line
Interested in working with us?
We scope projects and build teams to meet your organization's unique design and development needs. Tell us about your project today to start the conversation.
Learn More