Services
Accessibility and Inclusion
We strive to design and develop all of our work in a way that is usable by all people—because accessibility is usability. 
Accessible and inclusive experiences do not happen on their own; you need a firm understanding of what actual users struggle with, the right tools to test for all needs, and a holistic process including design, development, and content strategy.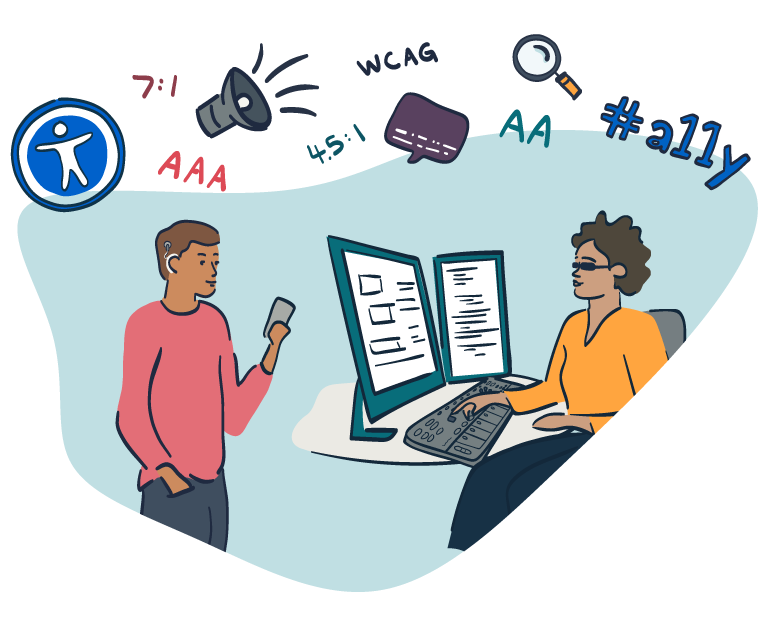 Our Accessibility Capabilities
Your Goal
Work with a partner to help us ensure we're producing accessible products as a team.
Our Approach:
An accessible and inclusive product is usable by anyone, and is a truly wonderful experience that everyone can enjoy regardless of ability, gender, or race. We ensure this for your products and the people using them by providing options to assess your current needs, educate your teams, and improve your process so that a product is both accessible now and in the future. Our deep understanding of what it takes to be considered compliant and usable will help your teams feel confident that they can create and maintain accessible websites and applications.
We provide:
Presentations, training, and workshops

Compliance audits

Remediation implementation and strategy

Process and integration development
Assessing Your Needs
Your Goal
Gain an understanding of our compliance level and what we need to fix.
Our Approach:
We assess the current user experience with audits and reporting along with system and architectural analysis to find opportunities to align you with the appropriate level of 508/WCAG compliance—and understanding what level of compliance is right for you. We work with you to analyze the findings and devise a remediation plan for the experience and ongoing maintenance.  We conduct interviews including users with reported visual, hearing, motor, and cognitive impairments to ensure their feedback is carried throughout our process.
Educating Your Team
Your Goal
Ensure our team understands how to produce an accessible product.
Our Approach:
Accessible products begin with teams that both understand the needs of and empathize with all users. It is important that all owners and contributors know their responsibilities ranging from basic concepts through advanced techniques. We provided targeted presentations and workshops to help all audiences start and grow their skills and knowledge around the ever-changing best practices.
Improving Your Process
Your Goal
Fix current accessibility issues and pivot to ensure future accessibility.
Our Approach:
Creating an accessible experience is a great first step, but it is also important to ensure an accessible future. Starting with an accessible design system ensures consistency across your application during the initial build and any future implementations. Adding automated accessibility tools into your QA practices and CI/CD pipelines helps catch issues before they reach the public. Let us help you create a remediation plan to fix issues both today and in the future.
See Our Accessibility Work
Your Goal
Foster a culture of accessible and inclusive work and products.
Our Approach:
We are continuously improving our practices, educating ourselves, and furthering our understanding of accessibility. For more resources, we suggest these blog posts written by our Thinkers.
Send us a postcard, drop us a line
Interested in working with us?
We scope projects and build teams to meet your organization's unique design and development needs. Tell us about your project today to start the conversation.
Learn More