Think Brownstone has grown in so many ways since we started, it's hard to believe it has only been four years. Today, we have an ever-growing list of happy clients, a crew of smart and talented designers, and soon we'll have even more Think Space. There's a lot of work to do, and it's time to add another Brownstoner to the ranks.
This time around we're looking for someone with a special combination of skills that are near and dear to my heart. As an experience design consultancy, 80% of the work we do every day involves helping people think through solutions to problems, streamline user workflows, and sketch easy-to-use interfaces – these are essential Think Brownstone skills. Then there's the other 20%: Visual Design. Making It Beautiful. "Bringing It Home." My training in graphic design taught me about this important step in the design process – and in today's highly competitive market, smart companies know that making their stuff really beautiful is simply not optional. And so, we're in the process of growing our team of visual designers.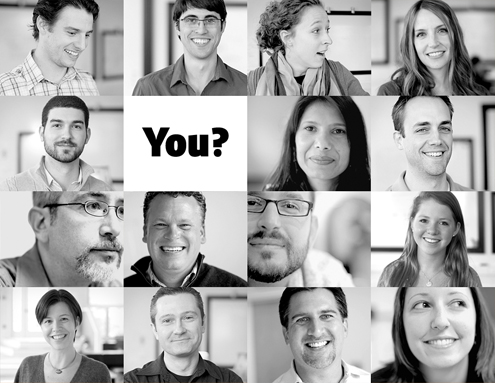 Here's the official job description:
Position: User Experience Designer (Visual)
Responsibilities:
Create beautiful user interface and visual designs for web, mobile, and touchscreen applications
Come up with solutions to clients' problems via design and usability recommendations
Work collaboratively as part of a creative team that includes both clients and internal colleagues
Build and maintain positive relationships with clients
Facilitate creative brainstorming sessions with clients and internal project teams
Stay up-to-date on the current and best UI and visual design practices and trends; stay up-to-date on current web technologies and innovations
Requirements:
Bachelors degree or equivalent
Minimum 2 years of professional interaction, user interface, and visual design experience – with an online portfolio to showcase this work
Fantastic presentation, verbal and writing skills
Advanced skill in Adobe Photoshop and Illustrator or equivalents
Solid understanding of how front-end code (HTML, CSS, Javascript, AJAX, etc) is employed to translate visual designs into interactive digital interfaces
Bonus Points:
Skill in Web Standards compliant HTML and CSS development
Experience designing interfaces for iOS applications (iPhone, iPad)
Obsessive attention to detail
Project management experience or willingness to take on some project management responsibilities
Perks:
Excellent benefits: health, life, disability, IRA, PTO, yoga
Competitive salary
Awesome creative workspace in downtown Conshohocken: walking distance to great local restaurants, easy access to Philadelphia via regional rail
Apply: Take a look around the rest of our blog and you'll learn that we're a diverse group of designers who love our jobs and have a pretty darn good time here at work. If you're a talented Experience Designer with a focus on the visual/aesthetic and a stunning portfolio that highlights your interactive experience, let's talk. Send an email with a cover letter, resume and link to your online portfolio to work@thinkbrownstone.com with the subject line, "I Think I'm a Brownstoner". We look forward to meeting you.
---
Send us a postcard, drop us a line
Interested in working with us?
We scope projects and build teams to meet your organization's unique design and development needs. Tell us about your project today to start the conversation.
Learn More