Research > Design > Delight — that's the Think Brownstone motto. More and more, our clients are asking us to help them delight their customers by developing and delivering the experiences we have designed. That's why we're looking for thoughtful and creative UI developers: individuals who are truly passionate about coding for the web (desktop and mobile) using modern web standards and who can integrate their work with a variety of content management solutions and back-end configurations.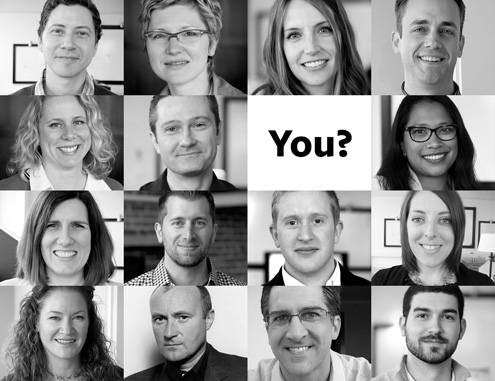 UI Developer Responsibilities:
Develop front-end code to accurately translate flat design comps for desktop, tablet, and mobile phone experiences
Integrate code with content management systems and back-ends for large-scale websites and web applications
Work collaboratively as part of a team that includes visual/UX designers, business analysts and technical developers (clients and internal colleagues)
Build and maintain positive relationships with clients
Stay up-to-date on the new web development technologies and UI design trends/innovations
Requirements:
Bachelors degree or equivalent work experience
3+ years professional experience hand-coding HTML, CSS, JavaScript (not just jQuery), and XML
Familiarity with user experience (UX) design processes (conceptual design, wireframes, usability testing)
Experience using visual design applications (Photoshop, Fireworks, etc) to create assets for web
Experience with coding for comprehensive cross-browser and platform compatibility, as well as testing and validation
Experience with ASP.NET, PHP, JSP or other server-side integration languages
Experience with Sitecore, Vignette, WordPress, Drupal, Expression Engine, or other content management systems
Experience with git, svn, or similar version control systems
Bonus Points:
Experience with MySQL, Postgres, or other database systems
Experience with the Microsoft .NET platform (both WebForms and MVC) and tools
Comfortable working on the command line on Windows, Mac, and/or Linux
Experience with the Agile/Scrum workflow methodology
Obsessive attention to detail
Apply: Take a look around the rest of our blog and you'll learn that we're a diverse group of thinkers who love our jobs and have a pretty darn good time here at work. If you're a talented UI Developer, let's talk.
If you think you have what it takes to be a Brownstoner submit your resume today. Please also include a cover letter and three URLs featuring your code (or a link to your github account with at least three projects).
We look forward to meeting you.
---
Send us a postcard, drop us a line
Interested in working with us?
We scope projects and build teams to meet your organization's unique design and development needs. Tell us about your project today to start the conversation.
Learn More