Last week we kicked off our latest web application redesign project. As we sat together on the Think Couches and reviewed the reasons why our new client chose to initiate the project, they told us a now-familiar story about how their prospective customers are too often choosing their competitors' products – because these products are much easier to use and way more beautiful. In some cases, they shared, it didn't even matter that the competitor's product was far less robust than theirs, because "the sexy UI had already made the sale."
Smart companies (like our new client) understand that good usability is table stakes for a modern product. But we also know that good design doesn't end with good usability. In his classic 2002 essay "Emotion & Design: Attractive Things Work Better" Don Norman purports that "good design means that beauty and usability are in balance." Stephen P. Anderson takes this line of thinking another step further in his 2009 article "In Defense of Eye Candy" where he points out that "if we shift the conversation away from graphical elements and instead focus on aesthetics, or 'the science of how things are known via the senses,' we learn that [the] distinction between how something looks and how it works is somewhat artificial."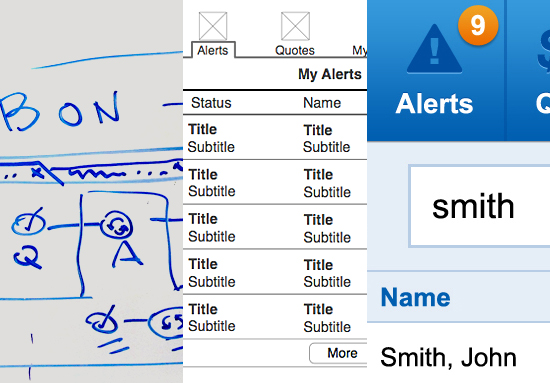 At Think Brownstone we won't "put a new coat of paint" on an interface that is poorly designed and isn't working well. Our UX designers don't hand off their wireframes to our visual designers to be "skinned." Rather, our interdisciplinary design team works together throughout every project to ensure that function and form are working together in harmony. As a result our solutions are logical, beautiful, and they just work.
If you're a visual designer in Philly or Denver and this is also how you roll, take a look at the job description below and get in touch!
Position: User Experience Designer (Visual)
Responsibilities:
Create beautiful user interface and visual designs for web, mobile, and touchscreen applications
Come up with solutions to clients' problems via design and usability recommendations
Work collaboratively as part of a creative team that includes both clients and internal colleagues
Build and maintain positive relationships with clients
Facilitate creative brainstorming sessions with clients and internal project teams
Stay up-to-date on the current and best UI and visual design practices and trends; stay up-to-date on current web technologies and innovations
Requirements:
Bachelors degree or equivalent
Fantastic presentation, verbal and writing skills
Advanced skill in Adobe Photoshop and Illustrator or equivalents
Solid understanding of how front-end code (HTML, CSS, Javascript, AJAX, etc) is employed to translate visual designs into interactive digital interfaces
Bonus Points:
Previous professional interaction, user interface, and visual design experience
Skill in Web Standards compliant HTML and CSS development
Experience designing interfaces for iOS applications (iPhone, iPad)
Obsessive attention to detail
Project management experience or willingness to take on some project management responsibilities
Job Perks:
Competitive salary
Excellent benefits: health, life, disability, IRA, PTO, etc
Awesome creative workspace in downtown Conshohocken: walking distance to great local restaurants, easy access to Philadelphia via regional rail
New similar workspace opening soon in Denver!
Apply: If you're a talented Experience Designer with a focus on the visual/aesthetic and a stunning portfolio that highlights your interactive experience, send an email with a cover letter, resume and link to your online portfolio to work@thinkbrownstone.com with the subject line, "I Think I'm a Brownstoner". We look forward to hearing from you.
---
Send us a postcard, drop us a line
Interested in working with us?
We scope projects and build teams to meet your organization's unique design and development needs. Tell us about your project today to start the conversation.
Learn More