Our group of extended colleagues and friends, much like yours I'd expect, has been having an ongoing debate about the pros and cons of the different types of online communities available to us. I have a love/hate relationship with them that continues to ebb and flow weekly.
One thing that doesn't waver for me though, is that even when I'm in "advocate mode" they still just don't rival actual, real, tangible communities that you can get up off your nerdy computer butt and go walk to.
However, I'd suggest that one of the reasons online communities have gained such a stronghold (and I'm quite sure I'm not the first), is that many traditional communities have gone the way of the dodo thanks to poor urban (and suburban) planning that has given preference to sprawl, strip malls, auto traffic over pedestrians, and the relentless focus on quantity over quality that started plaguing us going back to the 1950's.
I know that other areas of the country have made strides against this trend, especially in recent years, but in our stomping grounds of greater Philadelphia there haven't been enough. Sure, we've got some great squares in the more glamorous parts of town like Rittenhouse—but the recently opened Schmidt's Commons in the continuously evolving and improving Northern Liberties section of the city is a nice step in the right direction.
My wife and I stopped by earlier in the summer when a good friend of mine happened to be in town promoting his new album and had a performance scheduled in the square as part of one of the regular afternoon shows that are staged there, free of charge. This time it happened to be one of the fantastic shows organized by Sundae Philadelphia—so we're not talking about puppet shows here; this is the real deal. In fact, here's a video filmed the day we were there:
We had no idea what to expect, but we marveled at the huge open-air plaza with new apartments atop rent-controlled artist studios, funky shops, market stands, and affordable cuisine (including killer pretzels and bubble-tea right next to fancier restaurants)—filled with people of all ages, races, hairstyles and lifestyles strolling around happily interacting. Then at the end of the plaza was the giant 400 square foot year-round LCD panel that is used to project everything from "Family Movie Night" during the week to the Phillies games, with the stage below pulsing with fabulous musicians from around the world being joined by locals dancing on roller skates and playing with hula hoops.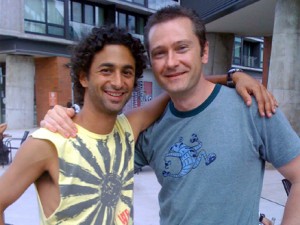 Yeah, it was all "peace and love" but in a very urban, modern way, and it was completely refreshing. There's a lot of sensational media out there aimed at scaring the pants off you; that'll keep you tuned in and the advertising money flowing—but by and large, people are awesome and it's worth it to get out there and meet a few new ones every now and then. We honestly didn't want to leave, and talked the whole way home about how this model might be applied to our own neighborhood, our work, online communities, and elsewhere. We also hoped out loud that what they've created over there is sustainable and will be supported by the city and the people who live in it. Maybe the climate is finally right for more of this out there, breaking down superficial social boundaries and mirroring the same diversity found in friends lists and iTunes playlists in the "real" world.
---
Send us a postcard, drop us a line
Interested in working with us?
We scope projects and build teams to meet your organization's unique design and development needs. Tell us about your project today to start the conversation.
Learn More