Two years ago, my fiancé bought me some portable Logitech speakers for my birthday. I put them through their paces for two years, and they worked great – you could charge them up and take them anywhere.
Recently, I turned them on and the volume was blaring (they do get pretty loud too). Each time I tried to turn down the volume, the speakers would just turn it back to the max all on their own. I logged on to https://support.logitech.com to look for answers, and was greeted with multiple options to find my product: Search by Image, Search by Name.
I immediately found my product by looking for the image: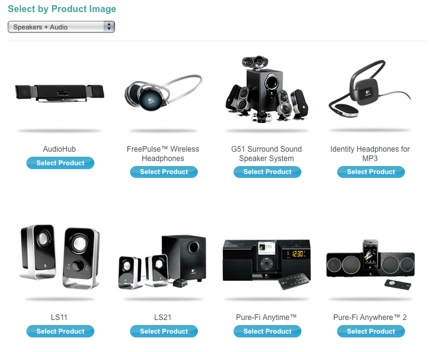 This approach is awesome; who actually knows what their product is called? Especially when technical items often either have cryptic names like "LS21" or else have names that are too similar to one other like "Pure-WiFi Anytime" versus "Pure-WiFi Anywhere".
After selecting my product, I followed a few troubleshooting steps. The steps were easy to follow and complete, but unfortunately nothing solved my volume problem. I had to resort to the dreaded "Email Us" troubleshooting contact form.
I reluctantly filled out the lengthy form and sent it away to cyber-space, but did not expect anything – especially within the first few days. They must get millions of these, right?
I immediately got an automated response: "Your question has been received. You should expect a response from us within 24 hours." While that's a nice touch, it doesn't do much to instill confidence. However, about 16 hours later, I got a very polite reply from "Ron":
"Hello Amanda, Thank you for contacting Logitech Technical Support. My name is Ron and I will be assisting you with Incident # 0923-00442."
Ron asked me to simply send him my original purchase receipt, and he would send me a brand new replacement set of speakers since it appeared that the set I owned was defective. Great! But I couldn't find the receipt. It had been two years after all, so I let Ron know the bad news.
Amazingly, the reply was essentially "no receipt? no problem!" Ron sent me an email with several UPS links: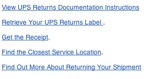 I was even more impressed that when I clicked "Find the Closest Service Location", it knew my address and was already showing me the closest locations.
So easy! I immediately packaged everything up, slapped on the label, and dropped in the nearest UPS drop box I could find.
A couple of days later, I got another email letting me know that they received my speakers and were shipping out a new set. All correspondence was done in an extremely timely fashion with complete follow-through.
Maybe that seems like an obvious and logical transaction, but the fact that I was able to relate the complete story in a few short sentences (where there were no "pain points") is exactly the point. I am amazed that this was so easy, and that I actually got a new set without spending a dollar. But why am I so amazed by this? Shouldn't this be the way customer support always works?
Most of us will agree that it usually doesn't. It's sad that we've come to expect such a low level of service from most companies that we're essentially resigned to bracing for the pain whenever we begin these interactions. In fact, there are plenty of us who simply assume it will be a waste of time and energy and don't even bother.
Kudos to Logitech – smart companies know that especially in these times, it's the experience that will win you repeat business, and I will buy their products again based on this experience alone. They truly "get it".
---
Send us a postcard, drop us a line
Interested in working with us?
We scope projects and build teams to meet your organization's unique design and development needs. Tell us about your project today to start the conversation.
Learn More