Carl and I went to the Inc. 5000 conference again this year to accept Think Brownstone's award (we're #2530 for 2015—our third time on the list!) and for some continuing education on topics related to running and growing our business. Here's my recap of the hit (and miss) moments from the event. And check out my sketchnotes to see my favorite takeaways from all of the keynote speakers.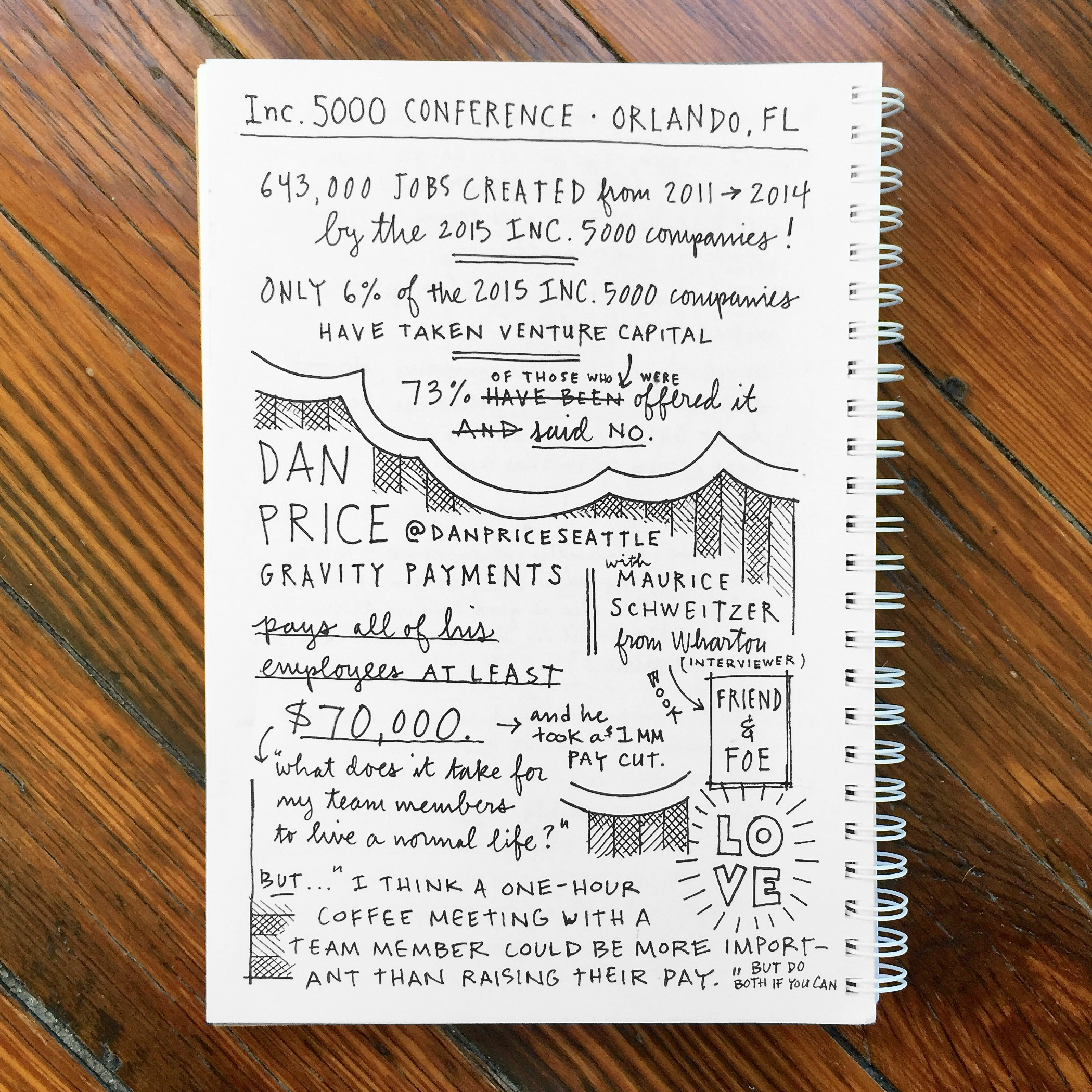 Dan Price of Gravity Payments challenged the 1500 leaders in the room to, above all else, love and serve our people. An eye-opening conversation with a friend who was struggling to live on her less than $50,000 salary caused Dan to ask this question about his staff: "What does it take for my team members to live a normal life?" His answer? Institute a $70,000 minimum wage for all 120 of his employees—an unprecedented (and some say unwise) move. You can read more about what has become known as The Dan Price Pay Experiment here.
Daniel Lubetzky of KIND Snacks told us his incredible story of entrepreneurial perseverance. He revealed what might be the true origin of the heart of the KIND brand when he shared the story of his father, a holocaust survivor, who "only survived because of the kindness of others." Speaking from experience, Daniel encouraged fellow social entrepreneurs to "lead with your product's features, not with your social mission… [because] the mission can't sell the product, the product must sell the product." He challenged companies who may be considering jumping on the Corporate Social Responsibility (CSR) bandwagon, saying: "Where's it coming from? What are your intentions? CSR is beautiful when it's authentic."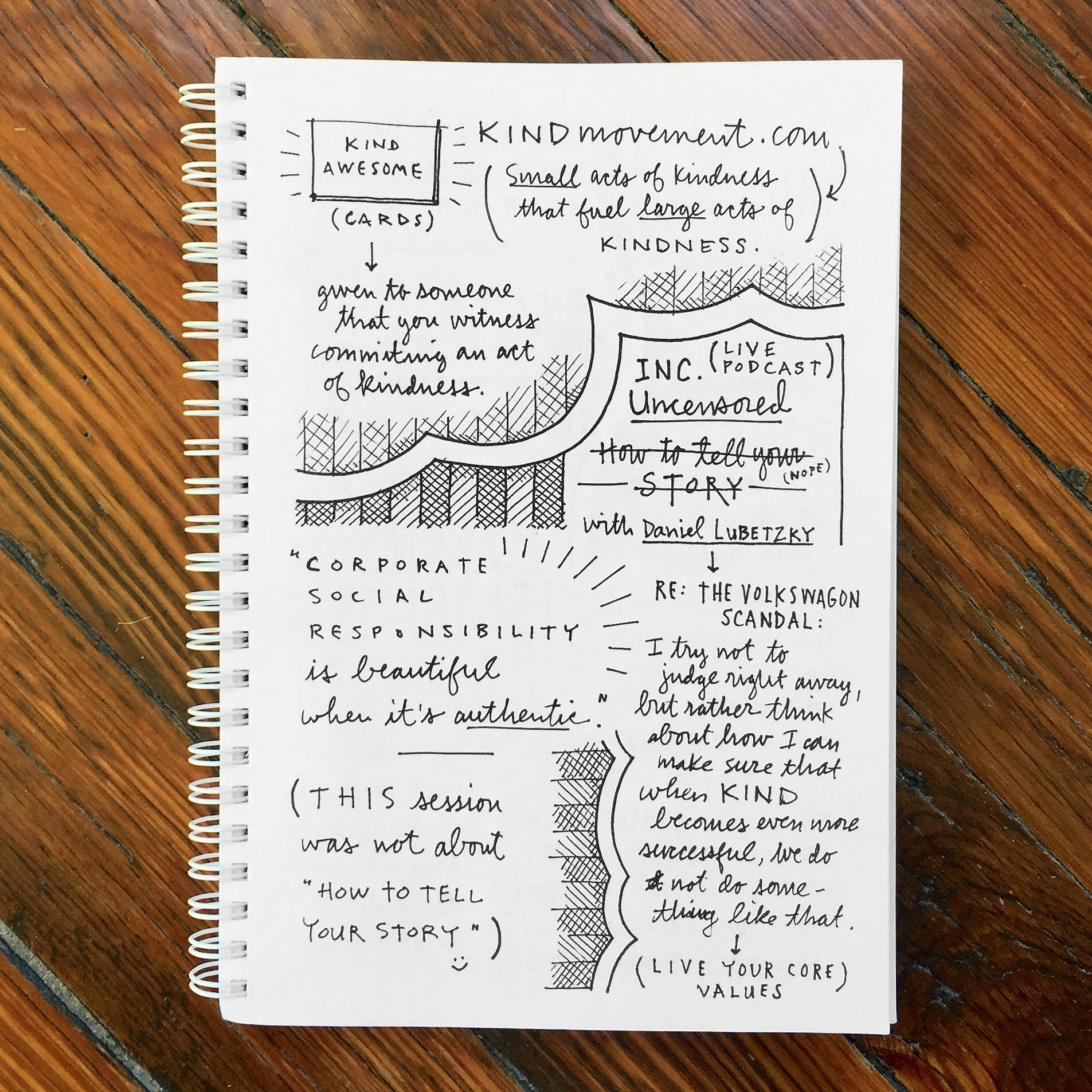 I was particularly inspired and challenged by Daniel's remarks about the ongoing Volkswagen scandal. When asked his opinion about Volkswagen's responsibility to do the right thing, Daniel responded, "I have to tell you, I really try in my life, when I see people do something wrong, not to just jump and start criticizing them. I try to learn from it—how can I avoid becoming that… when KIND becomes [even more] successful, I don't want us to lose our values and our way of who we are." Amen, Daniel. Keep leading by example.
Jessica Mah of inDinero offered two insights that stuck with me. She told us a story of a season when she and her business partner were fighting a lot and he suggested that they go see a marriage counselor (they are not husband and wife). They did, and they've been proactively continuing this "marriage counseling" ever since. Carl and I often remark that we have a great "working marriage," and I totally get why marriage counseling could help a troubled relationship between business partners—a union that resembles a marriage in many ways.
Jessica also told us that she has weekly meetings with her customers to watch them use her product (InDinero is a software application that provides accounting and tax services for businesses). We applaud this level of commitment to user-centered design!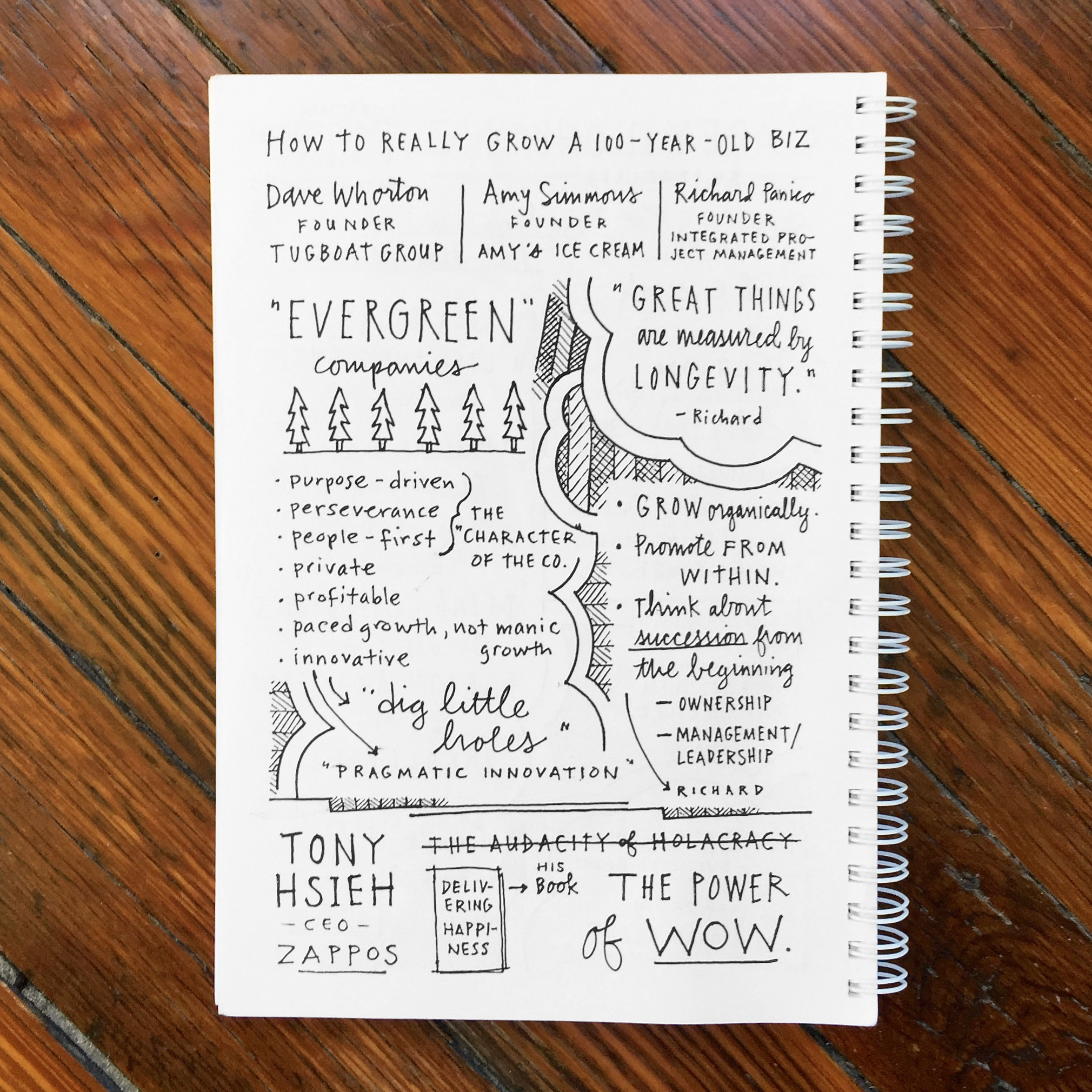 Dave Whorton of The Tugboat Group told us about The Evergreen Movement, an emerging model for purpose-driven entrepreneurs. Dave uses the term evergreen to describe the increasing number of private companies that are "wary of any path that compels them to a pre-determined exit or a growth-at-all-costs approach. They avoid anything that could put the viability and longevity of their business at risk and undermine its purpose. They measure success by how well they deliver on their mission – not by a sale price, IPO buzz, or an investor's valuation." This concept really resonates with Carl and me, as we seek to build a truly great, enduring company at Think Brownstone. You can read about the seven defining characteristics of evergreen companies (the "Evergreen 7Ps") here.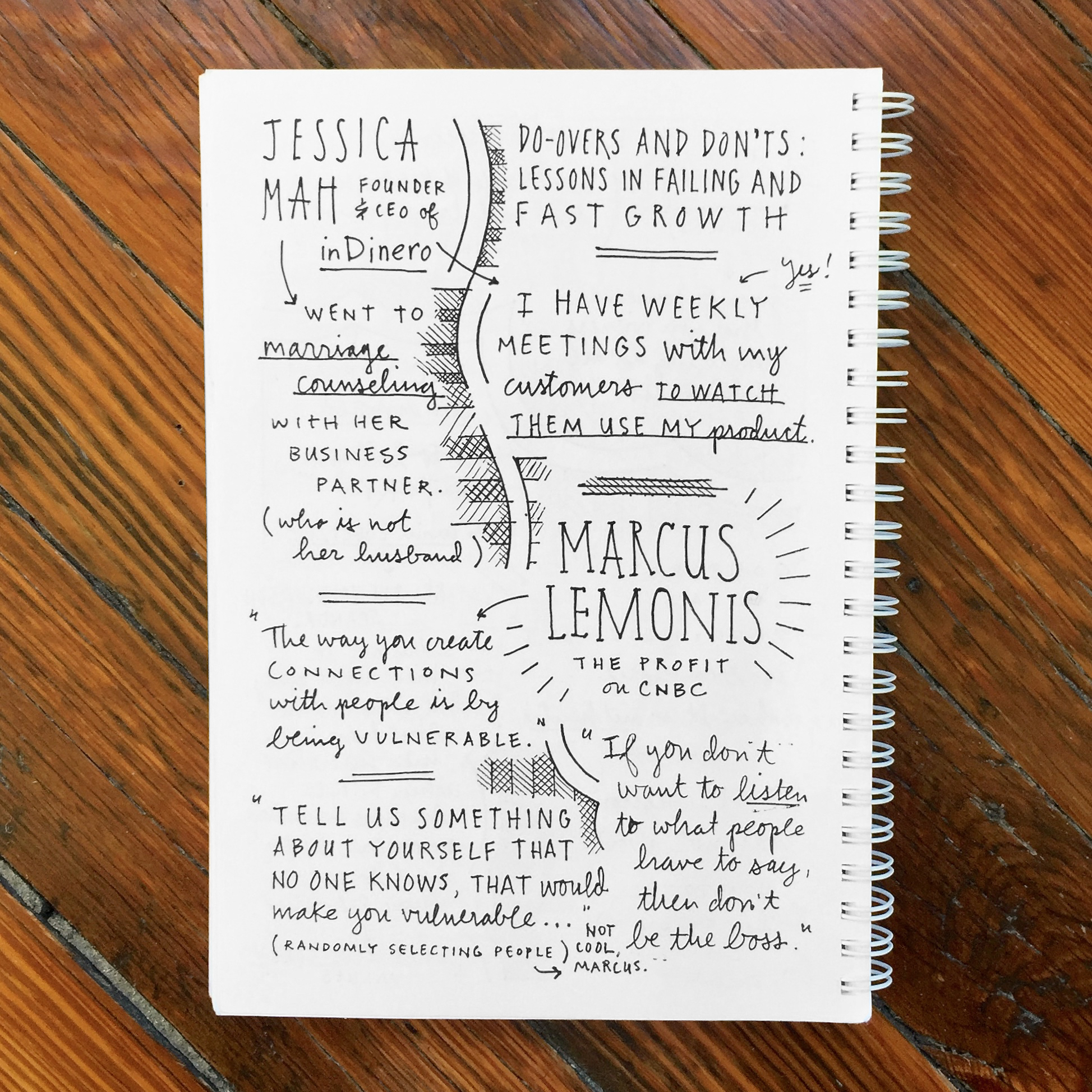 Marcus Lemonis of Camping World and star of CNBC's The Profit shared some very personal details of his life story and current struggles in order to demonstrate that "you create connections with people by being vulnerable." This was very engaging and certainly effective at making us feel connected to him. But then his talk took an unfortunate turn. Marcus grabbed a hand-held mic, began walking down the center aisle, and said "I've been vulnerable, now I'm going to ask you to be vulnerable. I'm going to ask you to stand up and tell us something about yourself that no one else knows—something that would make you vulnerable." And if that wasn't enough to get the blood pumping he added, "and listen, don't try to avoid being picked. If you stare me down, I'll pick you. If you look away, I'll pick you." It soon became clear that refusing to participate was not an option. Seriously?
At one point Marcus handed the mic to a woman who told everyone that her secret was that she sometimes has debilitating panic attacks. As she cried, Marcus gave her a compassionate pep talk and some legitimately good business advice. But what if this high-pressure experience triggered a panic attack? And who was committing to follow up with this woman and support her as she worked through the implications of her dramatic public admission?
Look, I believe Marcus' intentions were 100% good—his hit TV show proves that he cares about helping people learn how to run better businesses—but using intimidation and a ballroom spotlight to compel people to share a deep personal secret with 1500 strangers? That idea is 100% bad.
All in all, this year's Inc. 5000 Conference was a thought-provoking and energizing experience. Each speaker inspired me to revisit and think on the place of authenticity, kindness, and purpose in our work—principles that mean a lot to Carl and I, and that continue to drive us as we plan for Think Brownstone's future.
---
Send us a postcard, drop us a line
Interested in working with us?
We scope projects and build teams to meet your organization's unique design and development needs. Tell us about your project today to start the conversation.
Learn More