Great experiences can happen anywhere. While we work primarily in pixels and screens, we can learn a lot by observing the world around us and taking lessons from our daily lives. Sometimes that means the checkout at the grocery store and other times it means a culinary walking tour through one of the world's most beautiful cities.
The Build Up
International travel is one of the most rewarding and enjoyable things I think a person (especially an American) can do. It gives you the chance to see all the amazing sights that exist in our world while pulling you out of your comfort zone. This provides a new perspective on life, the world, and most importantly people. I never feel as much compassion and empathy with human kind as I do at the end of a trip outside the States. As an Experience Designer, this transformative nature of travel is something I find extremely valuable and intriguing.
My wife Jen and I had a particularly remarkable experience during our most-recent trip, a week in Prague. Thanks to her fantastic pre-trip planning and a healthy dose of Trip Advisor, we found the Taste of Prague food tour. I'll spare you the fanfare and just say that this was the best tour experience—and one of the best overall experiences—I've ever had. What has stuck with me, though, is how clearly this illustrated that great experiences (whether on the screen, at work, or walking through a 1,100 year old city) share many similar elements.
Clarity of Communication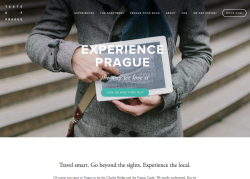 The Taste of Prague website is modern, clean, responsive (thanks Squarespace!), and informative. First impressions matter and ToP clearly understands their audience and their needs. For me, this site set me at ease and immediately elevated my level of excitement for the tour. Beyond the site, Jan and Zuzi were ultra-responsive before, during, and after our trip via email. When it seemed like they went dark, I reached out via Twitter, they responded promptly, and we resolved the issue.
We frequently find clients and companies that come to us for help implementing their next great idea. While their expertise and domain knowledge of their industry is critical to this process, we often find that one of our first jobs is to refine that idea to its essential elements. Only then can we clearly articulate the benefit to their users or audience. Without this crystal-clear purpose and "job to be done", the end results are often muddy and confused.
Caring About Your Audience
Empathy is a popular word in our industry. Some people know what that means and how to integrate it in their designs. Others know it's important to name check, but fail to follow through. Here's my lesson from this trip: think of your users, audience, or customers as guests. How does a good host treat a guest? They put their needs first. They defer to their tastes and desires. They make the guest the center of attention.
Nothing exemplified this more during our experience with ToP than in the booking process. The booking form on their site is not trivial. While it is somewhat lengthy, they do a nice job of keeping things fun and lighthearted, and you can see the rationale behind all their questions. When completing it, I mentioned that my wife prefers to eat vegetarian. Jan and Zuzi reponded that while they'd love for us to be part of their tour, they couldn't in good faith accomodate a vegetarian, given the distinctly meat-centric nature of Czech cuisine.
Czech cuisine simply is all about meat, and while we do make our best efforts to accommodate all tastes and preferences, we cannot transform Czech cuisine into something it is not…We are sorry to say this, but we write this only to avoid disappointment on your side, and we hope you understand. We are very sorry.
For a small business to say "maybe we're not the best for you" to paying customers because they're concerned they won't get good value from their offering is the height of empathy and honesty. We know from personal experience here at Think Brownstone how hard that can be. But we also know that being able to say that comes only with a real understanding of your service, your target audience, and the value you offer them.
This honesty and opening of a dialogue only increased my interest and excitement for the tour. Needless to say, we worked through the concern and booked the tour. We all ate well[1].
Showtime
We're over 700 words in and haven't gotten to the tour yet. That's a bit of a clue that preparation is a huge part of building a great experience. Sometimes our clients can get a bit antsy that we spend so much time in research and early design phases before we even build wireframes, much less high fidelity mockups. This is an investment to ensure everything is ready for showtime and more often than not, that effort pays off in spades.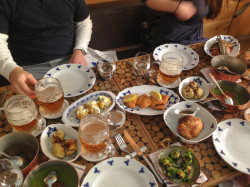 Our food tour of Prague was no different. Jan showed up just where he said he would, bringing with him a fantastic demeanor and a messenger bag filled with support materials for our time together. The tour itself was a perfect balance of walking, talking, history, and (naturally) eating. The schedule was clearly well thought out, with Jan pulling his iPad or other items from the bag just in time to discuss some site nearby. We arrived at each restaurant[2] with them waiting for us with service that ranged from incredibly smooth to the exuberant sharing of prized culinary gems.
The point of all this being that a great show, a great presentation, or a great app all require more work in the background—more preparation—than most people realize. The trick of all this is that when well executed, the show seems effortless. So the next time you experience something great that goes off without a hitch, stop and think about everything that had to happen behind the scenes to make that possible. I bet you'll appreciate the experience even more.
Goodbye
The experience of the tour up to the end of the day was great. But what made me realize it was truly exemplary was the way it ended. As we concluded our time together, Jan presented us all with a small gift (again…guests) and a packet of information about his beloved Prague. This included a customized Google map of the city with all their favorite spots (food, drink, coffee, shopping, etc.) called out. Also included were several traditional Czech recipes. These locations weren't the expected tourist traps, but the places that real Czechs like. I'm so glad we did this tour early in our visit, as we were able to make use of this resource and visit a couple of the locations, which did not disappoint.
From an Experience Design perspective, the end is sometimes more important than the beginning. You've spent so much time and effort up to now to ensure the user's needs are met and that they're getting value out of their interaction, leaving their final impression to chance puts all that work at risk. Dropping the ball at the end is akin to chopping the epilogue off of your favorite story. Imagine the credits rolling in Star Wars immediately after blowing up the Death Star. Lame. Send your audience off in style. Make them feel like you care and want to see them again.
In their tour recap email (yes, they sent one and it was awesome), Jan and Zuzi said, "you have friends in Prague now!" It sounds cheesy, but you know what? I believe them and can't wait to go back.
---
Don't tell anyone, but Jen's vegetarianism is something of a fallback position. When in doubt, you can always be pretty safe eating vegetables. I'm not smart enough for this strategy, so I wind up eating strange things like tongue or beef tendons. Takový je život.  ↩
---
Send us a postcard, drop us a line
Interested in working with us?
We scope projects and build teams to meet your organization's unique design and development needs. Tell us about your project today to start the conversation.
Learn More