When I was little, my dad worked at a consulting firm.  He was in a project management role and worked with designers, business analysts, and information architects.  It was my first exposure to this area of the working world and I realized that it could be an area of interest to me.
Flash forward 8 years – I'm a senior in high school and looking for somewhere to intern for my senior project.  I was brainstorming ideas with my dad and he suggested his old friends that were now working at Think Brownstone.  Right away I thought it was a perfect idea.  They would be a fun group of people to spend time with and I'd always been interested in the problem solving and usability part of business.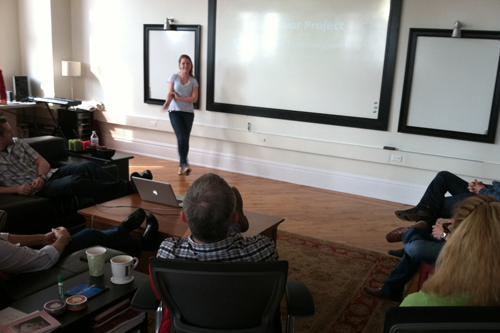 So I started my internship. I sat in on all types of different meetings – everything from insurance companies to non-profit organizations.  Most of the time the meetings were long and pretty confusing, but it helped me learn a lot more about what Think Brownstone is all about.  I learned that they are basically problem solvers, and they apply the design process to almost any business problem.
This opportunity has taught me a great deal about this really interesting type of work and I want to learn more.  Overall, it was a really good experience!
---
Send us a postcard, drop us a line
Interested in working with us?
We scope projects and build teams to meet your organization's unique design and development needs. Tell us about your project today to start the conversation.
Learn More