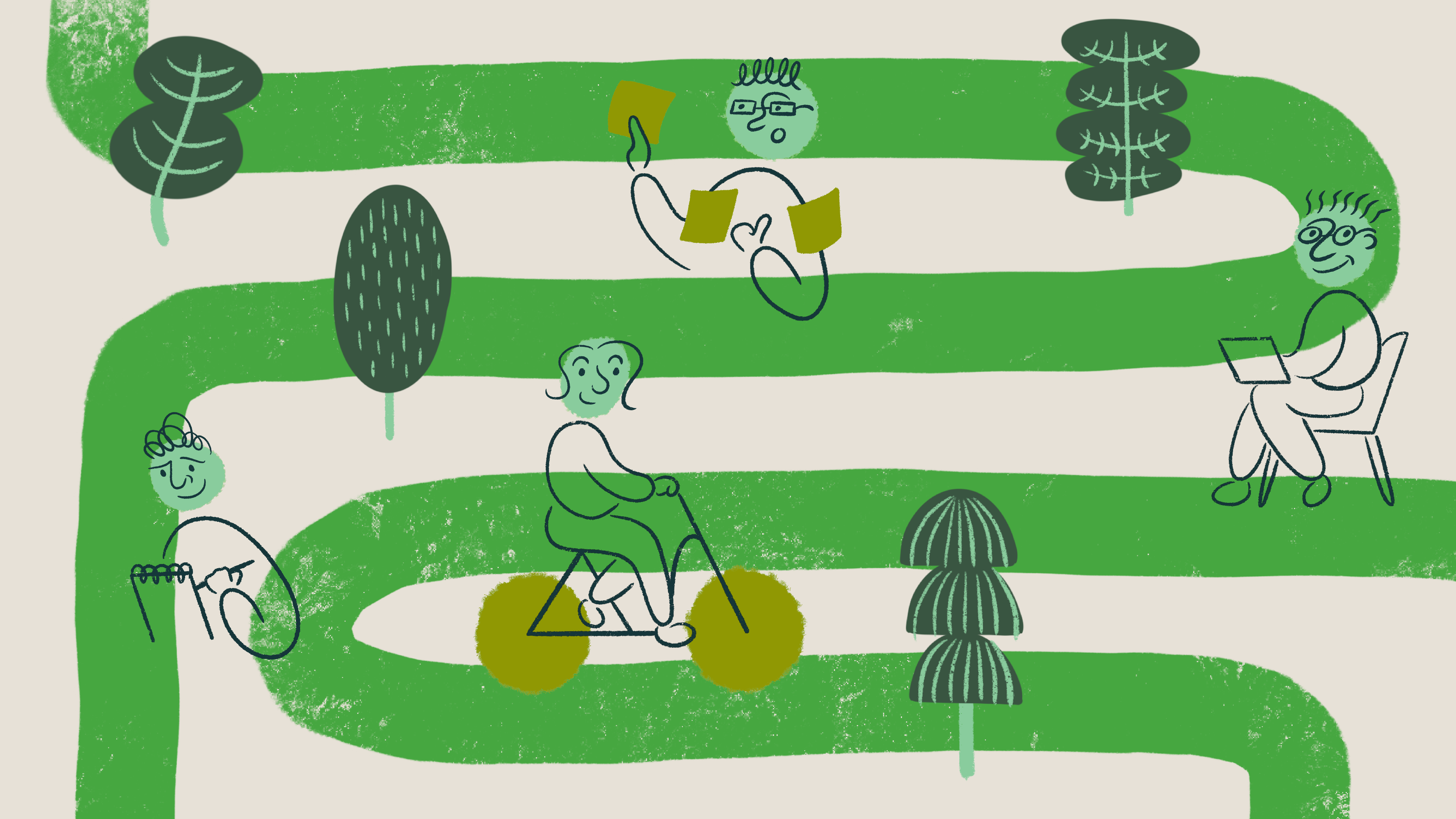 User Experience (UX) is one of the fastest-growing careers across multiple industries. UX is centered around the idea that empathizing with and thinking through the user's experience is key to successful experiences and "encompasses all aspects of the end-user's interaction with the company, its services, and its products." 
UX is core to what we do at Think Company; as a user experience company we're always looking for people to help us create dynamic and delightful experiences for our clients. If you're looking to switch to UX design, we've seen industry trends change and have some tips about setting yourself up for success.
Why Make the Switch to UX Design?

The US Bureau of Labor Statistics predicts that "the job outlook for web developers and digital designers is expected to grow 13% from 2020-2030." Careers in UX have a similar trajectory.
"…Jobs for UX designers will grow at 8% — much faster than average. It is also one of the best-paid jobs in the country, with UX designers earning a median salary of $75,000 and 10% of designers earning more than $109,000." [source: Payscale]
This industry change is driving many people to adjust their career paths. At Think Company, we are seeing a lot of candidates for UX designer roles who have either decided to make a significant career change to UX from a different industry or are shifting to UX from adjacent industries like graphic design. Regardless of background, many people are looking to make a switch.
Common Careers in UX Design
Within UX design, there are multiple job titles with varying responsibilities. Each of these roles complements one or multiple phases of the design process:
Empathize: Learning about your users 

Define: Identifying problems and user needs

Ideate: Generating design ideas to solve the problems

Prototype: Creating models and the final product

Test: Testing your designs with real users to make improvements
UX Designer
This is the title you may have heard the most. Encompassing a little bit of everything throughout the design process, UX designers work to understand user needs and create solutions that meet those needs—and the needs of the business. They're involved in everything from initial discovery research to prototyping to testing and overseeing implementation. UX designers also work on testing and iteration after implementation to help ensure the project's continued success.
UX Researcher
UX researchers use qualitative and quantitative methods to generate accurate data that designers use to inform their designs. This research helps the team put themselves in the user's place and gain a more holistic understanding of what they need and want. Research also helps define the outcome of solving the problems for the users and the business. This helps figure out which problems are the highest priority to solve.
UX Developer
Sitting somewhere between coder and designer, a UX developer supports the "Ideating" and "Prototyping" phases of design. This role bridges the gap between design and technology, translating design needs for the rest of the team writing the code. The key deliverables for UX developers are interactive prototypes that stakeholders and other team members can use to test ideas.
UI Designer
No, that's not a typo. UI is a complementary practice to UX, focusing primarily on the "look and feel" of a product, site, or service. At Think Company, UI designers create the "building blocks" of a design—the fonts, colors, and design components—that UX designers use to assemble the structure and flow of the product. We typically put at least one UX and UI designer on each project. The collaboration between UX and UI is ongoing throughout all stages of the design process, with the UX designer kicking off the research and creating wireframes for the team to review based on their learnings. Once those ideas are approved, UI creates the components that support the new product structure.
UX Designer Career Paths
A UX designer's career path is always unique, and they'll do different work depending on the route they choose to pursue. These paths are often informed by a person's work history, interests, or changes in the industry. 
In-House UX Design
In-house work can provide the most traditional career progression if the company has an existing—and mature—design infrastructure. In this environment, UX designers can move up the ladder relatively quickly. They can also dive deep into a single subject matter, industry, product, or space with a (typically) more liberal timeline, less budgetary concern, and more control from the inside.
The drawback here is that if the company doesn't have an established design practice, these designers are often a team of one and have to advocate for themselves and create their own paths. Working in-house may also limit growth opportunities once they are close to the top of the ladder. In-house roles typically begin at the junior level, potentially working up to a senior-level position or director. 
Agency UX Design
When compared with in-house UX design work, a UX designer working in an user experience agency can expect to develop a much larger, cross-disciplinary range of skills across disciplines. UX designers working in experience design agencies also have the opportunity to be surrounded by a larger community of designers and developers to learn from, as there are typically more design-focused resources, education, support, and mentorship. 
Like an in-house role, the path typically begins at Junior or Associate Designer with the potential to work towards a Design Lead position.
Managerial vs. Technical Career Progression
Within agencies and in-house companies, designers will typically have a choice between pursuing a more managerial or technical career. The difference between the two lies in the fact that managerial positions have more of a focus on people and managing a team, whereas a technical career path focuses on the skills and expertise of UX. Managers also focus on coaching, mentoring, and sponsoring others, while technically-focused UX designers spend time on thought leadership and design operations. People who prefer the technical route typically go on to be subject matter experts (SMEs).
Freelance UX Design
Many designers pursue a freelance career after gaining experience at a UX design agency or in-house company. They can accelerate their career progression if they don't have access to the types of work or projects necessary to reach their goals. Freelance UX designers are essentially their own bosses and take on more responsibilities than they may have previously had. There is not technically any career progression sequence as a freelancer since the designer is in control and thus does not receive promotions from their boss. 
However, the projects freelancers choose and the fees they charge are up to the discretion of the freelancer. This means they can work exclusively on passion projects and control their income by taking on more or fewer projects as they are available. 
Top industries for UX designers
While there is room for UX designers in almost any industry. There are a few industries we'd like to share that have put a lot of energy and resources towards hiring UX designers to improve their digital tools and products.
E-commerce
Education (higher-ed/university)
Financial Services
Gaming (Fun!)
Healthcare
Insurance
Pharmaceuticals
Retail (Think Target, Amazon, etc.)
Technology and Design (obviously, want to work at Think Company—check out our open roles)
Telecommunications
Travel (From hotels to airlines)
Take the Next Step in Your UX Career with Think Company
Every UX designer's career path will look different. If you're thinking about making the switch to UX designer, the most crucial step is uncovering what you're passionate about. Zero in on the work you enjoy doing the most and find the practice that most closely aligns with that work. The beginning of a UX career is a lot about variety and exposure to different types of problems. Many of our researchers, for example, started as UX designers who were interested in research and then chose to specialize.
No matter what stage you're in, at Think Company, we're always looking for passionate, intelligent people interested in UX design to join our team. See our open roles and get in touch.
Want to learn more about the latest in design and technology leadership? Sign up for the Think Company quarterly newsletter today.
---
Send us a postcard, drop us a line
Interested in working with us?
We scope projects and build teams to meet your organization's unique design and development needs. Tell us about your project today to start the conversation.
Learn More