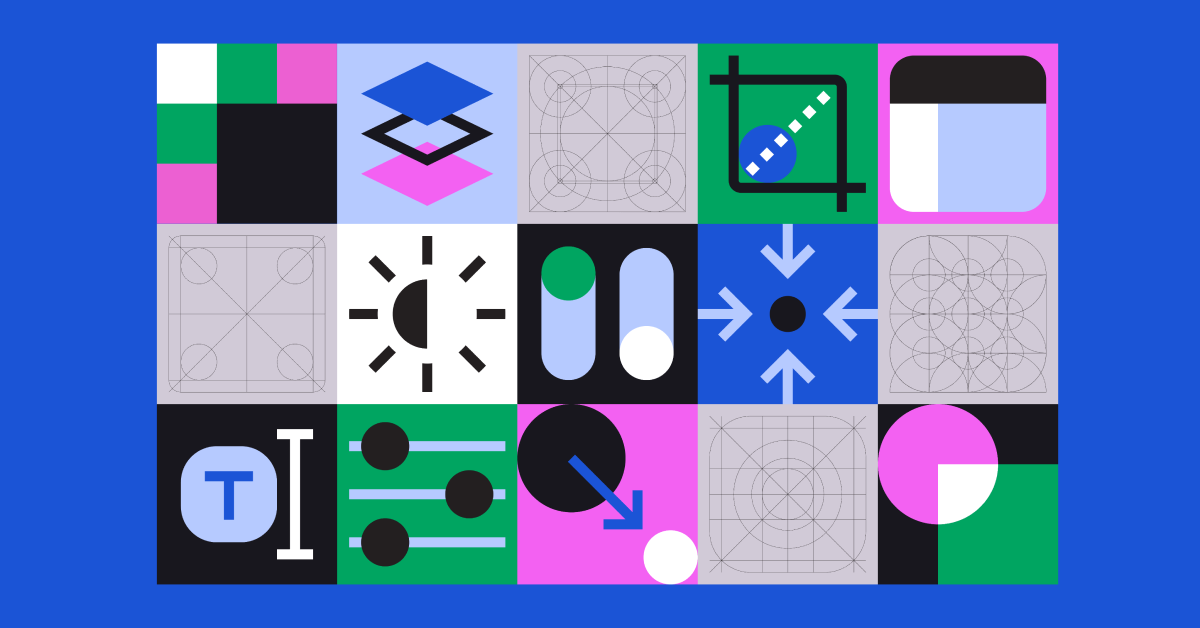 As your business grows, the scale and speed at which you need to create content, UI screens, and other designs grows. This presents a double challenge: 
How do you optimize the creation process so your teams don't get stuck reinventing the wheel every time you need a new site page or piece of content? 

How do you keep all of your new designs consistent as your site or product grows?
A modern design system can be the answer, helping your teams generate new designs quickly and ensuring consistency with existing material. 
What is a modern design system?
A design system is a complete set of standards intended to manage design at scale using reusable components and patterns. – Nielsen Norman
Modern design systems have many benefits, including allowing your teams to focus the majority of their resources on larger, more complex problems, creating a shared language between teams, and fostering visual consistency across products and channels.
If you're interested in implementing a modern design system in your organization, several key elements make the process more effective and efficient. We'll share three of our favorites.
1. Create a shared language
One of the core benefits of implementing a modern design system is the shared language between departments. Designers, developers, and marketers can all reference and create from a single source of information. Collaborative tools help facilitate this work.
Some teams implement design tokens, which are often seen as the building blocks of a design system, expressed as data. Design tokens are all the individual "values" that dictate design elements like color, spacing, typography, etc. Defining these values creates unity and scalability, ensuring you can quickly create new patterns and components that adhere to your established design standards and with fewer resources. 
Key benefit: At Think Company, we use tools like Figma and Storybook to help bridge the gap between teams and drive collaboration. Design tokens increase scalability and efficiency for systems and large product design and development projects.
2. Formalize your processes with DesignOps
Design Operations, more commonly referred to as DesignOps, is the framework that we build within. DesignOps is made up of processes that help your team navigate any challenges that may arise in the design process. Some of our commonly-used processes include:
Communication documentation—the overall workflow including who is involved, responsible, and informed.

Intake process—adding components, enhancements, updates, and reporting bugs.

Issue management process—how to resolve a problem, who is resolving it, and the resolution's status.

Release communications—the system that notifies internal users about changes.

Link to changelog—a list of all archived changes made in the version history.
Key benefit: Implementing DesignOps allows you to configure your teams in ways that drive productivity and scalable success.
3. Drive adoption
Keeping your team regularly informed about updates to your design system is crucial to driving its adoption. One of the best ways to promote engagement is by demonstrating new functionalities, "Getting Started" guides, training workshops, and other educational methods.
A design system no one knows about or uses has no benefits and accrues design and tech debt. You develop a shared sense of ownership across teams by communicating about your design system regularly—via Slack, your internal Wiki, email, etc. 
Key benefit: Keeping the design system front-of-mind promotes ease of use and fast design iteration.
Implementing a modern design system
A modern design system is a shared language that allows cross-functional teams to create content and designs more effectively. It streamlines the creation process, keeps new designs consistent across channels, and drives sustainable growth. 
By utilizing design tokens, collaborative tools, and focusing on DesignOps, you can harness the most significant benefits of a modern design system and create new designs that drive growth across your organization.
Want to learn more about implementing a modern design system? Schedule a call with a Think Company expert.
---
Send us a postcard, drop us a line
Interested in working with us?
We scope projects and build teams to meet your organization's unique design and development needs. Tell us about your project today to start the conversation.
Learn More