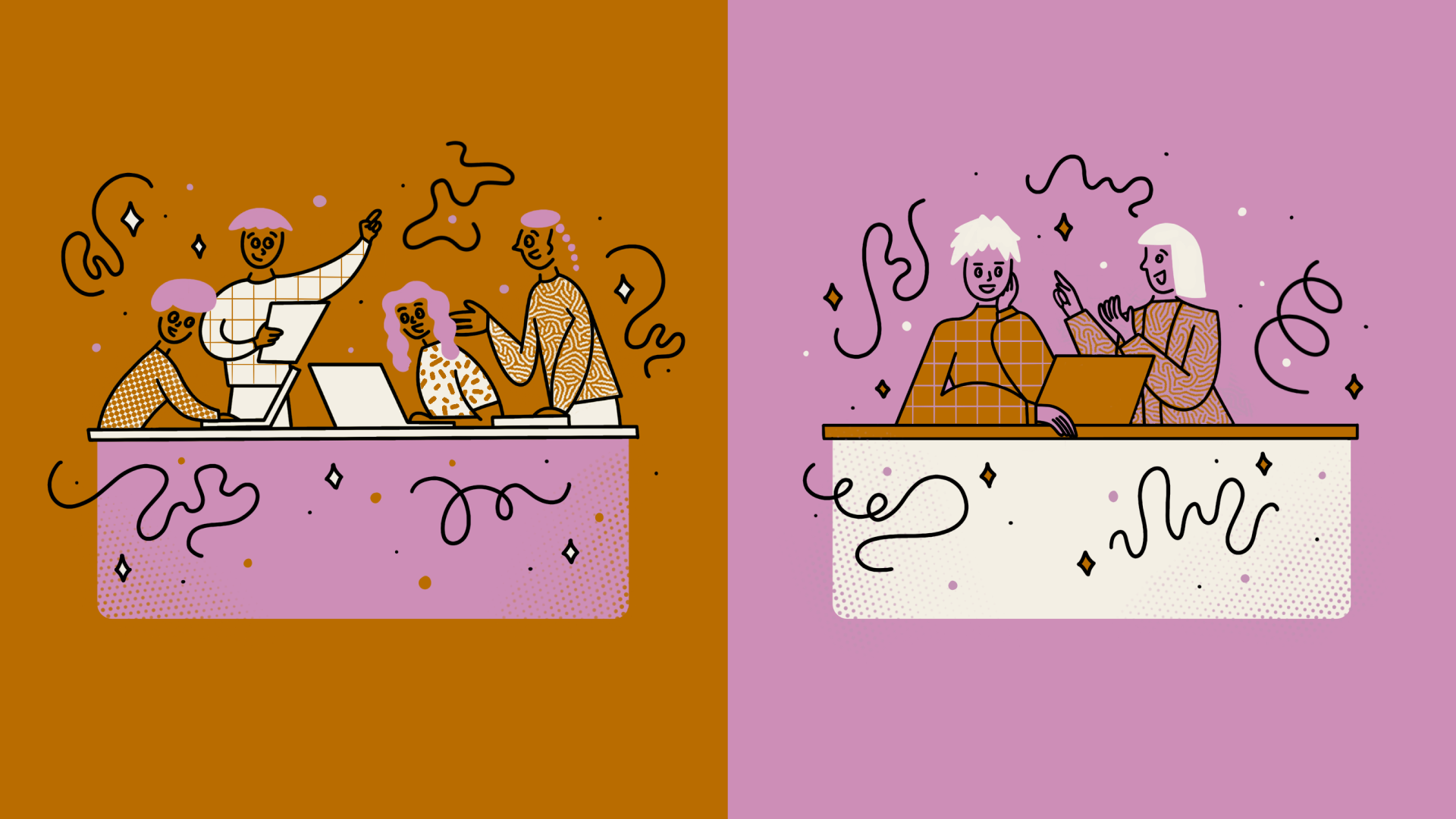 Many companies eventually have to decide between building in-house design capability or working with a UX design agency. While Think Company is a UX design agency, we encounter situations where clients would be best served by an in-house design function, and we try to steer companies in that direction when it's the right move for them—and often consult with them on building their own internal UX function.
Whether you're looking at working with an agency or hiring in-house, each has its benefits and drawbacks. Understanding the differences between the options is crucial to knowing what's best for your organization.
Differences between an agency vs. in-house UX design team
Having a solid grasp of the working differences between an agency and an in-house UX design function is vital for making the best decision for your team. Each option is different and can have far-reaching implications for your team's work and the designs you produce. 
Agency
If your design needs are more project-based, an agency is a great fit. Agency projects usually begin with a specific scope or deliverable in mind and are a great choice if you need help for a set period. That said, many great client and agency relationships develop and deepen over time, becoming true partnerships, so there's no absolute limit here. 
But as a general rule, if you have a specific project in mind and need it to kick off soon, an agency can hit the ground running and bring their industry-tested processes, tools, and protocols, tailoring them to your specific needs—quickly.
Beyond hitting the ground running, most agencies can also offer a range of services to meet your needs, allowing you to flex and change your business strategy over time. While some services might seem obvious—research, content strategy, design, front-end development—agencies can also offer expertise in DesignOps, which can help align your internal team and streamline processes.
DesignOps includes things like:
Product management

Team leadership and development

Communication structure and processes to bridge gaps across design and development teams

Workflow, capacity, and resource planning
Even if you have an internal team, you can often supplement their work with an agency's to accomplish your business goals more efficiently. Whether that's utilizing an agency's expertise to fill knowledge gaps on your team, relying on their time and resource availability, or leaning on them to help you evolve and develop processes. Some organizations will use their internal team to maintain the product's current focus, while an agency investigates and designs the next generation of their product.
In-House
When clients are considering hiring an in-house designer, the most obvious benefit they see is having an internal resource embedded in the fabric of the company culture. An in-house designer can also be a huge asset if you're building your design infrastructure and want to expand your company's offerings and services.
In-house UX designers are also available at the hours you designate, and you don't have to worry about "scope creep" or adjusting to their working model. Refocusing in-house designers is as easy as reprioritizing their work.
However, one designer can't do it all—and it's important to consider the need for design leadership, product leadership, and engineering to keep up with the demands of an evolving product. That is a lot of expertise to recruit and train. So, while an agency may appear more expensive on the surface, the costs associated with training and education, coupled with the ability to mentor and fulfill growth aspirations on an in-house team aren't minimal.
Factors to consider when choosing between in-house vs. agency
For most companies, there are three primary factors to consider when deciding between hiring someone in-house or working with a UX design agency:
Timeline

Budget

Expertise
Each element will have a different "weight" depending on your needs as a team and company, but in our experience, these are the three most important things to keep in mind.
Timeline
When do you need this work done? Do you have time to slowly ramp up, integrating an individual's skillset into your team processes and investing in their knowledge base? Or are your needs so pressing that you don't have the internal resources to manage a new hire—as talented as they may be—and get them started on a design project simultaneously?
Many companies become aware of their design needs when it's too late to devote the time and resources needed to ramp someone up internally. If you're exceptionally talented at planning and won't need serious design support for another few months, it's a great time to bring someone on. If you're entertaining this question because your design needs have become increasingly pressing and there's an urgency to your search, partnering with an agency will often be the best use of your resources.
Budget
Hiring an in-house designer is an investment in every sense of the word. While the cost over time may be high, remember you're contributing to your company's design infrastructure and service offering.
Partnering with an agency can provide more flexibility in terms of cost and engagement. A full-time employee is difficult to scale up and down—what happens if you need to temporarily reduce costs or ramp up your engagement for a big project? What if you decide you want to pursue more projects? Agencies offer services that can be both easy to budget for and adjust as necessary.
Expertise
The real question here is, does your company have the resources to hire someone with the experience you need—and keep them over time? Expertise and experience come at a price, and if you're a larger company with long-term plans to build out this practice within your organization, it can be worth the investment. But if you're a smaller company that needs the best you can afford in the short term, partnering with an agency can grant access to a high level of expertise without the long-term commitment of an in-house hire.
But the size of your organization isn't everything—larger businesses can benefit from partnering with agencies to solve specific problems their internal teams don't have the resources to tackle.
The pros and cons of hiring an in-house vs. agency UX design team
When you're deciding whether or not to outsource your UX design needs, there are advantages and disadvantages to each choice. Here are some of our top things to consider.
Agencies
Pros: 

An increased and

diversified skill set

and experience

Agency hours—

and cost

—can be more flexible

Plug-and-play design operations, tooling, and processes

Cons: 

Immediate expenses can be higher than a hire 

Selecting the right fit can be difficult

There's a risk of disconnects in communication, culture, and expectations
In-house
Pros: 

Integrated within your company's working models and processes 

Easily accessible and available 

Contributes to your company's design infrastructure

Cons: 

Limited skills

Long-term cost may be more expensive (salary, benefits, training)

Can be an inflexible investment if you need to ramp up resources
Working with Think Company's UX design team
While there's no one-size-fits-all solution to UX design support, at Think company we've worked with a range of companies, teams, and industries to support their unique set of needs. There are instances where an in-house designer is the right fit for you, but the flexibility, cost-benefit, and access to the expertise you get from partnering with an agency like ours is difficult to match.
If you decide to start looking into working with an agency, you can use the same due diligence you'd use to find an employee. You want to find a team whose process works with yours. Don't just focus on price; look for shared values, processes, and experience in the space. A great agency partner will understand your goals and help you elevate and shape those goals based on their experience in the space. 
Whatever you decide to do, both in-house and agency teams are great options for expanding into the UX field. Understanding your unique set of needs and resources, and the differences between the options, is crucial to finding the solution that's best for you.
Are you trying to decide whether to hire in-house or work with an agency? Get in touch. We'll assess your needs and advise on the best choice for your organization. Chat with our team of experts today!
---
Send us a postcard, drop us a line
Interested in working with us?
We scope projects and build teams to meet your organization's unique design and development needs. Tell us about your project today to start the conversation.
Learn More