When a colleague suggested that I write a post about Think Brownstone's company culture with the fresh perspective of a new employee, I enthusiastically agreed. After only six weeks here, I already have oodles of reflections to share. Once I started jotting down my thoughts, I quickly realized that our unique, vibrant culture has a life of its own that's hard to encapsulate in a mere blog entry. But I shall try to do it justice.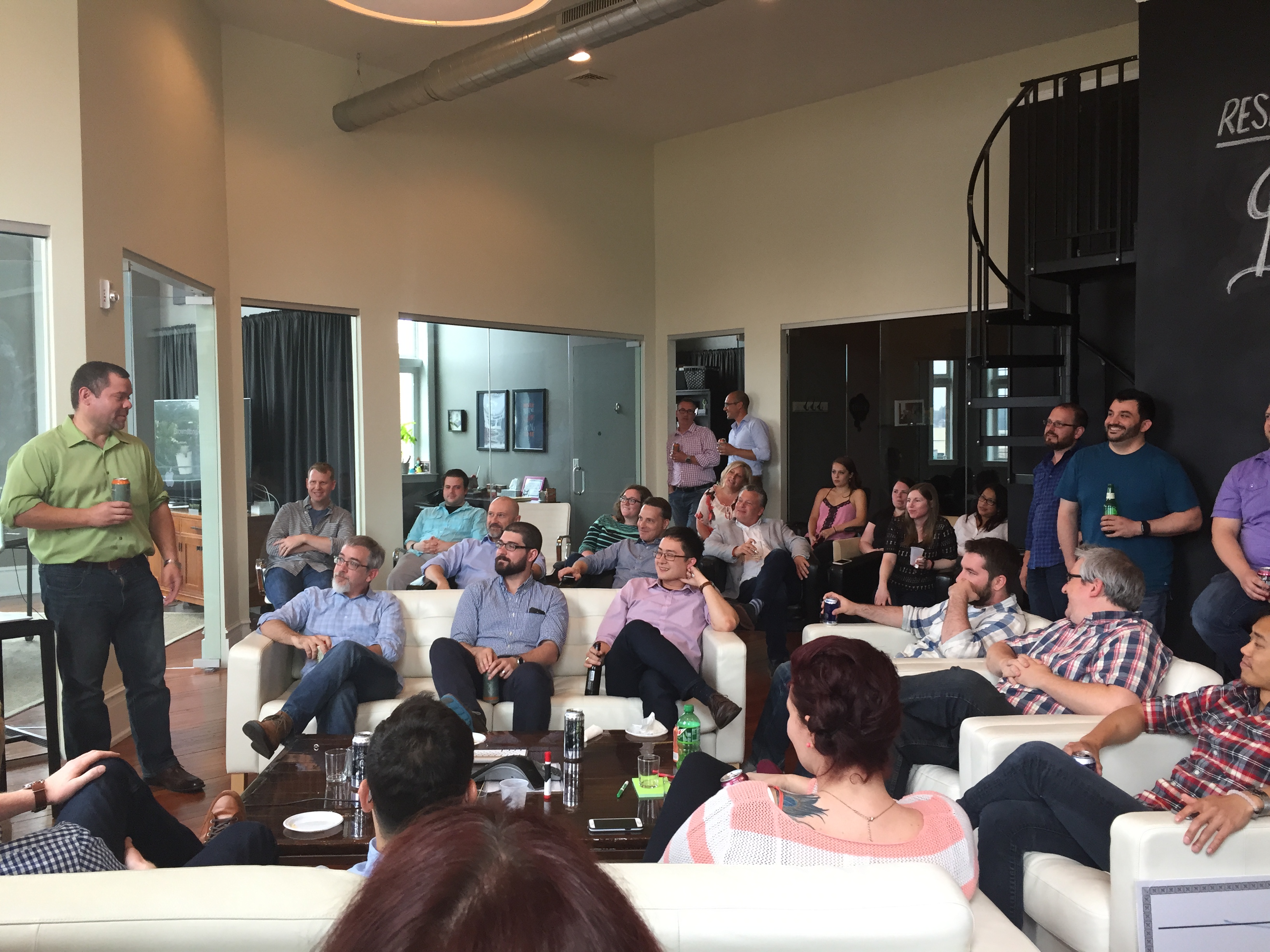 I joined Think Brownstone after years of feeling like a cog in various machines. Corporate culture certainly has its place, but I was never personally able to vibe with the team-building exercises and odd rituals meant to bind myself and my colleagues tightly together inside of a company identity. Frankly, those "cultural" events seemed forced and perfunctory, and I thirsted for something more genuine. (Also, I never want to do another "trust fall". Ever.)
My professional background is a blend of human resources and relationship management with a focus on talent acquisition. As interest in my current situation was waning, Think Brownstone synchronously decided it was time to find a full-time person who would identify and recruit future "Brownstoners"—not an easy task. Very fortunately, I was selected as that person.
People
I'll admit that I was apprehensive about entering a company of exceptionally creative and brilliant minds, especially since I did not come with a technical background. However, I joined a generous, team-oriented company, and my new coworkers have warmly brought me into the fold and have already upped my technical savvy. For this, I am deeply grateful and humbled.
My first impressions were thoroughly positive. Most of our staff came from our networks—referrals from (you guessed it) existing Think Brownstone employees. Excellent people associate with other excellent people, so we've been able to build a solid web of interconnected co-workers.
I still remain struck by the raw intelligence here that comes wrapped in witty and funny personalities. Put simply: everyone is remarkably smart. My mind began expanding the moment I crossed the threshold of our studio(s).
Time Together
Cultural events at TBI are the cornerstone of our cohesiveness, and we have a knack for wringing a good time out of events that other organizations see as drudgery. Case in point: our quarterly staff meetings. Luckily, the most recent quarterly was held on my third day of work, which meant I was able to meet nearly every Brownstoner during my first week on the job.
We congregated in our Conshy studio and were treated to a quarterly review the likes of which I've never seen. The leadership team presented first… and they were actually funny! The ad-libbed banter and good-natured jokes confirmed that I was definitely not in cubicle Kansas anymore.
Best of all, the meeting was followed by a company beer, wine, and bourbon swap. I expected the swap to end speedily, followed by a mass exodus to the door (since it was an evening event, after all). I was pleasantly surprised to see that nearly everyone stayed at the studio for a couple of hours just to enjoy each other's company—something I had never before experienced in the workplace.
Fun
The second notable cultural event I attended was Think Brownstone's Annual Bastille Day Cheese Day. In its first year, this homage to fromage (sparked by our resident Francophile Phil) featured a few blocks of lonely cheeses adorning a conference room table. Fast forward a few years, and it has evolved into a very legitimate, very gorgeous event for our team and their families. Folks enjoyed a lavish selection of cheeses, prosciutto, and handmade chocolates with beer, wine, and champagne pairings. The night ended with the tradition of whiteboarding and caricature sketching of choice attendees—and it was hysterical! Truly, the event was lovely—and it all took place "just because" our leaders decided to throw a party. For fun. For all of us.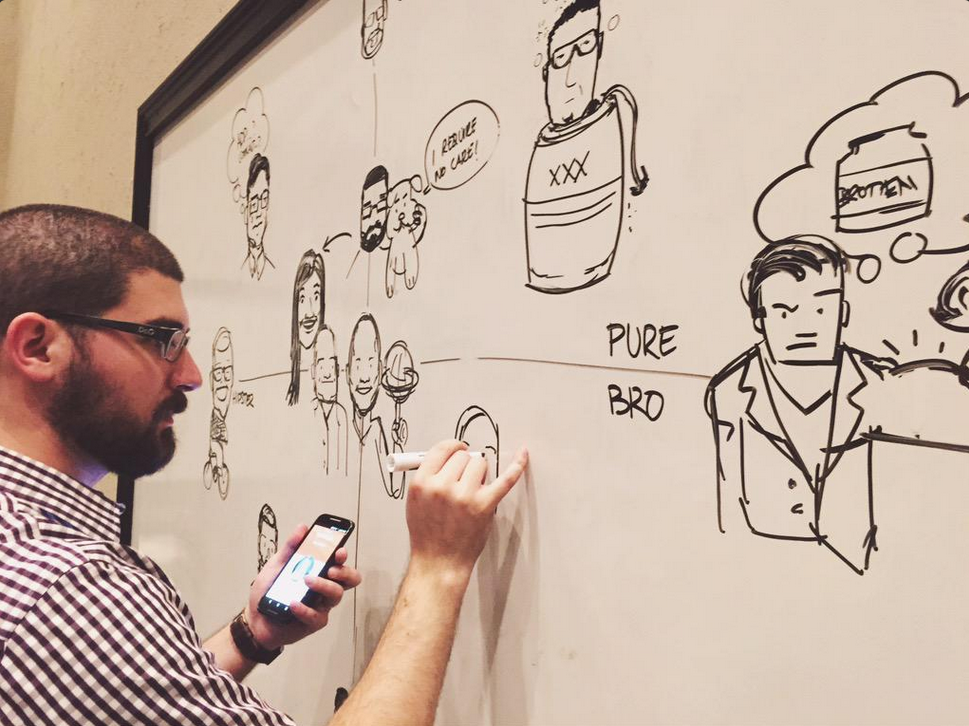 This past July, for the first time ever, Think Brownstone's monthly revenue was north of a million dollars. As a reward for this significant accomplishment, our co-founders Carl and Brian treated everyone to impromptu happy hours in Philly and Conshy to celebrate. They know that celebrating our successes, big and small, fuses our relationships and fosters the highly-collaborative environment that we've come to know and love. They are also very vocal about knowing that this success is collective, shared, and only the sum of all of our parts. This recognition and positive reinforcement from our fearless leaders demonstrates how much they value us, and it incites loyalty, fortitude, and tenacity amongst the team.
There's so much more. Think Brownstone's humanitarian efforts are dyed in the cultural wool with hyper-local aid for the homeless near our Center City studio, and international support in Kenya through the Neema Project. Our Soup Day tradition provides a space to enjoy lunch together in the studios each week. And our oh-so clever Slack community keeps me in stitches every day.
Hands down, Think Brownstone is the best place I have ever worked. And joining this team was one of the best life/career decisions I've made. Since coming aboard, my family and friends tell me I seem happier from the inside-out—and that's something that's impossible to fake.
---
Send us a postcard, drop us a line
Interested in working with us?
We scope projects and build teams to meet your organization's unique design and development needs. Tell us about your project today to start the conversation.
Learn More