It's that time of year again, friends. Each December, I get the nod from Mackenzie to start thinking back over the year for the annual "Reflections" blog post. The first thing I do is go back and read where we were this time last year—and it is always an eye-opener. 
What never changes is how quickly the years feel like they are flying by, so I'll start by saying, "yep, same." Even though this realization always freaks me out a bit, it also encourages me to really try to be present in the moment. It allows me to step back, appreciate all that I (and we) have to be thankful for right here and now, and recognize what we've accomplished through grit and persistence over the year—even though it seems like a whirlwind in aggregate.  
2022 was our year to get "Back to (focusing on) the Future" rather than recovering from turmoil. That focus wasn't because we think turmoil is in our collective rear-view mirror, but because we have to accept that turmoil, in its various forms, is likely our norm for the foreseeable future. So, we'd better stop treating it as an exception (distraction/scapegoat/etc.). So how do we, in spite of that turmoil, while also being cognizant of it and the various ways it affects different members of our communities, still plan and set goals for ourselves that are worth striving for? I'm still working on fully answering that question, but I have no doubt that this is the task at hand. 
We did a lot in 2022
The act of reflecting over another year passed often feels like you just stepped off a roller coaster for a brief pause, and it takes a beat to collect yourself. But reflection is important—and having the previous year's happenings as a benchmark is also handy because it's easy to see the challenges and solutions we uncovered along the way. "Wow, at that point I was concerned about X, we hadn't yet accomplished Y, and we didn't even know that Z was lurking around the corner." And then, it all starts to be revealed: how far we've come in that period of time.
We grew with our clients—current and new
2022 was another year of growth for Think Company, with about 22% revenue growth over 2021—a significant achievement.
Our client relationships tend to be long-term and enterprise-wide, with a large amount of repeat business year over year. So it's also significant that we added 20 new logos to our roster in 2022. We continued to mature as a company with investments in sales, HR, marketing, and recruiting. We've also of course been navigating the worst inflation of the last 40 years together—not that we haven't seen ups and downs before. I mean hey, we've been at this for 15+ years now and remain proudly and distinctively independent.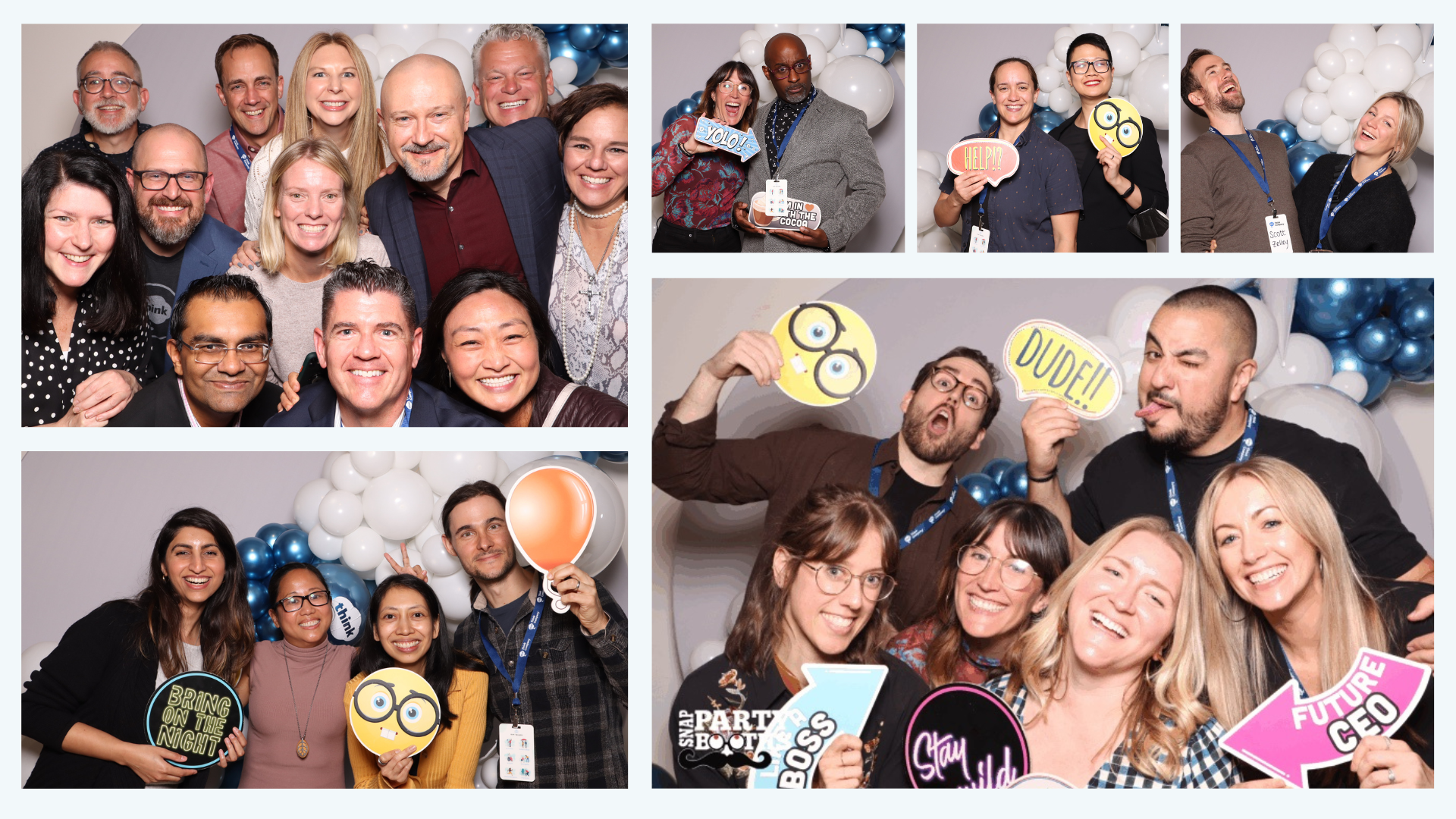 We adapted and strengthened our hybrid work environment
Beyond that though, in 2022 Think Company came up with a new answer to important growth questions:
"How will we sustain and evolve our culture as we become more distributed nationally? As we continue to add so many new folks with so much to offer and work with clients across the country, how do we avoid losing what makes us Think Company?" 
One piece of that answer was Think Week.
If you'd like to come into the office to see or meet folks but aren't sure who will be there when you do, we'll solve that problem for you. Come during this particular week, when all of us who are interested and able will be present in the downtown Philly office. We'll fly you in and put you up if you don't live in the area. We'll have breakfast together (in fact, Phil, Bruce, and I will cook it for you on Thursday), we'll have lunches as small teams, and we'll do small group "dine-arounds" at Philadelphia eateries in the evening. Teams will host working sessions and work shares during the day, we'll be co-located during the times we work and brainstorm together, and we'll have our big quarterly meeting in person with different activities and experiences for those participating remotely. 
In the evenings, we'll enjoy walking tours, bowling, axe-throwing, wine tasting, and candle making. Thinkers will battle at MarioKart tournaments, belt it out in epic karaoke sessions, and check out Philly staples like the Philadelphia Chinese Lantern Festival at Franklin Square. We'll bring back events like our annual "Think Company Cheese Day," host catered events with Chef Kurt Evans and his amazing team (who are doing inspiring work in the city), and generally, get back to remembering why being in person sometimes can be so powerful and fulfilling. 
We held three Think Weeks in 2022 and frankly we were a little exhausted by it—but we learned and will adjust going forward. Think Week will be a part of our playbook from now on because by all accounts it was a huge success and very worth it. 
We gave back to the communities we love
We completed pro bono digital experience and strategy projects for organizations like Glitter, Real World Leaders, and created curriculum and led sessions for the Well City Challenge sponsored by The Economy League of Greater Philadelphia. 
We continued to empower change in Philadelphia and beyond through our continuing membership in civic and business organizations like The Economy League, The Philadelphia Alliance for Capital and Technologies (PACT), Pennsylvania Small Business Development Centers, and The Philadelphia Chamber of Commerce. This included commitment to and active participation in efforts such as the Diverse Procurement Collaborative, the CEO Access Network, the Middle Market Action Team, and Mentor Connect. 
As icing on the cake, we are also sparking up new partnerships with recognized market leaders like Airtable, Crownpeak, Kitepipe, and Figma. 
I could go on, but you get the drift. Dang, we had another heck of a year, Thinkers!
We're ready to take on 2023
So what are we looking at in 2023? Well, as we've gone through our annual planning process and collected each department's wants, needs, successes, and pain points, we've come to one overarching theme. We've had 15 years of success based on a lot of divergent thinking and experimentation regarding internal tools, processes, and workflows. Now, we need to capitalize on all that we've learned and all we're capable of—2023 will be "The Year of Convergence." We're doing a lot of streamlining and consolidating to make us even more effective and efficient as we service our clients. I'm already very curious and optimistic to see what I'll be writing this time next year!
But I'm also very focused on enjoying each moment in between and not wishing for that time to go any faster. I sincerely hope that you are able to bask in those moments of the present, especially this holiday season, and I wish you peace and light as we bring 2022 to a close and embark on 2023. Be safe, be well, and be kind.
---
Send us a postcard, drop us a line
Interested in working with us?
We scope projects and build teams to meet your organization's unique design and development needs. Tell us about your project today to start the conversation.
Learn More