Do you work for a large organization with multiple locations and thousands of employees? Great! Let's try an experiment: walk around your office, find ten people with different backgrounds/responsibilities/titles, and ask each of them, "what do you use the company intranet for?"
Back already? There is a good chance two of them said something about finding people. Based on Nielsen Norman's review of corporate intranets and our own experience working with our clients, finding people and learning what they do is one of the most popular uses of corporate intranets.
In this post, I'll share a little bit more about the value of publishing org charts internally.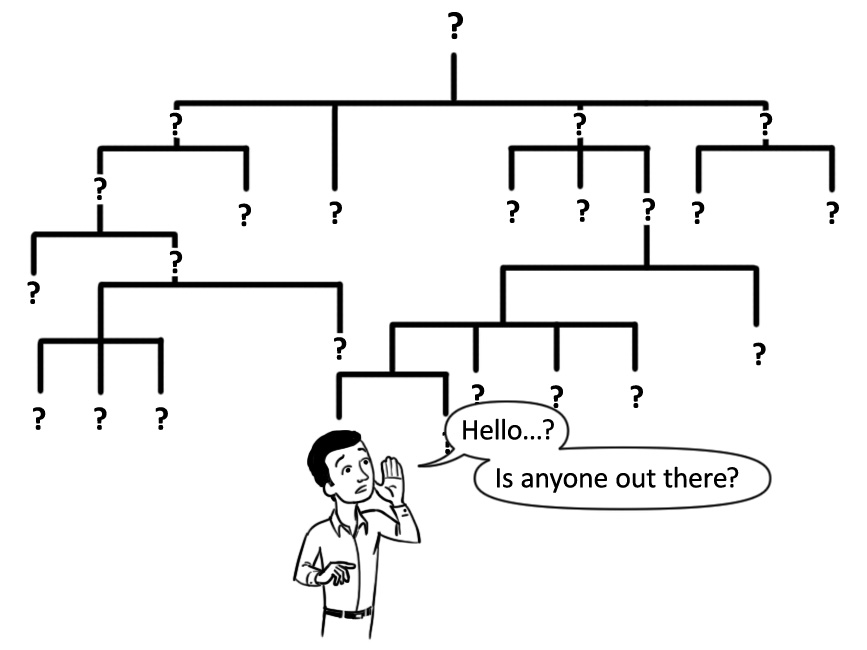 Why are org charts valuable?
Company org charts may seem like an administrative burden to the folks responsible for creating and maintaining them, but many employees find themselves searching for this type of information more often than you'd think. Org charts provide value in multiple ways, helping your employees to:
Find out who someone is and their role at the company
Locate other people and departments for collaboration, networking, or questions
Understand how different people work within their departments and with other departments
Understand reporting structures in order to share positive or critical feedback
Look for growth opportunities within the company (rather than new jobs outside of the company)
These functions span basic reference needs as well as fundamental employee culture, growth, and retention activities that eventually lead up to larger experiences at a company.
Common objections to publishing organizational charts
Our design process investigates not only what our clients want to achieve, but also the business decisions that led to the current state. In our years of building corporate intranets and portals, we have often asked organizations why they don't have public company org charts for their employees to see. The most common rationales we hear are:
If they get in the wrong hands, headhunters can use them to recruit people.
Employees can use our online directory to find anyone. You can see who they manage and who their managers are.
It changes so often, it would be very difficult to maintain.
On the surface, these rationales may seem like they have merit, but let's dig into them one at a time while keeping the perspective that organizations should strive to remove as much friction from the workday as possible.
"Headhunters will use the org chart"
Headhunters are the folks you go to when you want to poach someone from your competitors. A successful recruiter knows how to find the most talented people in the industry. It's called networking, and they're good at it—with no org chart required.
It's doubtful any headhunter is trying to find your talent through your internal org charts. At Think Company, we are so unconcerned about headhunters that our entire team is featured prominently on our website. If you are in a medium-to-large corporation, and you compare the size of our company to the size of your company, we have a lot more to lose if someone gets poached. The best thing you can do to prevent poaching is to continuously investigate and improve your employee experience.
"Just use the company directory"
You've checked that box off of your list, yet your users are most likely still frustrated… deeply, deeply frustrated. If rated on a scale of 1-10, this effort would land somewhere between 2 and π. Online directories do not give your employees an understanding of the complex structure of your organization. They want to know who does what and how they fit into the organizational structure. The sooner they do that, the less they'll be calling you to find out who to go to, and the faster both of you can go home tonight and be prepared for another hard day of work tomorrow.
"Our organizational chart changes too much"
Imagine if one of your direct reports told you they weren't going to do something because it was too hard. This is simply an excuse without merit. This information is encoded in multiple locations: HR databases, individual departmental documentation, ISO certification filings, SEC documentation, etc. Delegate the task to some smart folks who can work with your IT group—or, better yet, crowdsource it. Don't be scared of letting the crowd manage your org charts. The crowd is asking for it–they'll make sure it is accurate.
Benefits of creating a corporate organizational chart
Finally, it is time to applaud those of you who provide comprehensive corporate org charts and contact information to your internal employees. You don't really need my reinforcement for it, though. Your employees probably love you, work effectively and independently, and are much more productive than your competition. They're also more likely to say, "no thanks" when headhunters call them.
Org charts provide value to everyone
As we've discussed, corporate org charts certainly benefit employees across industries and company sizes. But employers benefit in some unexpected ways, including better internal understanding and transparency around structure, responsibilities, opportunities, and how every part of the organization contributes to the whole. Eventually, companies benefit from less employee frustration, more all-around clarity, and better opportunities to improve employee collaboration and growth. We'd call that a win-win.
---
Send us a postcard, drop us a line
Interested in working with us?
We scope projects and build teams to meet your organization's unique design and development needs. Tell us about your project today to start the conversation.
Learn More