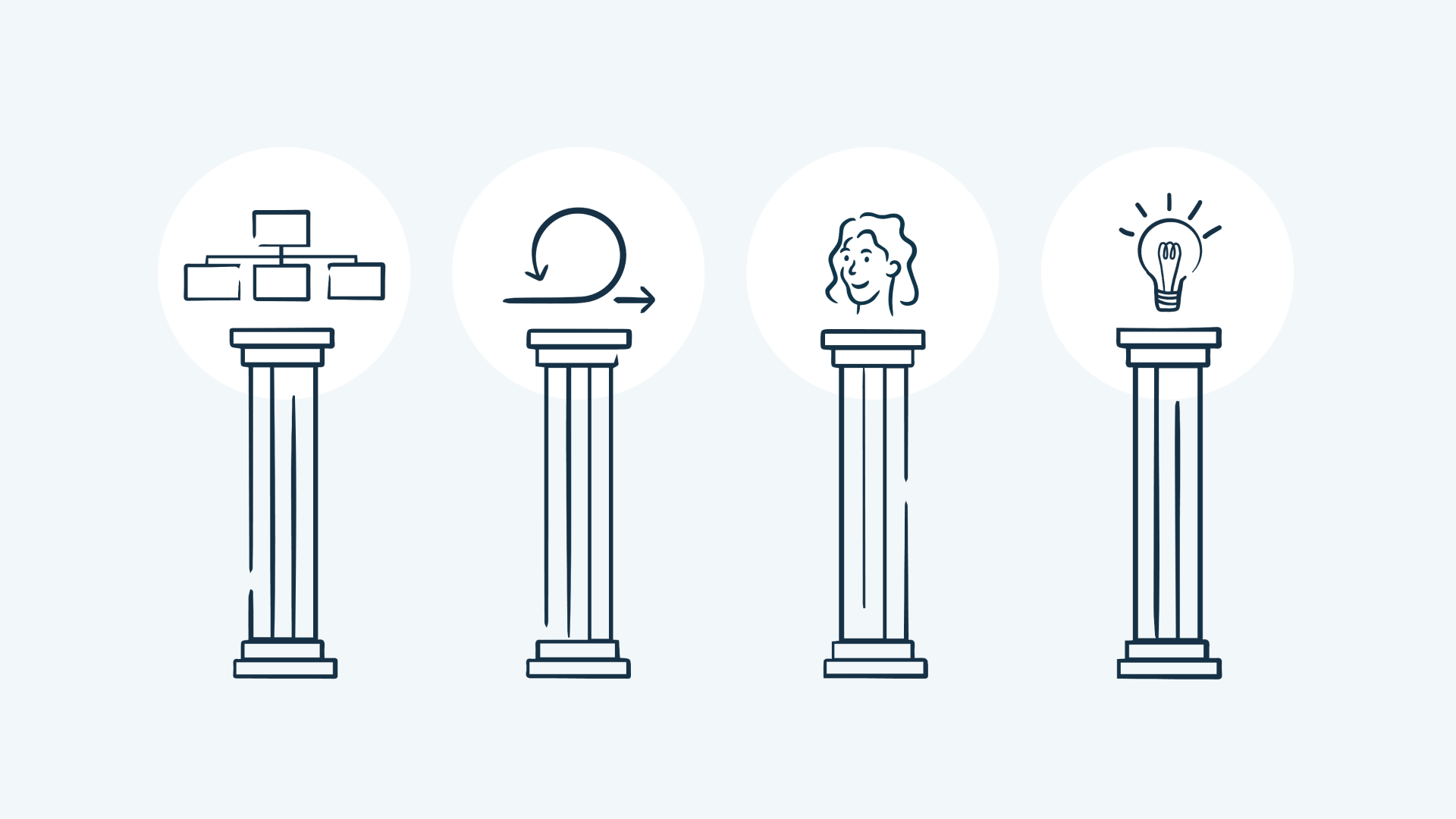 Digital transformation is a broad activity that can take many forms. We take a holistic approach to digital transformation that starts with building cooperation toward a shared goal between teams. From there, we'll shift gears by reorienting your operations toward a customer-centric approach by envisioning change, thinking through the practical logistics of a successful digital transformation, and guiding you through workforce training, technology integration, and process management.
Investing in Digital Transformation services can help foster your organization's ability to pivot within the changing market landscape. The goal? To help you align your customer's experience and business goals—keeping your organization competitive by enabling you to provide rich experiences to your customers.
Okay, but what should you consider when tackling a Digital Transformation project? There are four key pillars of digital transformation to keep in mind.
Organization transformation
A customer-centric approach requires your organization to alter its operations and processes in a fundamental way. To accomplish this, you will need to undertake a research project that explores the strengths and weaknesses of your organization's internal workings. Through this research, you will discover how different parts of your organization work together and where fragmentation and siloing exist. With this knowledge, you can begin implementing changes that will make your workforce more effective at designing products and coming up with data-driven decisions to provide customers with the most competitive and best possible experiences. 
Waterfall to agile
Keep a pipeline of new products fresh and growing. This will allow your organization to address customer pain points faster and release new features that meet established needs, all while looking ahead for market opportunities. You should adopt a startup mindset—focusing on a continuous improvement philosophy that embraces ongoing analysis and concept validation rather than emphasizing big releases. Tools for data analysis will allow you to prioritize and prove out ideas without impeding speed-to-market. 
Customer-centered approach
Customers are the driving force behind the success of a product or service, and matching what your organization does with your customers' needs is important. To meet the needs of evolving customers, you need a feedback loop. We help businesses set up effective customer feedback loops by pairing this data with business objectives and defining a multi-year roadmap based on evidence gathered from the data.
Adopt and integrate emergent technologies
Technology is constantly evolving—what we rely on today will change over time. To evolve existing systems and incorporate emerging technologies that align with positive customer experiences, you should aim to keep your data separable from your platforms. Your teams should be trained to maintain and govern your existing technology while making changes that align with your company's strategy. The ultimate goal should be to provide customers with technologies they enjoy!
Foster your organization's ability to pivot with digital transformation
Staying on top of technology trends and customer feedback is essential for any digital organization. By following these four pillars of digital transformation, you can ensure that your organization is best positioned to adapt to change, all the while continuing to provide quality and effective services and products to your customers.
Are you ready to take on a digital transformation project? We can help your organization make a smooth transition. Chat with our team of experts today!
---
Send us a postcard, drop us a line
Interested in working with us?
We scope projects and build teams to meet your organization's unique design and development needs. Tell us about your project today to start the conversation.
Learn More