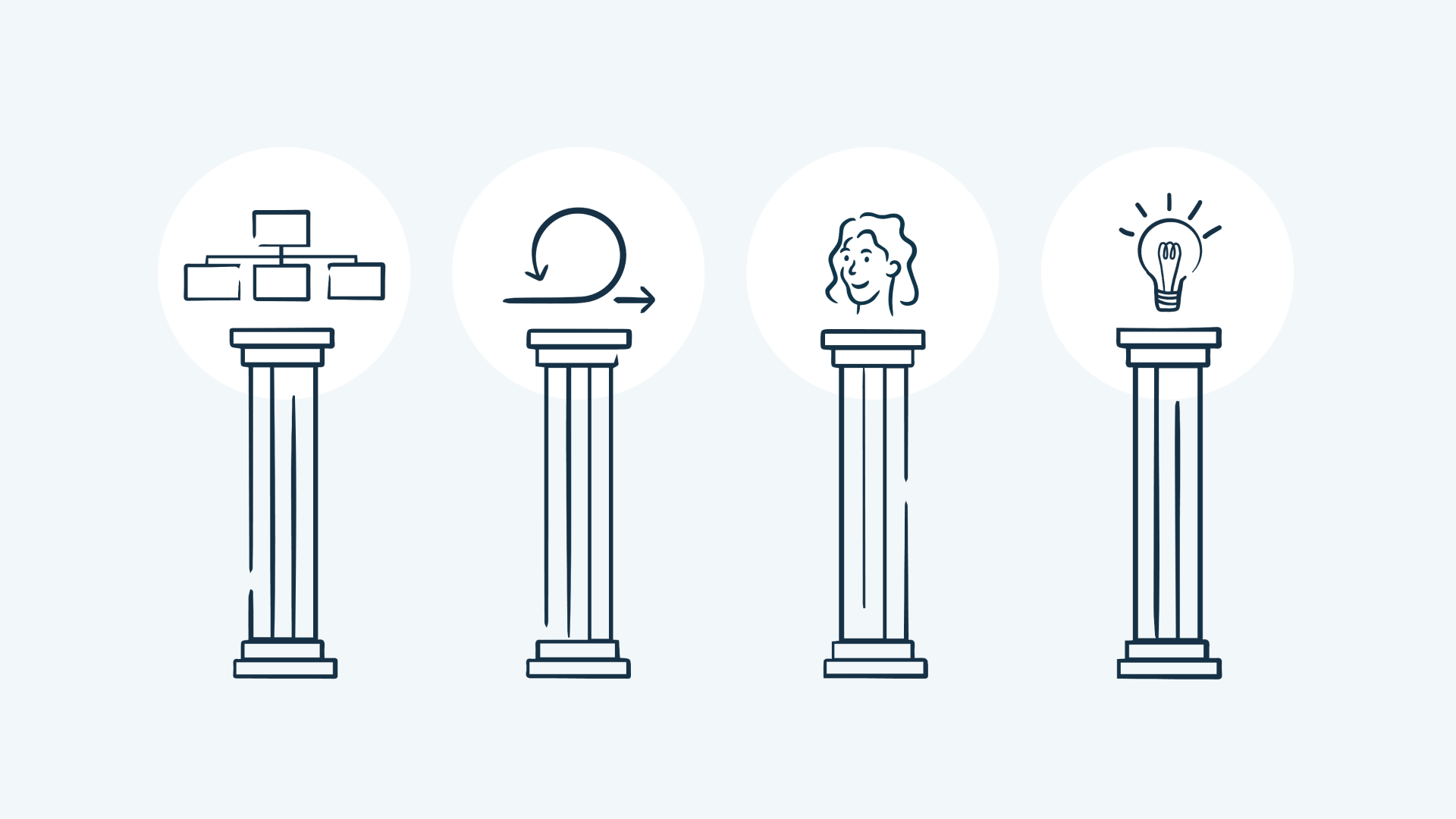 Digital transformation (also known as DX) is a broad activity that can take many forms. Here at Think Company, we take a holistic approach to digital transformation, starting with building cooperation toward a shared goal between teams. From there, we'll shift gears by reorienting your operations toward a customer-centric approach by envisioning change, thinking through the practical logistics of a successful digital transformation, and guiding you through workforce training, technology integration, and process management.
What is a digital transformation strategy?
Digital transformation is a transformation of the way your business works. It's about transforming your infrastructure with digital tools that revolutionize how you do business and interact with your customers.
A digital transformation strategy can look different across organizations and industries, but they all include four pillars (or constants) that leaders should consider. This doesn't have to be an enormous lift; it can start small and scale to larger as it makes sense for your organization. It should align with the resources and goals of your team. Importantly, user experience is non-negotiable for a digital transformation strategy—humans should always be at the center of the decisions. 
Investing in digital transformation
Okay, but why should your organization prioritize digital transformation? Investing in Digital Transformation services can help foster your organization's ability to pivot within the changing market landscape. The goal? To help you align your customer's experience and business goals—keeping your organization competitive by enabling you to provide rich experiences to your customers.
The four main areas of digital transformation
Let's dive deeper. There are four key pillars of digital transformation to keep in mind—organization transformation, moving from waterfall to agile, creating a customer-centered approach, and adopting and integrating emergent technologies. While improvement in any of these areas is great, a true transformation in your organization will include all four. Below we'll explain each area in more detail.
Organization transformation
A customer-centric approach requires your organization to alter its operations and processes in a fundamental way. To accomplish this, you will need to undertake a research project that explores the strengths and weaknesses of your organization's internal workings. Through this research, you will discover how different parts of your organization work together and where fragmentation and siloing exist. With this knowledge, you can begin implementing changes that will make your workforce more effective at designing products and developing data-driven decisions to provide customers with the most competitive and best possible experiences. 
Waterfall to agile
Keep a pipeline of new products fresh and growing. This will allow your organization to address customer pain points faster and release new features that meet established needs, all while looking ahead for market opportunities. You should adopt a startup mindset—focusing on a continuous improvement philosophy that embraces ongoing analysis and concept validation rather than emphasizing big releases. Tools for data analysis will allow you to prioritize and prove out ideas without impeding speed-to-market. 
Customer-centered approach
Customers are the driving force behind the success of a product or service, and matching what your organization does with your customers' needs is important. To meet the needs of evolving customers, you need a feedback loop. We help businesses set up effective customer feedback loops by pairing this data with business objectives and defining a multi-year roadmap based on evidence gathered from the data.
Adopt and integrate emergent technologies 
Technology is constantly evolving—what we rely on today will change over time. To evolve existing systems and incorporate emerging technologies that align with positive customer experiences, you should aim to keep your data separable from your platforms. Your teams should be trained to maintain and govern your existing technology while making changes that align with your company's strategy. The ultimate goal should be to provide customers with technologies they enjoy!
How to make a digital transformation roadmap
To get started and ensure efficiency, you'll need to create a digital transformation roadmap. Simply put, this plan will help your organization and teams move through the digital transformation process. It'll provide structure, identify who will be a part of the project, including stakeholders that should be involved along the way, and outline what success looks like for your organization.
What should be included in a digital transformation roadmap?
Your roadmap will vary based on the lift of your DX project. But there are a few things every roadmap should include, no matter if you're making incremental changes or going for a larger overhaul. 
Data or data collection plans.

You'll need to understand where you're starting to know where you want to go.

S.M.A.R.T goals.

Now that you understand where you're starting, setting goals you can measure against is important. They should be clear, realistic, and, as we mentioned, measurable. Setting short- and long-term goals will help you keep momentum forward and understand when you've met your ideal outcome. An example could be; lowering the time it takes for your design team to complete a task by 30%. 

Project team members.

Who will be helping to push this initiative forward? It could be an internal effort, or it could be a mix of external consultants working with key members of your team. Ultimately, these people should be involved in goal setting, asking questions along the way, involved in testing and tooling experimentation, and there to present and back up progress to stakeholders.

Stakeholders.

These should be key members of the leadership team. You need buy-in from these people; they'll be important when investing and making decisions on new tooling, resourcing, etc. 

Timelines and milestones.

Digital transformation can bring endless possibilities, so aligning timelines and milestones with your S.M.A.R.T. goals will help ensure your team stays on track and avoids project bloat. They can also naturally act as a moment of measurement and reflection—you likely don't have to reach your DX project's end to start measuring ROI.
Foster your organization's ability to pivot with digital transformation
Staying on top of technology trends and customer feedback is essential for any digital organization. By following these four pillars of digital transformation, you can ensure that your organization is best positioned to adapt to change, all the while continuing to provide quality and effective services and products to your customers.
 Are you ready to take on a digital transformation project? We can help your organization make a smooth transition. Chat with our team of experts today!
---
Send us a postcard, drop us a line
Interested in working with us?
We scope projects and build teams to meet your organization's unique design and development needs. Tell us about your project today to start the conversation.
Learn More