Was 2017 a "great year"? Even in the most historically conventional of circumstances, that would be a highly subjective statement to make—particularly to individuals that could have been on any number of personal rollercoaster rides over the past 12 months.
But couple that with the feeling that our collective baseline is more bruised than usual right now, and I just can't proceed without acknowledging the very real struggles many of us right now are facing—particularly on the global stage, and the divides that hopefully we can bridge in the coming year(s) through the hallmarks of great design:
Empathy, respect, and the desire to move something toward its ideal state…

…ultimately making the world a better place, even if just for one small subset of people at a time.
That now being said, I am very proud to say that for Think Company, 2017 was a great year.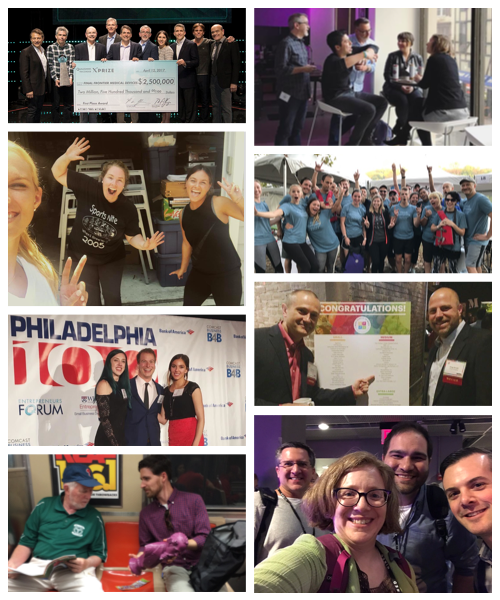 It would take a scrolling page a mile long to cover all of the achievements of this amazing group of people, but maybe a Top 10 of some highlights (from just 2017 alone!) would include, in no particular order:
Completing our 10th year in business, after a very smooth and successful transition from Think Brownstone to Think Company—doubling down on the kind of company we want to be: fiercely independent and beholden only to ourselves and our clients.
Exceeding our revenue goal, once again making the Philly100 (our 6th time, pushing us well into "Hall of Fame" member territory), Inc. 5000 (for the 5th time),  and the new "Soaring 76" as named by the Philadelphia Business Journal.
Being named a "global leader" in our space, as well as a Top 15 Custom Software Development company, by the data-driven business guide Clutch.
Being again named a "Best Place to Work" by both Philly.com and the Philadelphia Business Journal.
Officially opening our swanky third studio.
Some of our crew creating and kicking-off the ResearchRewind for the Philly community.
Receiving some great press around a skunkworks project we did to fix the UX of SEPTA kiosks.
Having plenty of team-ups with the likes of (and I think it's important to list them all because we're extremely proud of this list), AIGA Philadelphia, BarCamp Philly, Chamber of Commerce for Greater Philadelphia, Code for Philly, CS Philly Meetup, CTO School Philly, DesignBrew, Fox School of Business at Temple University, Generocity, Girl Develop It, Jefferson University, Microsoft Edge Web Summit, New York Code + Design Academy, PACT, PANMA, Penn IPD, Philadelphia University, Philly Emerging Tech Conference, PhillyCHI, PHL CodeDesign, Project Cognoma, Technical.ly Philly (Delaware Innovation Week, NET/WORK,Philly Tech Week, Super Meetup), Temple University College of Liberal Arts, UX Copenhagen, VCU School of Engineering, Women in Tech Summit, and Zip Code Wilmington.
Continuing to support our institutionalized causes of The Neema Project, Broad Street Ministry's Hospitality & Corporate Council, and Not In Philly, in addition to plenty of others through our new "Thinkiversary Donations" program. (I used my Thinkaversary donation on my 10th anniversary to contribute $1K to the ongoing and critical operations being carried out by United for Puerto Rico.)
Our very own Phil Charron winning the Qualcomm Tricorder XPRIZE competition.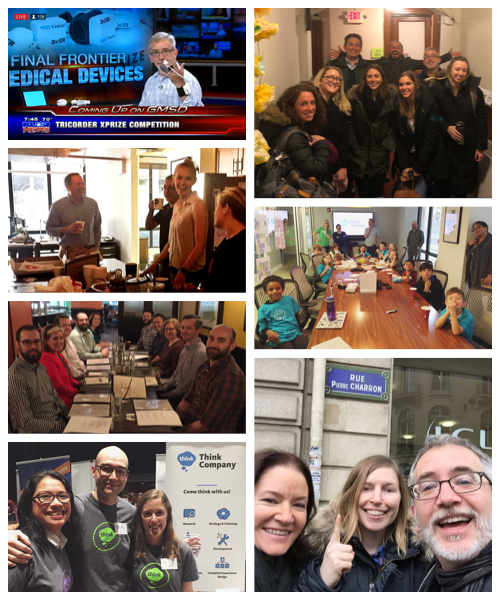 Yep, that's a mouthful, and not a humblebrag but a full blown brag. I have no reservations about that, because this company, comprised only of the individuals within it, is truly something special. Designers "see the world not as it is, but as it should be" (can't seem to attribute this to a single person, tellingly), and Think Company was founded as, and continues to be, a response to all we see awry with the way we observe clients and employees being treated and serviced elsewhere. Increasingly, we've also been seeing our company in some ways as a very tiny microcosm of how we believe the world can and should work. We are not perfect, but we work hard and we work honest, we acknowledge and own our mistakes, we aim to learn from them, and we strive toward realizing the promise inherent in our Core Values.
That's why we'll be at it again in 2018 and beyond, waking up every day with those goals in front of us and the wind of purpose behind us. Let's see what we can accomplish together. If you're reading this, thank you for your interest and for coming along on this journey with us.
Peace and all the best to you and yours this holiday season!
---
Send us a postcard, drop us a line
Interested in working with us?
We scope projects and build teams to meet your organization's unique design and development needs. Tell us about your project today to start the conversation.
Learn More