When we completed our first full year of business in late 2008, we decided to celebrate with all of the folks who had made it possible—our employees (9 at the time), clients, family, and friends.
This "Open House" event became an annual holiday tradition, ballooning in size and scope each year until the glorious, deafening, over-stuffed extravaganza we held at our then-new Philadelphia office in 2014. Afterward, in a state of contentment and exhaustion, we wondered how on Earth we could top that. But with some cracks in the experience showing due to the sheer magnitude of it, we also felt like it was probably time for a re-think.
This year, we realized that an event for employees and their significant others alone would total over 130 people, and decided to split our traditional event in two—one focused solely on client appreciation (our UXD Leadership Summit), and one just for our crew. So, last Friday night we hosted our first annual Think Family Dinner at the gorgeous La Peg, just below the Ben Franklin Bridge on the Philadelphia waterfront, and it felt… right.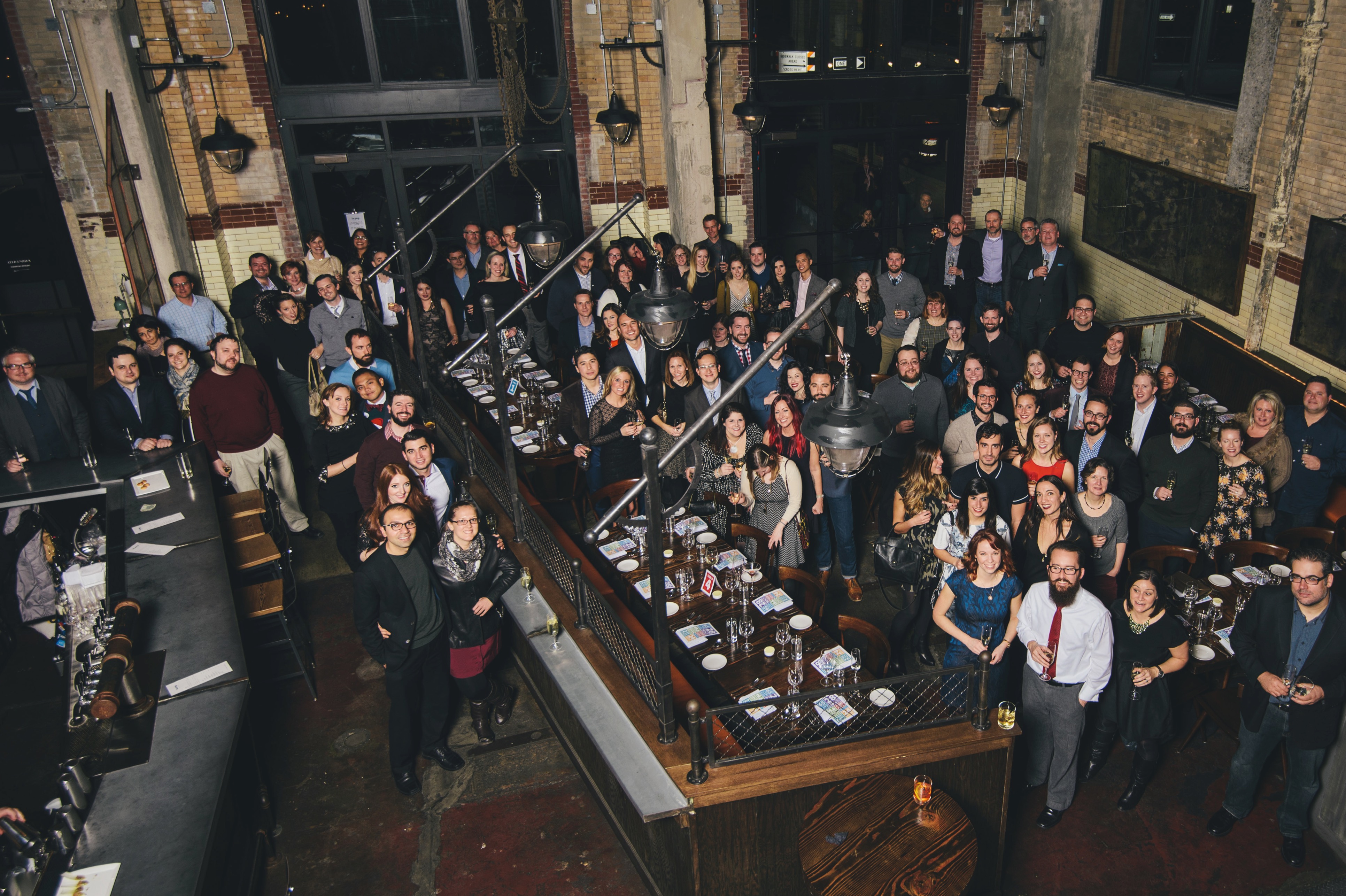 There's a long trail of social media commentary capturing how our folks felt that evening (and reinforcing the decision to move in this direction), but when I started thinking about one of our other traditions—the "yearly recap" posts I assemble this time of year—it dawned on me that what Carl, Brian, Phil, and myself said in the toasts last week really conveys where we stand at the end of 2015 better than anything else I could write.
Carl kicked things off with a welcome and an emotional recapping of how amazing it was to be standing in a giant room full of Thinkers, with the memory of the very early days still fresh in his mind. He recapped the day in 2006 when Carl, Brian, myself, and our friend Kristen played hooky and had a discussion at his parents' house on the Delaware River in Bristol, PA that went something like this:
"OK, if we were really going to… start a company… doing things the way we know they can be done, and righting the wrongs we've seen everywhere else, what would that look like?"
Carl also told the story of the day (he didn't mention this detail, but I remember it well—we were on our way to lunch, I was driving, and Carl and Brian were squeezed into my wife's powder blue Toyota Matrix) that we asked ourselves:
"Do we want to manage this thing to be a small, boutique firm of 5 people or so, or do we want to go bigger? Because the demand is there, and we've got to decide."
The answer?
"It feels like we've already got something really special going here, don't we? Shouldn't we make a run at this and try to create the kind of full-blown company we always wanted to work at? For us and for others?"
We all agreed. And hence, all the stops were pulled out. We still can't find 'em.
As he did when accepting the 2015 SmartCEO/Marcum Innovator of the Year award, Carl put the accolades squarely on the shoulders of everyone in the room.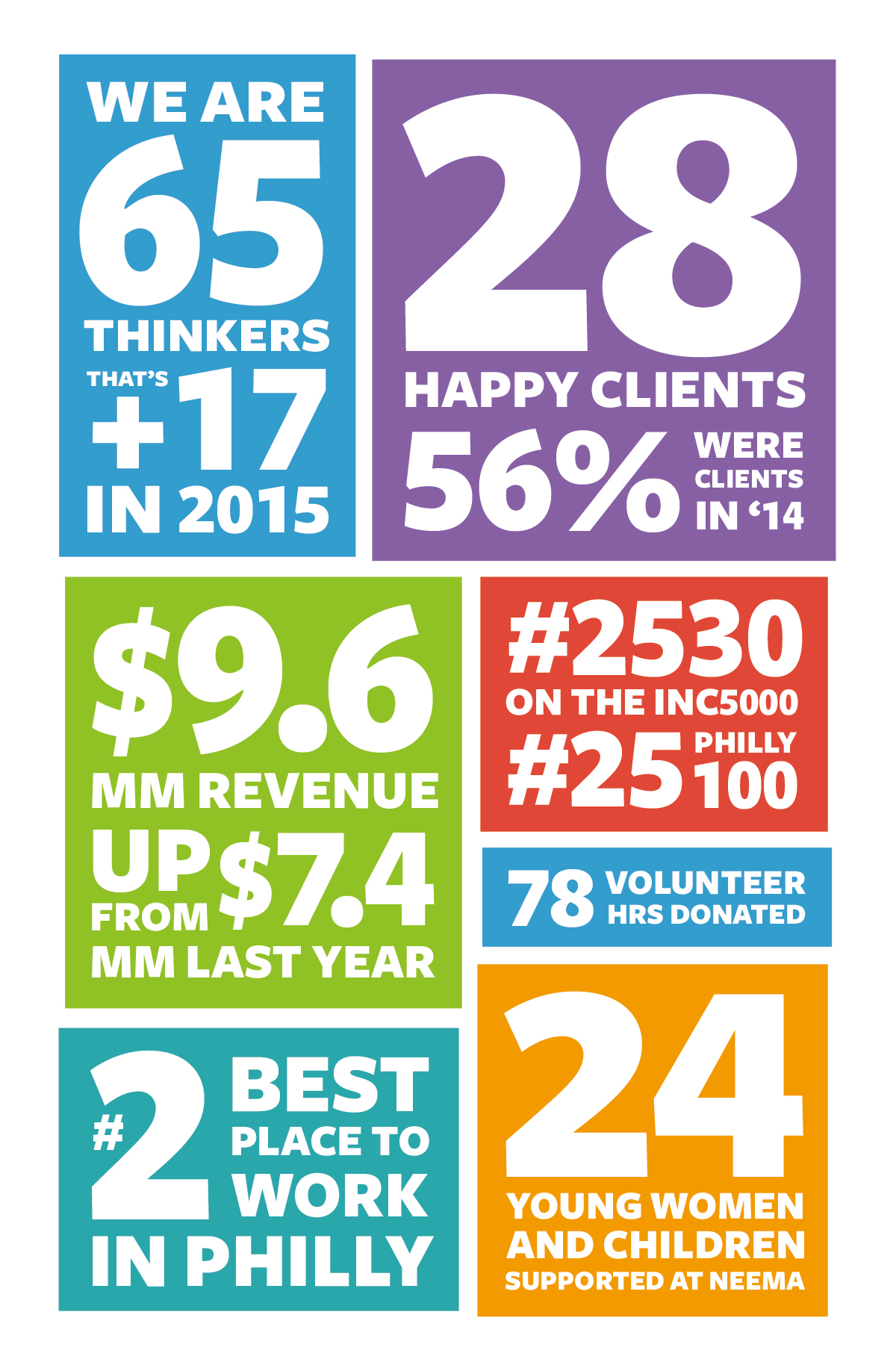 Brian followed, providing an overview of what he had placed at everyone's table setting; always a master at saying it visually, he provided some powerful stats for us. Interestingly though, he called out one stat that he wasn't that thrilled with—but included it for the sake of challenge:
"78 volunteer hours donated. Now, I know that the reason this number is low is because you all are so dedicated that you've been volunteering largely on your own time—or making up the time and not tracking it. While that is a testament to you all, that's not the point—if we all take the two days we've got allocated to volunteering, that number of hours should be up over 1,000. Next year, let's get it there! Let's really keep track of places where we as a company are doing good—that's one of the reasons it exists in the first place."
I could provide all sorts of commentary on the rarity of a statement like that from an owner/co-founder. I don't really need to, though. Suffice to say that this kind of thinking is truly in the DNA of our organization, and further evidence of us living out our Core Values—the articulation of which, unsurprisingly, was led by Brian himself.
Phil (the second-ever TBI full-timer) threw us all a curveball when he used his time to also go back to the humblest beginnings, drawing a strong contrast between what we were all in the midst of—a company clearly rocking and rolling, hosting a swanky holiday party at a gorgeous spot downtown—and the risk that was taken in the early days by Brian and Carl that ultimately led to it.
He pointed out that running a business always involves risk, but the more established the business is, the easier it is to calculate the risk of your decisions. He articulated just what those guys were putting on the line 8 years ago to get it going—blood, sweat, and treasure to prove belief in, and dedication to, the cause. It was a powerful reminder and a rallying cry as we raised our glasses, "To risk!"
My piece, then, was the rallying cry for what's next, and why. I'm going to include what I said more or less verbatim because that's how I'd like to close out this post and our collective thoughts on 2015. Hey, it's my blog post and I'll cry if I want to.
I know that most of you saw the piece published by one of our Thinkers, Phil Le, on Thanksgiving. In it, and I'm paraphrasing here, he was basically talking about the quest for purpose—and he suggested that there is purpose, meaning, and valor in the struggle against entropy. Meaning that, in a world where it can feel like things are trending toward chaos and disorder… and indeed when the second law of thermodynamics that tells us that this is so… we still stubbornly refuse to accept it. We work to continuously repair, build, and improve.

As makers, builders, and creators, the things that describe all of us in this room, we demonstrate very clearly every day that we refuse to accept entropy. It's abundantly evident in the work we do for our clients. This is work that, because we care so much about our end users, truly does make people's lives better. Now you may say that it only improves small portions of those lives, and that's fair. But the more work we do, the longer we do it—and as the size, scope, and reach of that work increases—it is no longer hyperbole to say that we are making the world a better place. I firmly believe we're doing that now. That's a hell of a reason to get out of bed every morning.

That's one side of the coin. But what about the company that makes doing this for a living possible? The metaphor for me there is "light." I'm not talking about being "a light in the darkness" necessarily, but I am talking about us together being able to generate a heck of a lot more light than any of us could do individually. And as we do, we get to shine that light on more darkness (or problems and challenges), we get to invite more folks and their families into the light to work with us, and we get to serve as an example. I want to thank you all for lending us your light.

Many of us have read, and love, the book Creativity Inc. One day I believe they'll write a book like that about our company. In that book, when they mention the year 2015, it will be very early in the story—because we're only getting started. They will list the names of the people who worked here in 2015… all of your names. And they will say "can you believe that all of these people worked together under the same roof?" I also hope they'll say "and most of them still do!" They will know your names.

Tonight I'd like us to celebrate everything we've accomplished in 2015. I'd like us to celebrate all we're going to do together in 2016 and beyond. I'd like us to celebrate our amazing clients that trust us, work side by side with us, and make this possible. I'd like to thank our families and all of the significant others here with us tonight, because you are truly part of this and I hope you feel that way. I'd like to thank our co-founders for taking the risk. I'd like to thank all of you for everything you do everyday, for being amazing people, and for refusing to accept entropy.
All the best to you and yours this holiday season!
---
Send us a postcard, drop us a line
Interested in working with us?
We scope projects and build teams to meet your organization's unique design and development needs. Tell us about your project today to start the conversation.
Learn More