This year's Bastille Day Cheese Day was the best one yet. About 200 guests joined us for a gastronomic experience that included a guided tour of nine different cheeses led by Amanda Bernhardt from Di Bruno Brothers, wine pairings hand-selected by Jana Sukala, CSW, fresh mozzarella pulling by Jamie Png (back by popular demand), and handmade chocolates by Fred Ortega from Tradestone Confections.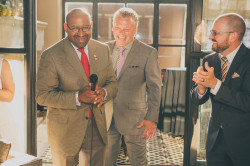 But even more than the fine wine, cheese, and chocolate, the real star of the show this year was our amazing new Think Space at 111 South 15th Street—on the dramatic Mezzanine level of the historic Packard Grande building at 15th and Sansom. We were thrilled and honored to welcome Philadelphia Mayor Michael A. Nutter as our guest for a ribbon cutting to officially mark the opening of our new studio! The Mayor also shared some remarks, and the excerpt below explains (better than I could) the reasons why we've decided to expand into Center City:
What fantastic space. And more seriously, the work that you are doing, the companies that you interact with… you are helping to create this innovation/technology hub that Philadelphia is rapidly becoming known as all across the United States, and quite honestly, even around the world. So, having this presence in Philadelphia—access to talent… Penn, Drexel, Temple, and 101 colleges and universities in the tri-state area… the excitement and entrepreneurial spirit that you generate—are all things that we're looking to promote… You chose Philadelphia, we're excited that you came here, and seriously, this is really, really great space—in that you could not be more in the heart of downtown Philadelphia (unless you're across the street in the little building that I work in). We're glad to have you nearby—in the Packard, of course, a long long history with this building, and really taking over this space and transforming it into office space—and it is my hope that you will not only continue to do the great work that you do in Conshohocken, but that this office will also continue to grow and flourish.
Thanks, Mayor Nutter, for coming to our party and for the thoughtful remarks you shared.
As is customary around here after big milestones in the story of Think Brownstone, an internal email thread went around on Friday containing thank-yous and reflections on the big event and its implications. Phil, the father of Bastille Day Cheese Day, kicked it off:
I had a few conversations last night with clients and Brownstoners about how we have managed to maintain the DNA of Think Brownstone as we have grown. Many of us can speak from experience, it's a tough thing to do. I know the most important thing we can do is to hire folks like all of you. I know the larger we get, the fewer chances there are for all of us to work together. I'm still lucky to share this place with all of you, events like this are important to remind me of that.
Then one of our new team members, Stephen, chimed in:
The place is great; you people are better. I've gotten a taste these last few weeks, and last night confirmed how lucky I am. Thank you for making me feel so welcome.
Abby, another new team member, added:
The past few weeks have been an eye-opener for me on how a design firm *should* and can be, and last night confirmed how lucky I feel to be part of such an amazing, talented team. And exceptional cheese, to boot! Thank you thank you thank you.
Russ shared this:
Events like last night provide an opportunity for us all to look around the room and soak in the reality of the people we get to work and laugh with every day, this incredible cast of characters that adds up to a sum much greater than its parts. You guys ROCK. Thank you for making "work" feel nothing like work.
And Erika had this to say:
It was my first time seeing the new space and it hit me that TBI is something bigger than a high-class design think tank—it's how design should be conceived; it's how business should work. Our growth and how astonishingly well we're adapting to it is proof of that. I love being part of this team. And much like a swan paddling its feathered butt off to appear placid on the surface, I can only begin to imagine the work that Carl, Brian, and the rest of the leadership team have put into creating this culture and sticking by its principles. From the bottom of my heart, thank you, and here's looking forward to a vastly expanding horizon.
That's what it's all about, folks.
To see more pictures (thanks Adam Jones!) from Bastille Day Cheese Day 2014 and the Grand Opening of our new Philadelphia studio, check out our Flickr album.
---
Send us a postcard, drop us a line
Interested in working with us?
We scope projects and build teams to meet your organization's unique design and development needs. Tell us about your project today to start the conversation.
Learn More