Some interesting things have been going on over at The Atlantic's online magazine. Several days ago, the organization launched a redesign of the entire website.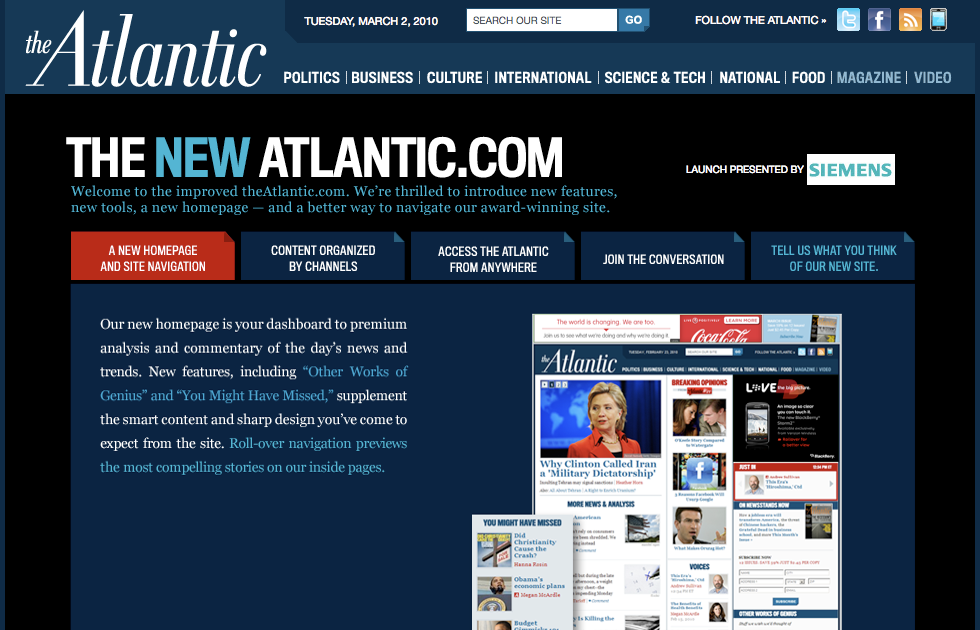 Interestingly, none of the regular editorial bloggers for the site were pleased with the results. Political blogger Andrew Sullivan showed his displeasure in a few fair, critical, complementary and informative entries on his blog. According to the original entry, Sullivan's blog accounts for 55-60% of the traffic for The Atlantic.
Rather than launch into a lengthy deconstruction the entire redesign to extract the good ideas from the bad, I'd just like to point two elements of the process that could have been used to predict the outcome:
Andrew and his staff are constantly in touch with their audience. He says he has passed on feedback from his users to The Atlantic for the past three years. His blog is responsible for 55-60% of the site traffic, yet he wasn't directly consulted by the redesign team for ideas.
Andrew admits that he "signed off in advance" based on paper prototypes of the redesign (except for the removal of the search tool). He takes responsibility for this misstep, which is appropriate.

Working with stakeholders is not only about buy-in. Content creators are often the closest to the users and can provide insight on not only the content itself, but how users consume the content. At the same time, content creators should not sit back and let redesign efforts happen without insisting on providing input. Content is not only about content, it's about your connection to the audience. If you're generating that much traffic, you have insight others cannot capture – find ways to share it.
The good news is that The Atlantic has continued to work through the concerns and has already begun to address some of the issues expressed by the staff.
OK, now two critiques:
Removing a search tool on a blog that generates up to 300 posts a day doesn't seem very wise (there's a search tool on the parent site, but not on the blog).
I've always regarded the continued reading feature that requires rendering an entirely new page as a naive attempt to increase pageviews. Come on, there are ways to track interest without frustrating the user.
---
Send us a postcard, drop us a line
Interested in working with us?
We scope projects and build teams to meet your organization's unique design and development needs. Tell us about your project today to start the conversation.
Learn More