For four years in a row, Think Company has participated in the awesomeness known as the Philadelphia Dragon Boat Festival. For those of you who are not familiar, it's a race on the Schuylkill River with twenty team members paddling in unison to the beat of the team's drummer.
Why, you may ask, do we spend the time, effort, and money to coordinate across 30+ Thinkers and friends to participate in this event? We're glad you asked!
IT'S A DIFFERENT KIND OF TEAMWORK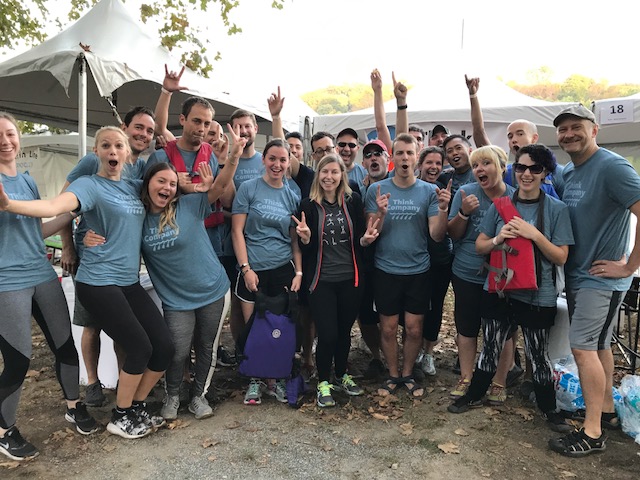 Our teams are exceptional at banding together with our clients around a common cause. No matter what they're working on, a Thinker knows how to work in a team environment.
There are many different kinds of teamwork, though. Our teams are cross-disciplinary, non-authoritarian, and not very hierarchical. When deadlines are looming, each team member knows how to keep the gang informed while each practices and focuses on a different craft.
Being on a Dragon Boat team is very different. When we get on the boat, we only have two roles—drummer and paddler. The drummer watches the race and sets the pace. The paddlers provide the power.
For 2-3 minutes, 20 paddlers stop thinking and strive to do the exact same thing as everyone around them—hopefully in unison. It's no longer the carefully choreographed ballet of a well-executed project. It's a machine, and all of us combined are the engine. If you're a paddler and you're looking at the other boats, you're not doing your job.
As Thinkers, this is our biggest challenge. We've built our careers on thinking in the moment, shifting when needed, and not being cogs in the machine. Those 165 seconds or so, our only job is to paddle exactly as the people around us are paddling.
Somehow, over the past four years, we've become exceptionally good at it even though we have a mix of experience, skill, and strength on the boat. Learning different flavors of teamwork together has made us more nimble, increasingly stronger as a group, and better at adapting to new challenges.
IT'S A LOT OF FUN, AND FUN'S GOOD FOR US!
Another thing that's good for building stronger teams? The morale boost that comes from achieving something really exciting together.
2017 was by far the best year yet. Our practices were solid, we made it to the river on time despite the inhumane 7AM call time, and we loaded the boat with no issues.
Okay, that's a lie. We didn't read the memo and needed one more female paddler. Our drummer, Jack, saved the day and switched out with paddler Phil Le, and we were off to the races. As a matter of fact, we destroyed the first race and finished in 1st place. Everyone was super stoked until we realized we put ourselves in Division A where, well, we've only ever dreamed of being!
Division A was a dream for a reason. Most teams hold back in the first race to get into a division they can compete in, but Division A is comprised of teams you would only ever see in the movies. Our competitors looked like robots, moving in perfect harmony, gliding above water up to 15 seconds ahead of our boat. 15 seconds doesn't seem like a lot until you are pushing 2100 lbs of boat n' bodies 500 meters down the river!
We didn't let the competition scare us and ended up ranking #16 out of the 73 boats that competed in the mixed division. That's the best we have ever done.
Because of this achievement, the camaraderie and positivity on our team was bar none that day. After dedicating ourselves to the planning, practice, and early wake up calls for these races, we basked in the glow of our hard work and spent the day having a blast with each other.
But we would have had a great day no matter what, even if it wasn't a high-achieving year (and have done so in the past). Challenging ourselves and spending time together outside of the studio are our only real goals.
IT'S ALSO DELICIOUS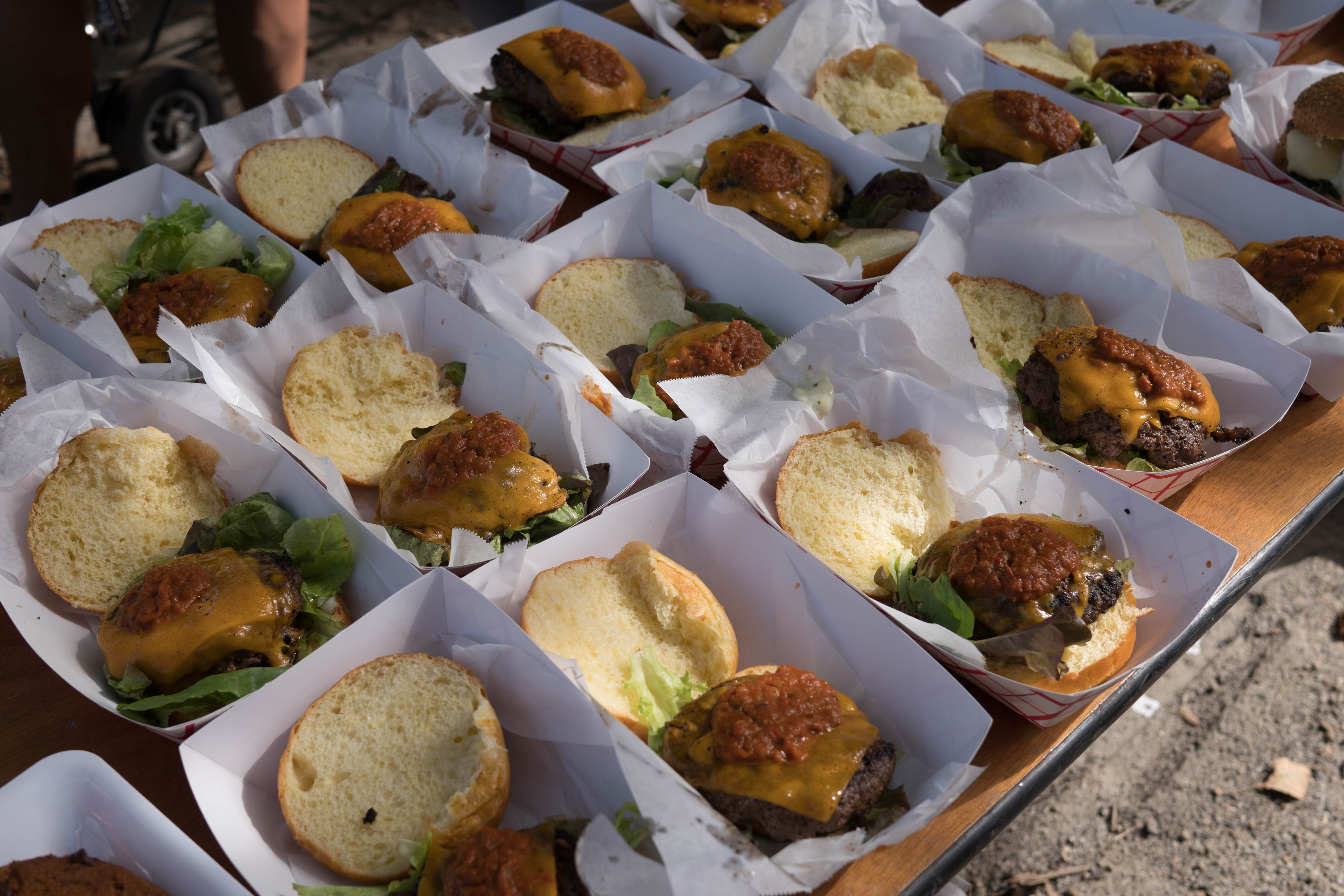 One of the most memorable parts of the day was the amazing spread provided to us by chefs Steven Seibel and Chris Wilson.
Steven, the Culinary Director at Broad Street Ministry, and Chris, one half of Chris Wilson Catering, spent the entire day spoiling our palettes with delicious food made to order. A few examples include fennel seed sausage sandwiches with a fried egg, caramelized onions, and sharp cheddar; roast pork sandwiches with broccoli rabe, provolone, and garlic aioli; and of course the amazingly-large chocolate chip cookies that hit the spot prior to our last race of the day.
Much like Broad Street Ministry's philosophy that good food and service leads to community-building, the day was that much more of a boost for us with amazing meals that we were able to share. Thank you, Stephen and Chris!
* * *
To get back to the original point, we invest energy into organizing an event like this because it turns out to be one of the most memorable events of our year—especially in the way it takes us out of our collective comfort zone, helps us to be a more powerful team, and reminds us why we all like each other so much.
Thank you to all who came out! Next year we will raise the bar again. 2018, we are coming for you!
(Thanks also to Phil for your help with writing this post!)
---
Send us a postcard, drop us a line
Interested in working with us?
We scope projects and build teams to meet your organization's unique design and development needs. Tell us about your project today to start the conversation.
Learn More