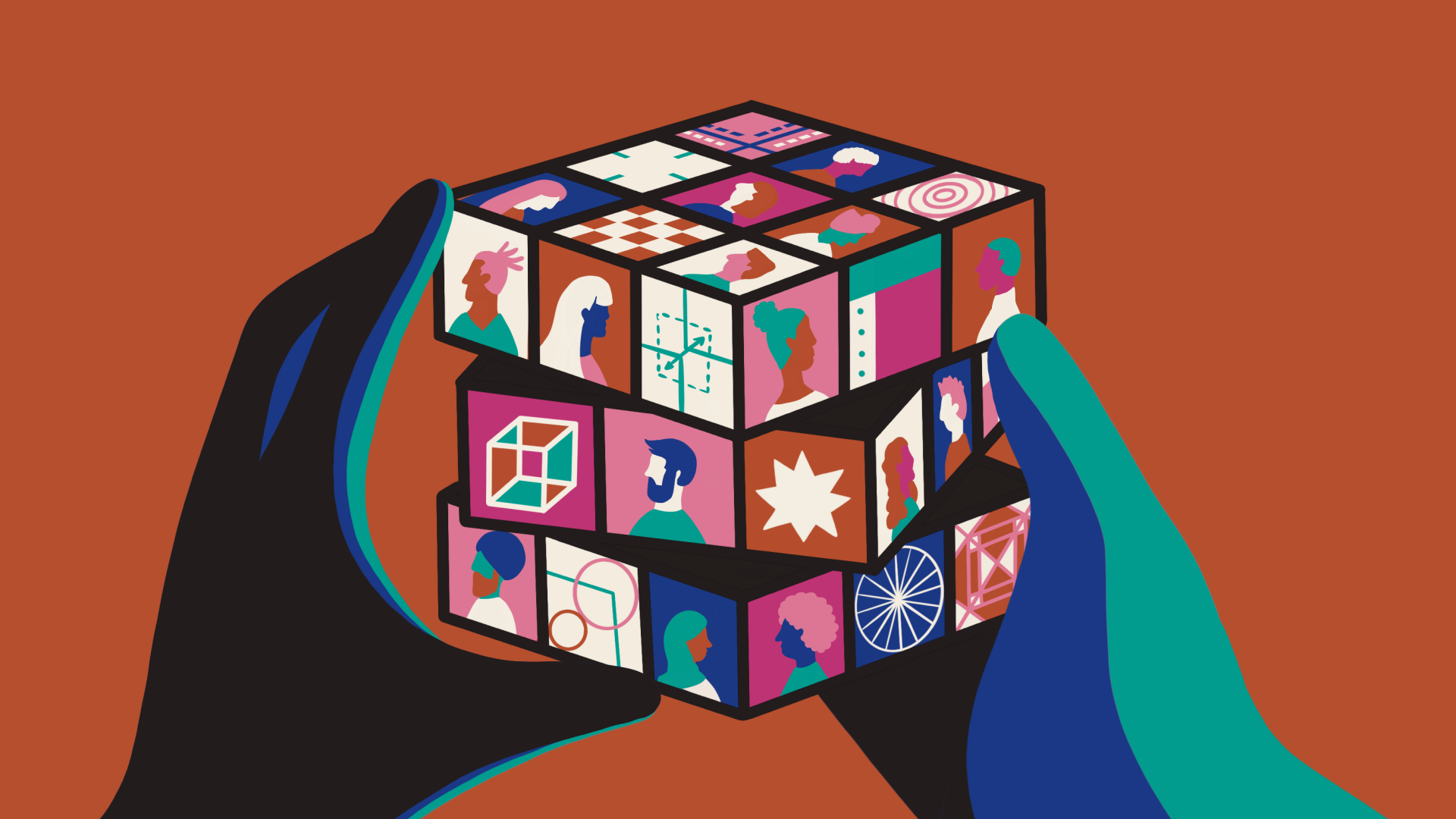 Product inclusivity is something that organizations of all sizes must understand and plan for to succeed and stay relevant. But like many practice models, the concept of what's inclusive and what's not is evolving. Being an inclusive organization creating inclusive products is a constant work in progress.   
This challenge causes many companies to shy away from overtly inclusive language or do the bare minimum to appease their consciences—and stakeholders. But even without the moral ramifications, the stakes have never been higher when it comes to inclusivity in business. Accessibility and inclusivity are vital to future-proofing your products and your organization. 
What is product inclusivity?
As mentioned above, inclusive products don't meet a single, solid, watertight definition. To understand what makes a product inclusive, you need to open yourself up to the possibility of what your product can do and be and mean for any given user. 
We like Microsoft's initiatives around inclusive design, which they define this way:
Inclusive Design is a methodology, born out of digital environments, that enables and draws on the full range of human diversity. Most importantly, this means including and learning from people with a range of perspectives. Exclusion happens when we solve problems using our own biases. … We seek out those exclusions, and use them as opportunities to create new ideas and inclusive designs.
At Think Company, we see inclusivity as a constant work in progress—a shifting methodology we adapt to over time. We try to stay flexible in how we incorporate inclusive practices into our design process so we can be nimble enough to respond to emerging information from users and in our industry.
Inclusive practices in real life
Product inclusivity starts with having an inclusive environment within your workspace. But having a diverse team isn't enough. Your team needs to be aligned around the core tenets of inclusivity and committed to putting those values into practice.
At Think Company, we've aligned around our shared principles and have tried to find practical ways to implement those values. We're always looking for new ways to put those into practice.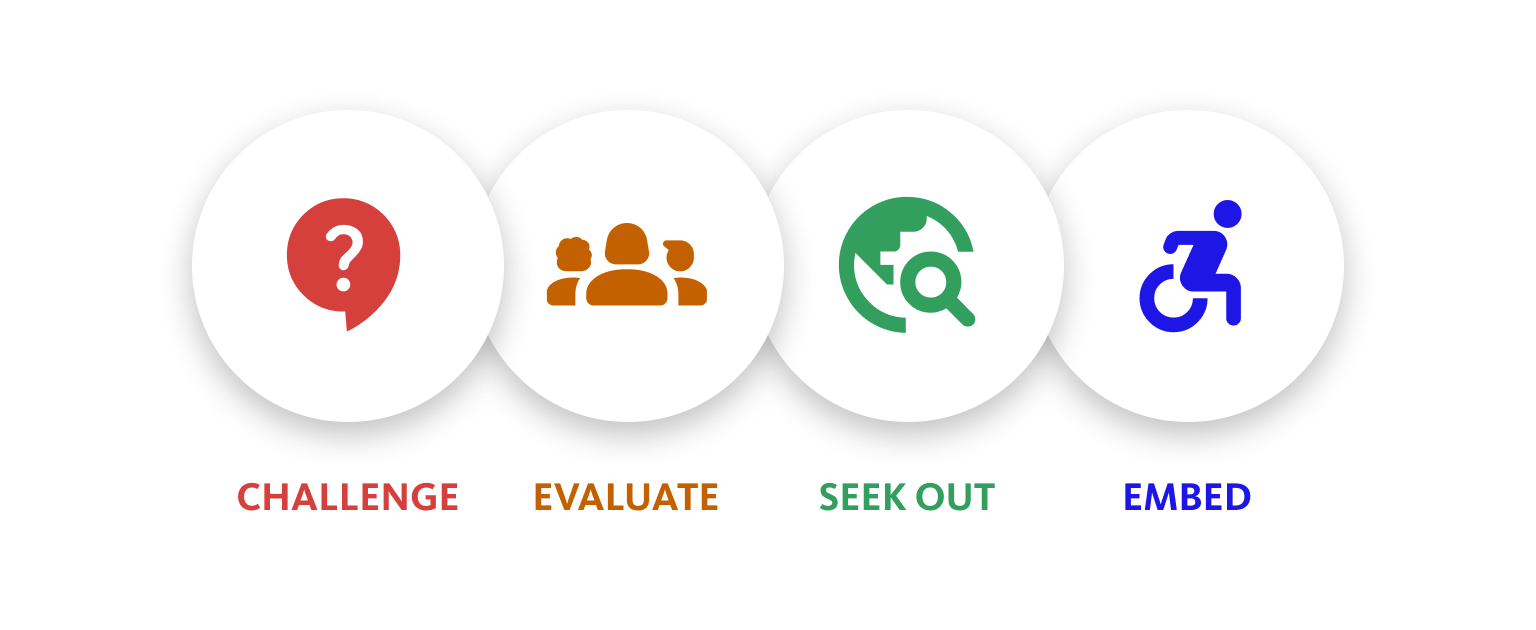 Challenge the biases, assumptions and/or decisions that stem from our individual experiences and identity.
Evaluate the makeup of each Think project team for diversity —at all levels.
Seek out, center, and create with perspectives from "target" AND excluded demographics, especially people from groups/communities who are historically underrepresented.
Embed accessibility and usability principles into product lifecycles from the outset, and continuously check for and minimize exclusion across all forms of human diversity.
Inclusivity inspiration and pioneers
Because inclusivity is a work in progress, we're constantly learning from leaders in inclusive practices. These people have informed our definition of what it means to be inclusive and help us evolve that definition as we grow. We think you may find their work as illuminating as we do.
David Dylan Thomas, podcast host, author of Design for Cognitive Bias, and Think alum is the pioneer of Think Company's inclusive design practice and offerings. From sharing educational resources in our company Slack channel to running multi-day workshops with companies across a range of industries, Dave continuously worked to educate and elevate Think Company and our clients' approach to creating inclusive, bias-informed digital products.
We've also enjoyed working with Michael O'Bryan, founder of Humanature, a design strategy firm working with nonprofits, businesses, and government agencies to transform how they understand and support human development, interaction, and performance. 
Reginé Gilbert is another friend of Think Company and recently spoke with our teams about creating inclusive and accessible products. Reginé is an Industry Assistant Professor at NYU's Tandon School of Engineering and teaches User Experience Design to students in the Integrated Digital Media Program. She is also the author of Inclusive Design for a Digital World.
Here are some of our other leaders we look to and learn from in this space:
Project Inkblot's Inkblot Design™ is a transformative body of strategic and relational mental models and practices that center the lived experiences and expertise of Black, Indigenous, and people of color.
Few people have as much applied experience in inclusive design as Kat Holmes. She is the author of Mismatch: How Inclusion Shapes Design and the founder of Mismatch.design. The book sets the foundation for why designing with excluded communities is more important than ever and how the process drives better solutions for everyone.
Annie Jean-Baptiste is the Head of Product Inclusion at Google and the author of Building for Everyone. She leads Product Inclusion strategy across the company, including consultation, communications, scale, and research, and created the movement three years ago to ensure underrepresented users felt seen throughout the product design process.
Antoinette D. Carroll is a serial social entrepreneur, activist, community organizer, and "Redesigner for Justice." (We love that title.) She is also the Founder, President, and CEO of Creative Reaction Lab, a nonprofit educating and deploying youth to challenge racial and health inequities impacting Black and Latinx populations. 
Michael Muccioli is a Lead Product Designer at Driveway on their End-to-End Communications team. He's also a UX/UI designer who emphasizes accessible and inclusive design practices while focusing on usability from first touch-point to last. 
Product inclusivity is vital to your business
Product inclusivity is here to stay. And it's up to business leaders to evolve and find practical ways to demonstrate these values. 
Being an inclusive organization creating inclusive products is a constant work in progress—and it's work worth doing. Inclusive practices are vital to future-proofing your products and organization. 
We're still learning, growing, and working together to make our world a more inclusive place. Learn more about what this can look like for your organization, chat with our team of experts today.
---
Send us a postcard, drop us a line
Interested in working with us?
We scope projects and build teams to meet your organization's unique design and development needs. Tell us about your project today to start the conversation.
Learn More