I am occasionally teased for being a food snob, but the omnipresent slices of american cheese in my deli drawer tell a different story. The truth is, there are some things I just can't stand (I'm looking at you Scrapple) but I can appreciate almost anything edible that is put in front of me. It makes me sad to think some folks consider me a food snob, then I hear myself saying things like:
I don't order rosé because I'm always afraid someone will think I'm drinking white zinfandel
…which is exactly what I said a couple of months ago at Tria in Philadelphia. Brad and I were sitting with Di Bruno Brothers' Rocco Rainone and wine expert Jana Sukala. We were planning Think Brownstone's fourth annual Bastille Day Cheese Day (BDCD) and someone had pointed out a greek rosé on the wine list.
Rocco responded first, "I'll drink a rosé, I love rosé." I already knew that Brad and Jana love rosé, so we gestured over to the server.
Minutes later, I was sitting in front of an embarrassingly pink, but refreshingly cold glass of wine. Rocco and Jana were discussing what worked between the wines and the cheeses on the table. Both of them had pulled out notebooks and started writing. I sat back, took a sip of my crisp, dry rosé and beamed with pride at what Bastille Day Cheese Day had become.
For something that started on a lark, BDCD has grown into a summer event that many of our clients and friends look forward to. To learn about BDCD, read this and this. If you want to throw your own Cheese Day party, download Rocco's tasting notes and head over to your local cheese monger and wine merchant.

About two weeks ago, I started feeling anxious about the event. It centered around the typical concerns anyone would have at a time like this: Will everyone enjoy it? Did I make all the right decisions? Is Mike eating a burger? What did I forget? Is Russ going to wear a vest? What if nobody shows up?
None of my concerns were about how the team would do. Rocco and Jana know their stuff and the Think Brownstone crew knows how to throw a party. With Brad as my copilot, I knew none of the logistics would fall through the cracks. Yet, I was worried. That's how I roll — if I'm not tied up in knots about something before it happens, I'm probably not very invested in it.
This year BDCD was another great success. It's a smaller event than our annual holiday party, but it's meant to be like that. I was thrilled to have my mother and father as our honored guests — and was able to steal the floor for a few moments to explain to the crowd how Mom and Papa helped create the connection between Think Brownstone and cheese.
In that introduction, I challenged our guests to do two things. You should try them too:
Try the rind of at least one cheese — Yes, eat the cheese rind. The next time find yourself digging into the gooey center of a new and different cheese, challenge yourself to try a bit of the rind with the delicious insides. You may have eaten the rind of a past cheese and not liked it, but you never ate THAT rind of THAT cheese. Most cheeses mature from the outside-in, so the cheese closest to the rind often tastes different than the center. As long as it's not wax or cloth or something inedible, you'll be fine. WARNING: if you've downloaded our tasting notes, you may want to work your way up to the rind of the St. Nectaire. It's delicious, but not for amateurs.
Find a local cheese shop and talk about cheese with a cheesemonger — Buying cheese from an expert is an experience everyone should have. I'm not talking about your gourmet grocery store's cheese counter, which is probably pretty decent. Go find a shop that specializes in cheese. Tell them about a cheese you once had that you loved and describe what it tasted like. A good, passionate cheesemonger will start to unwrap a few wheels and give you some tastes until he or she finds something that works for you.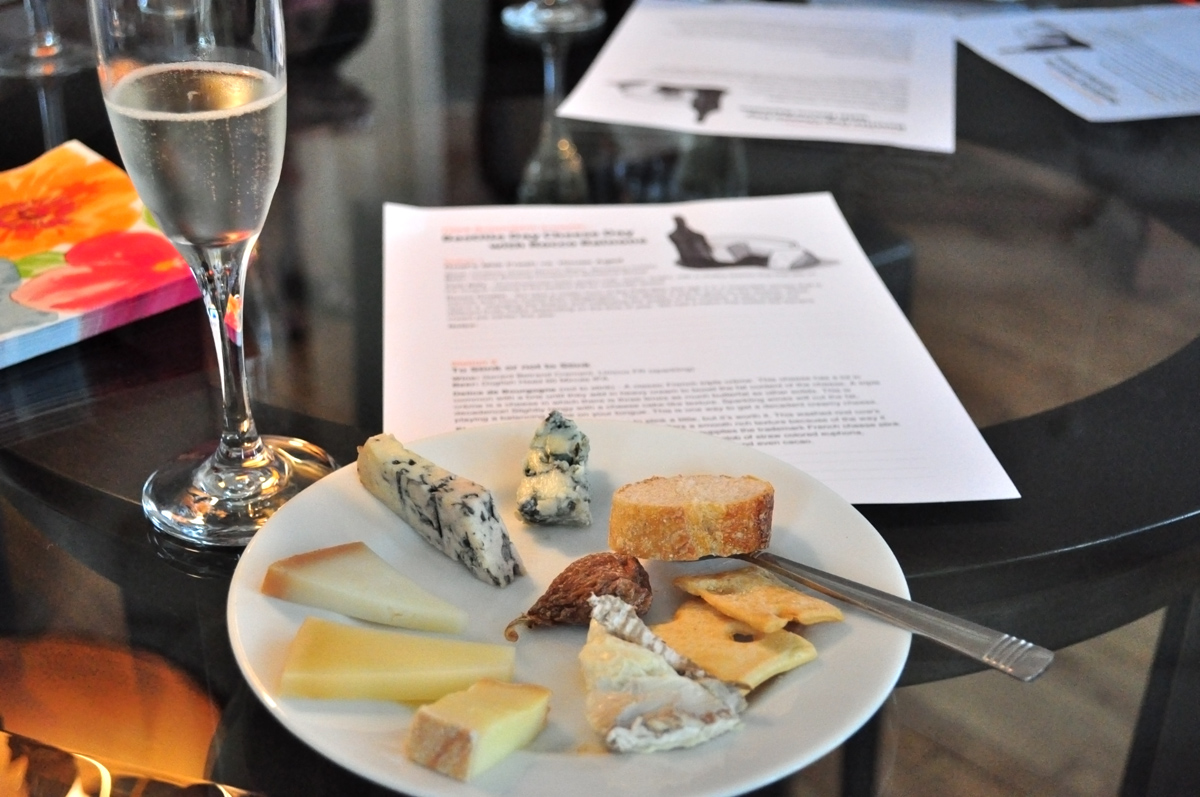 As I explained to our guests on Friday night, working with people who are passionate about what they do makes any experience better. It's what made me confident everything would be OK when those little voices were trying to freak me out. True passion isn't just a confidence builder, though, it's contagious. I witnessed that Friday night as I observed our guests interacting with Rocco and Jana.
I like to think that passion is one of the many things that sets Think Brownstone apart. We are often approached by clients to give advice on something completely unrelated to the project we're working on. Why does that happen? Well, there has to be some level of trust and confidence that inspires them to ask our advice in the first place. I think they also know we'll bring the same passion to that quick consultation that we do to everything we do. It's the same reason I'm interested in what a cheese monger is drinking and what a sommelier is eating.
So, on Friday night we served a rosé to our guests and it was great. My final advice: if you're scared of rosé in public like I was, get over yourself and order one. Unless it's a white zinfandel, 'cause that stuff is the scrapple of wine.
---
Send us a postcard, drop us a line
Interested in working with us?
We scope projects and build teams to meet your organization's unique design and development needs. Tell us about your project today to start the conversation.
Learn More