This is one of my favorite tweets from 2010: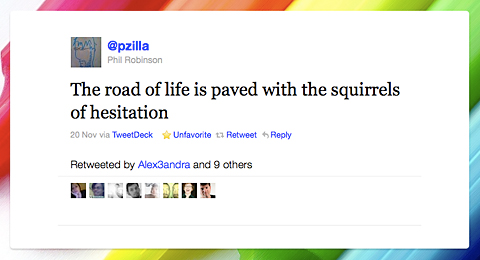 It's a favorite because it helps me believe that Carl and I might not be crazy. I'll tell you, it felt crazy to leave our jobs in the fall of 2007 to start Think Brownstone. It felt crazy to take on our first couple of employees and the responsibility of making payroll each month. And if you had predicted in 2007 that Think Brownstone would be what it is today in 2011 we would have called you crazy.
In 2007 we expected that our company would do user experience design – that we'd help our clients design intuitive interfaces for websites and web applications. In 2010 we did lots of that. But we also helped a client create an entirely new consultative sales approach, including new infographics, marketing collateral and sales aids. We helped another client teach its top executives about the ins and outs of Twitter, Facebook and other social media channels in order to inform the creation of an important new social media policy. And we helped another client navigate a season of significant organizational change, providing support to a newly-formed department in creating strategic roadmaps, articulating vision, and executing on new and different roles and responsibilities.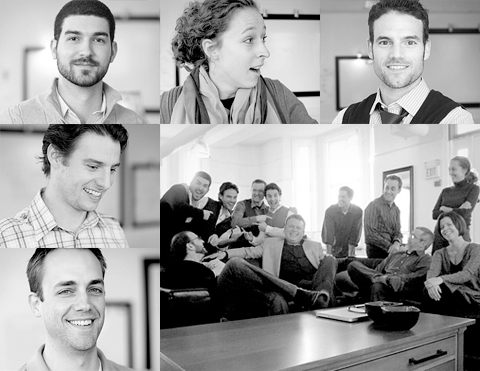 In 2007 we expected that our company would eventually grow to be approximately five people – a lean, mean UX design machine. But in 2010 our team surpassed twenty with the addition of eleven new employees. Our new team members have backgrounds and skills as diverse as the projects we're working on. To highlight a few: Mike Colibraro (aka "8-bit") is a whiz on the Wacom tablet and has a remarkable ability to visualize concepts in the form of a quick sketch, detailed illustration or beautiful infographic. Mike Pitone (aka "HD Mike") brings deep e-commerce and branding experience – valuable assets for our clients as they seek to establish or strengthen their brand identities. Brad Sukala (aka "Brakula") brings e-Learning and project management chops to the table as he helps us keep our design work user-task-oriented and our projects on track. Matt Pitone (aka "brother Matt") came to us after a stint designing physical interfaces inside mine-resistant military combat vehicles – knowledge he draws on as Think Brownstone works with clients to design more real-world physical experiences. And Emily Bryan (If I shared her nickname she'd kill me) brings leadership experience from the non-profit world to bear as she helps Danielle grow our Strategy practice.
2010 was a great year for Think Brownstone, and so a great big THANKS is in order to all of you who helped make that happen – you know who you are, and you're awesome. We think we've got something really good going on here, and so we are raising our expectations and re-envisioning what the future might hold for Think Brownstone. As our company grows, Carl and I are committed to growing in such a manner that ensures the work we produce remains of the highest quality. We know this involves a combination of calculated risk (not hesitating, lest we go the way of the squirrel) and responsible restraint. We know this involves taking the time to personally build into our team members and also establish the processes and systems that will help them do their best work.
Thank you for trusting us as we do our best to build an extraordinary company.
---
Send us a postcard, drop us a line
Interested in working with us?
We scope projects and build teams to meet your organization's unique design and development needs. Tell us about your project today to start the conversation.
Learn More