DesignOps for product design leaders; How to succeed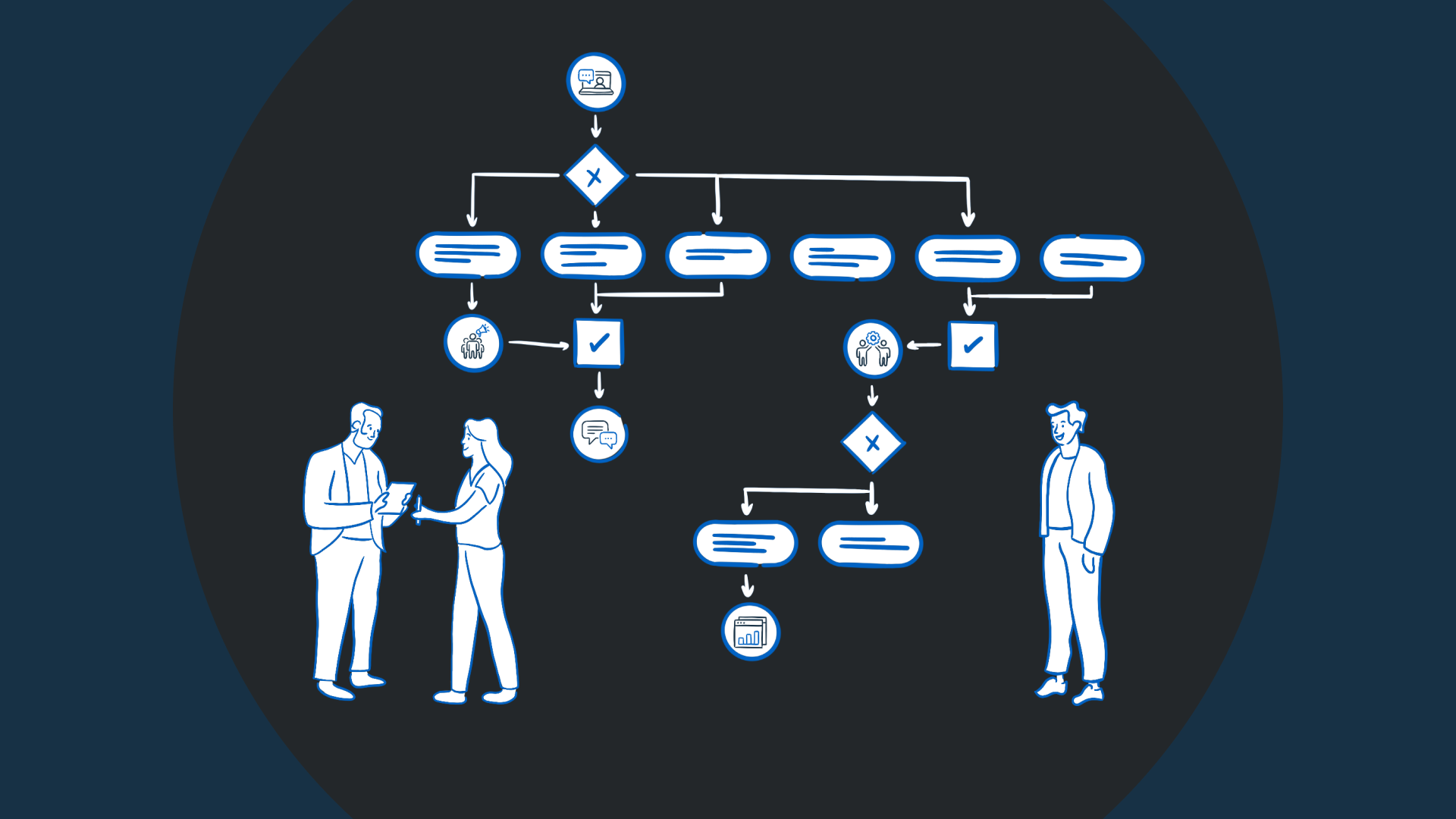 Product design today can be tough. Turnover and talent retention are bigger challenges than before, and organizations are relying more and more on their products to drive growth—which means more financial investment and higher performance expectations. This leads to product design teams scaling very quickly, making it harder for leaders to manage and effectively organize these teams.
Keeping pace with the competition and launching features and updates quickly can be difficult. Delivering high-quality design work that meets business and user needs is also challenging.
Product design leaders have been tasked with building a DesignOps practice or scaling up a design function with little to no framework for how to do it. Producing the product, scaling and organizing the design team, and proving the value of the budget you secured can feel like building a plane while flying it.
Getting to the next level and building a highly-functional product design team is possible. Let's talk about how.
What is DesignOps?
Nielsen Norman defines DesignOps as the process of orchestrating and optimizing a design project's people, processes, and craft to drive greater value and impact.
DesignOps addresses challenges like:
Growing and organizing design teams
Creating efficient workflows
Improving the quality and impact of design outputs
DesignOps aims to establish processes and measures that support scalable solutions for these challenges so that designers can focus on designing and researching.
Common challenges DesignOps support helps to solve
You frequently find yourself buried in meetings, wasting lots of money and time, or not releasing features fast enough.
You're worried about adding to your team because you don't have a plan for dealing with variables like a new-hire's working style, how much support they need, and how well they will mesh with your team.
You're primarily focused on getting enough people in the right places/roles—ensuring you're not overstaffed or understaffed—while using very little information to figure out who you might need (skill set, seniority, work plan, etc.).
You don't have the bandwidth to think strategically or take a best-practices approach to make your team structure functional. Building up a team quickly and having everything run smoothly is nearly impossible.
You want to level the playing field between design and development to help design succeed, but you're not sure exactly how.
Getting started (and gaining momentum) with DesignOps
You don't need to choose between staying stuck or hiring many more designers. In our experience, operational support can work wonders for alleviating strain and driving efficiency. This means focusing on three primary things: people, process, and product.
Let's discuss how to start implementing and gaining momentum with DesignOps for your team.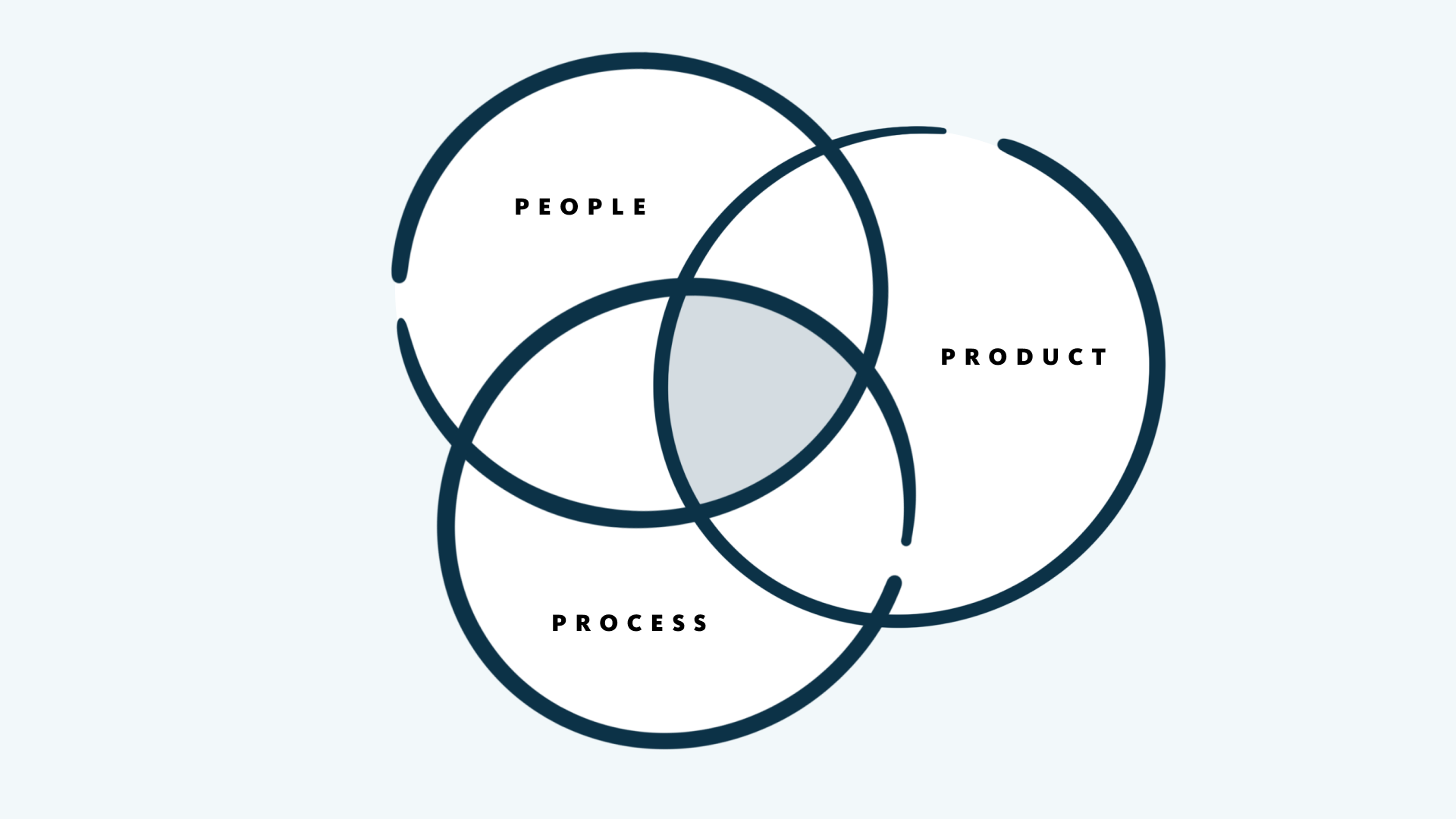 People: Grow and organize your design teams
DesignOps can help you ensure that you have the right people in the right roles, and the right roles collaborating to reach a common goal.
Learning to build a team with DesignOps in mind will involve some early practice in a few key areas:
Knowing when it's the right time to add capacity (hire)
Identifying the right fit for a specific role and your team
Putting the essential components of an onboarding approach in place that meet your team's needs. This should include helping a new hire fit into the existing structure while making it clear who is responsible for long-term mentorship
Focusing on these primary decision points and looking for evidence of success over time is important since making too many wrong hiring decisions can be incredibly disruptive to the team's progress.
Working cross-functionally and with project, program, and product managers to prioritize and manage design projects and resources will help you understand demand vs. capacity and see hiring triggers early—before the existing team is underwater. And developing and maintaining design systems, style guides, and other design-related documentation will keep the team organized and on track. Without a focus on these foundational activities, it's harder to onboard and stay focused.
Establishing and tracking design KPIs and metrics will drive continuous improvement and efficiency. While documenting and sharing goals, KPIs, or OKRs communicates to the team why they are there and gives purpose, resulting in motivated, focused, contributors.
Process: Create efficient workflows
When you define roles and responsibilities on your team, the next step is fitting those roles into your day-to-day operations. Establishing and maintaining design processes, tools, and workflows ensures efficiency and quality across the design team. Creating and maintaining the tooling needed to manage a complex portfolio of work creates transparency. Identifying needs, assessing against the product roadmap, and coordinating accordingly ensures key milestones are hit.
Be realistic when estimating design work and managing team capacity, and stay connected. Making your workflow visible to your design team and other teams you interact with, and increasing feedback loops, reduces silos and makes your work more efficient.
Product: Improve the quality and impact of design outputs
Collaborating with cross-functional teams ensures design goals, timelines, and deliverables alignment. This is key because if the work does not meet the business's and users' needs or expectations, it's ineffective. By bridging any existing gaps, you will make the work more impactful.
Staying up-to-date with industry trends, best practices, and emerging technologies in design operations and sharing that knowledge with the design team keeps the processes and outputs best in class and innovative. Ensure someone consistently evaluates the market and brings necessary progressive ideas to the table. Some examples: When to stand up a Design Systems team, when to transition to Figma, how to incorporate AI in the work, keeping work accessible, and other relevant progressive topics.
Implementing processes to influence collaboration with matrixed teams will also optimize design output. And you can stand up or encourage Agile frameworks that would help the team be more flexible, iterative, and effective.
How to convince leaders to invest in DesignOps
Depending on the structure of your organization, you may need to convince a mix of leaders that it's worth investing in DesignOps. By "investing," we don't mean simply throwing money or people at the problem (even though you will need both to succeed). Investment in this context means applying resources to meaningfully advocate for and implement operational support.
Whether you're speaking to design, product, or business leadership, you can make a case for the benefit of DesignOps that's specifically tailored to their needs and pain points.
The benefits of DesignOps for…
Design leaders
DesignOps allows teams to collaborate across time zones and disciplines without immediate, direct communication since everyone knows how the design process is advancing. This transparency also gives managers a clear view of how resources are being used so they can address loopholes, increase productivity, and enjoy faster turnaround times.
DesignOps also gives design leaders access to metrics that they can use to measure and scale design operations. This potent mix of collaboration, transparency, and actionable metrics can increase design team productivity by 35-40%.
Product leaders
Product leaders can benefit most from DesignOps in the form of improved communication between the design team and other stakeholders, like the engineering team, marketing team, and operations team. These clear lines of communication highlight any issues with the design process and make it easier to keep the design vision on track with the project's business objectives.
Business leaders
Design maturity can be a great asset for business leaders who are always seeking a competitive edge. A beautiful, intuitive design can naturally edge your product to the front of the pack, increasing your reach and helping your business pull ahead of the competition.
When DesignOps is working for you, you'll see...
Better collaboration between design and development
Higher customer satisfaction
Reduced churn
Smoother internal team request processes
Fewer silos and better feedback loops
More efficient budgets
Meeting your release deadlines each quarter
Succeeding with DesignOps
Product design leaders need help in talent retention and turnover as organizations rely heavily on products to drive growth. Scaling up design teams can be challenging, and leaders often need a framework for building a DesignOps practice. Prioritizing features for the most value and launching updates quickly can also be difficult.
But, establishing a DesignOps function will help you build a highly-functional product design team despite the initial effort and challenges.
Send us a postcard, drop us a line
Interested in working with us?
We scope projects and build teams to meet your organization's unique design and development needs. Tell us about your project today to start the conversation.
Learn More