It was coming up on 9 PM Friday night and I was downstairs by myself; my 2 year old as well as my wife (8 months pregnant) were both sick and in bed early.
My wife is a good sport about most things I want to watch, but I tend to use times like that to view things on which I don't want to spend her goodwill. That particular evening, it was Morgan Spurlock's latest outing, Comic-Con Episode IV: A Fans Hope (BTW, I think this is a pretty spot-on review).
At 9:03, I was kicked out of the movie by the Emergency Alert System (or at least some kid-brother sidekick of it). A bare-bones digital message appeared on the screen as an eerie computerized voice read the message:
"As of 9:01 PM, a tornado has been detected in Jenkintown Pennsylvania, moving at 30 miles per hour. By 9:10 it will be in Abington Pennsylvania. By 9:17 it will be in Hatboro Pennsylvania. Please take appropriate precautions. Move to a basement if possible. Stay away from windows."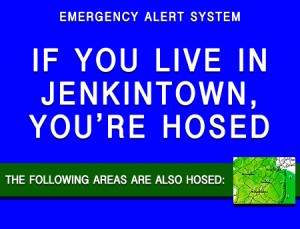 Then the message disappeared, and I got kicked back to my movie as if nothing had happened. As my heart began its latest attempt to leap out of my chest, the internal monologue began:
W…T…F?
Jenkintown is the size of a postage stamp. If there was a tornado spotted here two minutes ago, um… when can I expect it to tear my house to splinters?
Most of my first floor is comprised of windows
The girls are both very sick, and I don't have much time… if I go bursting into their rooms like there's an axe murderer in the house in an effort to get them to the basement, it doesn't bode well for me if the house isn't actually destroyed
Again, WTF? It isn't even raining out there. Is this the real deal?
How do I get more information to know for sure what I should do?
The Internet is always a reliable source of information! To the iPad!
AN ASIDE: Just so we're on the same page, yes, I should have woken them up, regardless of consequence, if there even was a shred of a possibility a tornado would hit our house. I'm an idiot. But that's not the point of *this* story.
So, now I've got the iPad in my hands… where do you go? Where do you go, ON THE INTERNET, when you need immediate, deadly accurate, no bullshit, no snark, save-me-and-my-family-from-a-tornado-in-our-backyard type information? I'll be damned if I know. And this is why, when push comes to shove, the Internet is more broken than we think it is.
See, we have this illusion that everything we need to know, we can find there. And that may be true when we have the luxury of a few extra minutes to endure the rat holes, wrong turns, little design frustrations, etc., that plague us when we're trying to find out how much bread and milk we need to stock up on when the snow storm of the century (typically an eventual 1"-3") hits us this weekend.  But the irritation at the pop-up messages and fire hose information architecture I endured on my local news site was magnified 100 times in this hyper time-sensitive context… having to change my zip code three times as the weather section kept kicking me back to Philadelphia… then finally getting info for my specific area and only finding an unhelpful high-level weather warning banner with no specifics.
What was I expecting to see or learn? I don't know, it was a moment of panic. And in that moment, I reached out to the information source I rely on in pretty much every other context… and it was woefully unhelpful. We talked about it in the office on Monday:
Emily: If you were ever in a situation where you lost power, your wireless would have gone out and you'd be out of luck anyway

Phil: No, you'd just use 3G

Me: My iPad doesn't have 3G

Phil: Then you'd do it on your phone

Me: And endure the horrors of non-optimized mobile experiences that would probably be even worse than what I experienced on the iPad

Emily: And in an emergency, as we've seen, the network would grind to a halt anyway

All: *sigh*

And then…Mike: It's because the Internet is amazing for emergency response, but it is terrible during emergencies

(record scratch)
Yep, that pretty much sums it up. The Internet is just not designed that way (yet). There's no clear single source (at least not in the greater Philly area) for emergency info. Search algorithms are getting better at this but prominence is still determined by those who are the best at SEO, not necessarily those who have the most helpful/reliable information. These things are key because, if I need to find an address RIGHT NOW, it's a common enough task that I can do it with Google even under time pressure and make out OK. But up-to-the-second-tornado data? Not something I've ever needed before, so I have to SEARCH for it. Maybe those in the tornado belt know where to turn because they do it regularly, but…what about the next pandemic? Alien invasion? Political coup? Situations in which we can't tolerate wasting time to get reliable information?
<rant> Hey, you know what? This reminds me a lot of other things that we never bothered to regulate/figure out/optimize until institutions we took for granted collapsed in catastrophic failure. Wouldn't it be cool if we got out in front of it for once? Because mark my words, this isolated incident of mine is going to happen on a grand scale before we know it, and it would be great if, along with existing support systems, the Internet could be of help when we might just need it most. It can be done in theory…but some of the suggested ways have a bit of a "Big Brother" implication to them…will it be done right?</rant>
Epilogue
I turned on the radio, and switched it to my local AM station (high tech! established 1920). By then, it was 9:30 and I learned the tornado warning had expired. I was lucky. But it made me think long and hard about next time and on what/whom, when the chips are down, I should be relying.
The point, from a UX perspective? The experience reminded me that although experience design these days pretty much always requires some thought directed toward "what parts of this can we put on the web/people's smartphones/etc.?", there are still plenty of situations in which the Internet is a pretty secondary player, and people need to aware of the circumstances in which that's the case. It's then a question of the effort, infrastructure requirements, and in come cases, social implications of  putting it more front and center… and ultimately determining, is it worth it? When it comes to emergencies with life or death implications, maybe it shouldn't be so complicated.
---
Send us a postcard, drop us a line
Interested in working with us?
We scope projects and build teams to meet your organization's unique design and development needs. Tell us about your project today to start the conversation.
Learn More