I know once you found out that Russ and I are at SXSW Interactive it put you on the edge of your seat, waiting for another batch of sketchnotes. Well, you're just going to have to wait until next week for the full sketchnote reveal. Just a quick post about Day 1:
SXSW is gigantic. For example, Saturday morning I have to select from over 20 sessions happening between 9:30 and 10:30. With all of those options, choosing is difficult…and it's more hit and miss than you might think. Landing in one that's disappointing means you are missing something valuable somewhere else. Finding a home run session is huge, and that's why I decided to write this post. If you're considering presenting at a conference – take note:
Buster Benson of Health Month and Thor Muller of Get Satisfaction get it: they practiced what they preach in their session Gamechanging: Turn Your App into a Cooperative Game. Rather than just talk about game design for an hour, they designed a game into their session. Within minutes of the beginning of the session, around 500 people in ballroom 12AB of the Austin Convention Center were arranging themselves chronologically by birth date. Each month was a lifeboat, and we all had to find our boat and arrange ourselves chronologically by day or we'd drown. I found myself standing on a chair screaming "OCTOBER! OCTOBER IS HERE!" while two new friends stood by me holding up handmade signs reading the same thing. Five minutes later, October was complete, and so was every other month of the year. Five minutes, folks. 500 people arranged themselves in chronological order in five minutes.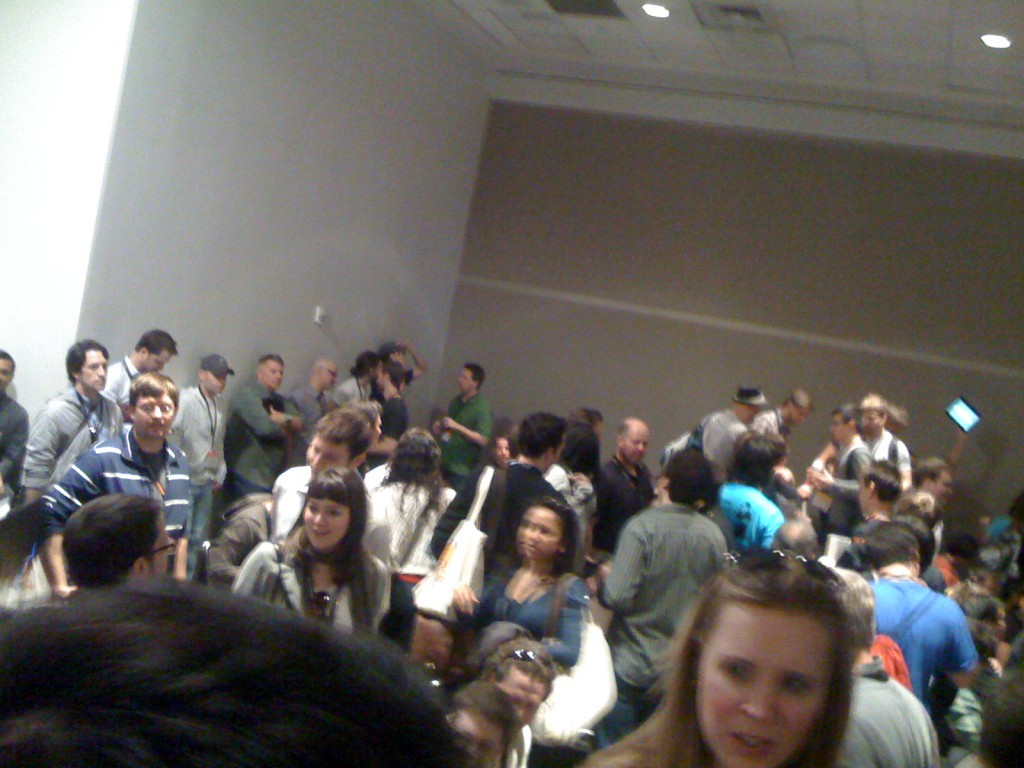 This led into a discussion about an important aspect of designing collaborative games: emergent self-interest-based cooperation. Soon, they introduced a second challenge designed to demonstrate their next aspect of game design. This time, they offered bourbon to the winning team.
Buster and Thor ran out of time before they could run the third challenge, but it didn't matter. They showed rather than told – and that's so rare at a conference, I thought it deserved its own post. Not only is it good design, it takes guts to ask 500 people to change their carefully-chosen seats in a packed room. Bravo, fellas!
More next week after we recover. Unless perhaps one of us is blown away again in the meantime and moved to post. Fingers crossed!
---
Send us a postcard, drop us a line
Interested in working with us?
We scope projects and build teams to meet your organization's unique design and development needs. Tell us about your project today to start the conversation.
Learn More