I recently attended the IA Summit in Denver, where I attended many thought-provoking sessions, led by great speakers with interesting perspectives on all things Information Architecture. (A collection of links to decks and info about most of the sessions can be found here.)
While I took many ideas, lessons, and inspiration away from the experience, there was one slide that has really stuck with me since the Summit.
The slide appeared in Jared Spool's talk about "The Most Valuable UX Person in the World". He described the skills and areas of expertise that this person would possess, and showed a slide listing those skills that looked like this: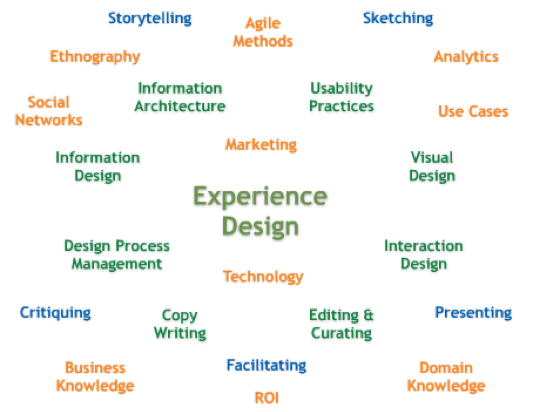 Several things really struck me about this slide.
First, I never paused to think about all of the qualities that make for a great Experience Designer, but wow – that slide illustrates the impressive breadth of skills that we as UX Professionals practice and refine on a regular basis. Of course, most of us specialize in one or two areas, but we should all strive to hone our skills across the board, supplementing and complementing the expertise of our team. (By the way, if you feel that you possess many of these skills and knowledge areas, contact us – we're always on the lookout for more of those Most Valuable UX Persons to join our team).
The second thing that struck me about this slide is that we are in such an exciting field: one that incorporates many different disciplines, one where we can learn from our peers who have different specialties than we do, and one with so much possibility for fun and interesting work.
The final and most poignant take-away from this slide was how closely the items on the slide parallel my area of focus: add the word "Learning" above "Experience Design" and you can see almost exactly what is required to create great learning experiences (I'd add Adult Learning Theory and Cognitive Science to the slide, not just for LXD, but for XD as well). This is what many Instructional Design practitioners are missing: the perspective of all these skills and knowledge areas that can inform learning strategy, process, and deliverables.
Jared went on to mention three "specialty collections" in our field: Mobile Design, Service Design, and Content Strategy in his talk. At Think Brownstone, we're adding Learning Experience Design to the list.
Thanks for the inspiration, IA Summit!
---
Send us a postcard, drop us a line
Interested in working with us?
We scope projects and build teams to meet your organization's unique design and development needs. Tell us about your project today to start the conversation.
Learn More