I've been thinking a lot about social media lately, and have taken some time to discuss the contents of this post with a bunch of people in person and get their opinions, which has been enlightening and convinced me that the topic is worthwhile.
My thoughts can be broken down into two big buckets:
1.    Social Media Tools Won't Get Better If We Aren't Really Hard On Them (and How We Use Them)
2.    Don't Call It Multi-Tasking—Jacks Of All Trades Are Masters Of None
This post will address #1, and I'll post my follow-up ASAP.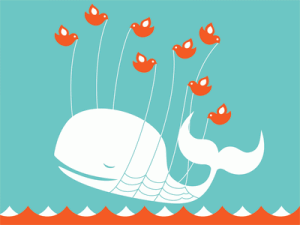 Social Media Tools Won't Get Better If We Aren't Really Hard On Them (and How We Use Them)
Last week we watched the video stream from the FDA's Social Media Hearing with a client, and after a while it became a running joke that most presentations either began or finished with the phrase "in short, social media is here to stay". Noted. Let's move on.
I think most of us understand that the way we communicate has already changed forever, and will continue to evolve as a result of innovations like Twitter, Facebook, etc.  Most of us don't think it's a simple fad (whether we understand it or not), and most of us aren't trying to shut it down or tie ourselves to the tracks in a futile attempt to stop the oncoming train (like, say, suggesting to the FDA that Google's SideWiki should be "torn down").
But one thing that struck me at epatcon and got me thinking back to An Event Apart and earlier, is that people (particularly at professional events) often talk about social media like it's a bucking bronco that we have no control over—and we'd better just jump on and see how we can try to make it, even if just fleetingly, bend to our will before we get tossed. I think that to some degree, that metaphor isn't entirely unfounded (provided that you then dust yourself off and try again), though I also think that applying good design thinking to using the various channels can provide much more than just minor influence.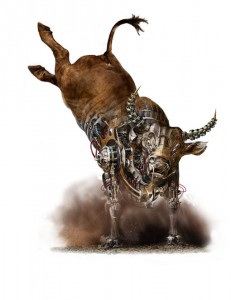 However, my bigger concern is that I hear people at professional gatherings talking about social media with reverence, fear, or with an air of the apologetic—and it must be OK for us to candidly talk about the design flaws in some of these tools as well as the flawed approaches some people take when using them, or else they're not going to improve. Yes, by doing so you may incite evangelistic technocrats and have to weather being called "out of touch" or some other variant, but those who say those kinds of things will be swept out to sea when the tide changes next (and it will). The fact of the matter is that social media is expanding beyond the left-brainers who created it and aren't put off by its usability issues, the youth who embraced it and helped it explode, and the early adopters who just thought it was cool—and that's when we have to take a more critical look at the user experience for the broader population.
1. Design
We've already seen evidence that social media tools aren't really as "wild west" and anarchic as we might be led to believe. We've seen good design trump poor(er) design in what has happened with MySpace and Facebook. Take a look at this recent usage report: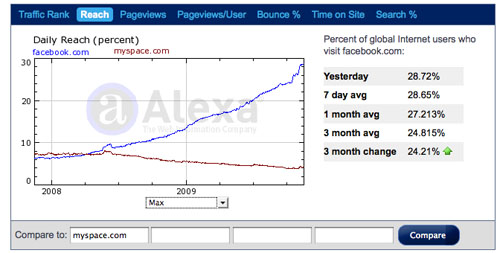 It was a grassroots effort, and the people have spoken. MySpace ruled the roost until something better came along – something with a better user interface, a better and more consistent aesthetic, and a more robust set of tools for interacting with others. There was a time when people were talking about MySpace with fear and reverence, wondering how to harness its power… and now it really doesn't rank at all on the priority list for organizations wishing to create a holistic online presence (unless that organization is your little brother's hardcore band). What's more, it wasn't just replaced, it was replaced by another tool that was then adopted exponentially. The point is that these beasts can be tamed with thoughtful, design-oriented thinking, whether it means creating a new tool or just figuring out how to best utilize the ones that exist.
2. Etiquette
Back to epatcon. At the conference, there was a large flat-screen monitor present with a running Twitter stream (using the #epatcon hashtag) on it. Tweets were of three varieties:
Quick and insightful distillations of key points that could provide some insight to those not present
High-level statements that without the context of actually being in the room and hearing the rest of the presentation weren't very useful—superfluous for those in the room, and too general for those elsewhere to do anything with
Quips about what food people were eating/craving, where they were sitting, and other general "hey, look at me!" type tweets—which are fine amongst friends, but not worthy of the conference hashtag
(I had intended on providing examples but Twitter has been telling me that "older tweets are temporarily unavailable" for several days now, hence the "fail whale" image up top)
Add a flurry of re-tweet messages from all three categories to the mix, and the stream ended up consisting of very few meaningful/useful nuggets and a whole lot of noise. Someone off-site who is interested in the conference can pick up on the hashtag and follow it themselves (a simple tweet saying "interested in the conference I'm attending? follow #epatcon" will do, and eliminate the need for excessive re-tweeting), useful since someone who isn't interested doesn't want to see another re-tweet every 30 seconds. Concentrate on adding original, quality content to the stream—it's not about repetition, chiming in, or rephrasing. No matter the channel, quality will always trump quantity.
Another reason why this was somewhat amusing to observe was because we were at a conference discussing how to use social media to communicate important medical information to patients. If we were doing that, wouldn't we want to minimize noise as much as possible and not put the onus on patients to sift through all of the static to find the meaningful content?
In the end, one of the beautiful things about social media is that while we don't want the tools to impose etiquette on us, as they mature and develop the etiquette becomes self-imposed by the community. This is because, simply put, those who create the best experiences for their customers, friends, and colleagues will earn their loyalty.
---
Send us a postcard, drop us a line
Interested in working with us?
We scope projects and build teams to meet your organization's unique design and development needs. Tell us about your project today to start the conversation.
Learn More