A few months ago, Russ and I decided that 2011 would be the year we headed down to SXSW Interactive to see what all the fuss was about. We noticed quite a few friends of Brownstone are presenting and we've tossed around some of our own session ideas. We like to attend a conference to get the vibe for the audience before we pull the trigger on session design, so we registered, booked flights for Austin, stopped shaving, and went shopping for ironic sunglasses.
Full disclaimer: after almost 20 years of attending and speaking at professional conferences, I've become more of a fan of smaller conferences. In fact, I'm a huge fan of single-track conferences like AEA or something of the TEDx variety. While SXSW Interactive has grown into a megaconference; the SXSW reputation, recommendations from our pals, my film background and a longtime desire to visit Austin convinced me that it's worth checking out.
I'm still hopeful, but I have to say I'm disappointed so far. It would be kind to say the SXSW online experience has been difficult. Apologists may defend it, but c'mon.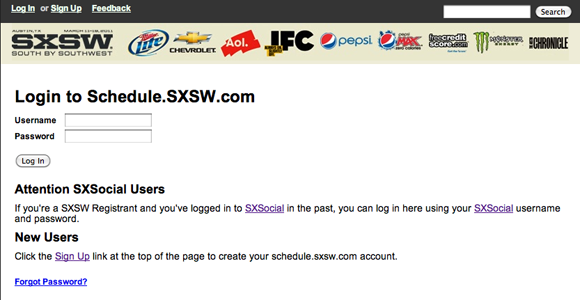 I could enumerate the issues users encounter as they navigate registering, paying, finding a hotel, re-registering for SXSocial and picking sessions to attend – but if you're going to SXSW, I suspect you know what I'm talking about. If you're not attending, well, let's just say they don't follow the principle of "design it so it just works." It's more the principle of "eventually, they'll figure it out."
But maybe it doesn't have to just work. SXSW Interactive is successful enough to book the entire Austin Convention Center and every hotel in town. Maybe the online issues are because it is so huge. That's a lot of information to manage. But isn't that enough justification to take the time to design a more effective online experience? At the risk of upsetting the SXSW Gods I hesitate to point out that the word "INTERACTIVE" is in your title. From where I'm sitting, it doesn't feel like any of the decision makers said, "The service the site provides is the beginning of the SXSW experience. It needs to be integrated and seamless."
If it's so huge and so successful, can't a few more dollars be invested in some thoughtful online experience design? Wouldn't that be in line with many of the tenets proposed by the interactive sessions?
I'm still looking forward to the conference and checking out Austin. If you're going to be there, let us know. If not, we'll do a few reports from the road.
---
Send us a postcard, drop us a line
Interested in working with us?
We scope projects and build teams to meet your organization's unique design and development needs. Tell us about your project today to start the conversation.
Learn More