After my post about the overall experience of SXSW Interactive (an experience that left some things to be desired), I wanted to also do a quick recap of the highpoints. Despite the hit-and-miss scorecard for the sessions I attended, there were a few real standouts:
"The New Frontier Of Social Gaming"
Brian Reynolds of Zynga
One of my favorites, this session provided some great insight around the secrets of designing successful social games and was one of the few that had actual bullets that could be taken away and applied to your own projects and ideas. I tend to like sessions that are broadly interesting but also have some take-away potential for practical application – this fit the bill nicely.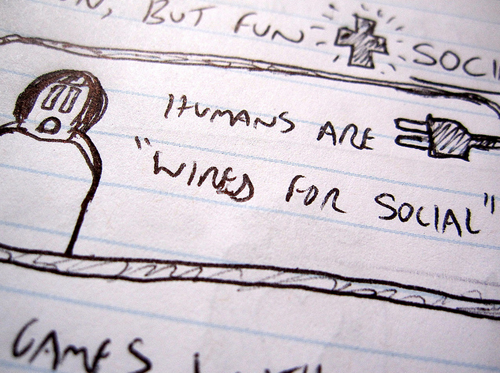 "How Many Rungs? Social Change & The Engagement Ladder"
George Weiner of Dosomething
Laura Cochran of Gannett
Patty Huber of Groupon
Tom Dawkins of Hopelab
Robert Rosenthal of Volunteermatch
Panels can be tough depending on how they're run. Pitfalls at the opposite end of the spectrum would be a quick 5-10 minutes from each participant with a loosely unifying theme following by quick Q&A, or a bicker-fest right out of the gate with no common thread (like the one I attended with folks from big banks and "indie" banks sniping at each other for an hour). But this particular panel worked—it was more unified than most with some engaging participants with compelling ideas and points. There was a novel take on the typical engagement ladder model and good conversation around it, as well as some talk about companies like Zamzee and their own unique model. Definitely some folks and companies worth following.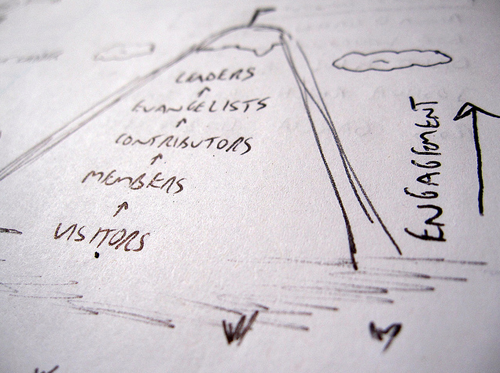 "Cheaper, Better, Faster: Can Casual Games Save Education?"
Gary Goldberger of Fablevision
Kristy Bowden of D2D Fund (now commonwealth.org)
Scot Osterweil of MIT Education Arcade
Ward Tisdale of Advanced Micro Devices
Another panel, and one that suffered a bit from the time constraint. I think that panels have the potential to be extremely valuable, but when you've got one with 4-5 folks on it and it's stuffed into an hour slot, it can be limiting. Though all of these participants did well, it was a real pleasure learning about the work Scot Osterweil has been doing and I think in particular he captured the imagination of the audience, based on the volume of questions aimed at him afterward.
That leads me to the Heath Track, and the two sessions I attended over there, both of which were outstanding and had me so engaged that I actually forgot to take notes.
"Your Computer Is The Next Wonder Drug"
Jonathan Richman of DoseOfDigital
A fascinating session on the future of the integration of technology in healthcare and in particular, how we'll integrate this kind of technology into our own lives to personally track and monitor our health on a daily basis. But interestingly, there was also a lot of talk about the psychology around it all and how certain technologies may address curious habits humans have regarding proactive vs. reactive measures toward increasing health. I've found myself thinking about messages from this session since, and even quoting it to others—a sure sign that it hit the mark.
"Health Communities: Superheroes Who Need A Justice League"
Jenni Prokopy of ChronicBabe
I was already a fan of Jenni's from seeing her at BlogWorld in Las Vegas back in November, but this session really hit home for me because it aligned very closely with some of the conversations we've been having around the Think Space on how to take action on the promise of "Social Health". There's a lot of talk about it, but few seem to take active steps toward doing it. Not Jenni. She not only created a space to start walking the talk, but has been actively monitoring it to see what's working and what isn't, making adjustments and improvements, and distilling the learning so it can be replicated elsewhere for communities in need. A superhero in her own right!
Those were really the standout sessions for me, despite attending nearly double this amount while in Austin. But hey, this post is about accentuating the positive—and if SXSW beefs up the speaker list with ringers like these, we could be on the road to redemption. Well done, folks!
---
Send us a postcard, drop us a line
Interested in working with us?
We scope projects and build teams to meet your organization's unique design and development needs. Tell us about your project today to start the conversation.
Learn More