At Think Brownstone, when we go to conferences we do sketchnotes. This has become a fun tradition for us, and we keep doing it because:
It forces us to pay close attention and seek to capture the most important points made by the speakers.
It helps us retain the information we learn so we can apply it to our lives.
It generates a nice summary of the event that we can share with our co-workers both during the event via Instragram/Flickr feeds and when we return.
It helps us, as Laura Fitton recommends, be useful on this blog, and on Twitter and Facebook!
There are lots of different ways that people do sketchnotes. Here are some guidelines we TBIers try to follow when we do ours:
Use a smaller notebook (I use these) and a bold-tip pen (I use these) so photographs of your sketchnotes can be read on tiny screens.
Draw your sketchnotes in real-time during the talk (don't scribble messy notes and then draw sketchnotes later)—this is challenging, but it keeps your notes fresh and doesn't leave you with one more thing on your to-do list after the event!
Don't put too much pressure on yourself to draw objects or pictures—most of the time, simply writing down key words and phrases is enough. Try to discern the speaker's most important points and write down those words/phrases bigger than everything else on the page.
Think of each notebook page as a work of art that can be enjoyed (and shared) as an individual piece of content. During moments when you're not feverishly trying to write down something awesome that was just said, draw boxes or shapes around key phrases you've captured or decorate the page with a border or pattern.
Include each speaker's Twitter username in your sketchnotes so your readers can look them up and learn more.
Photograph and post your sketchnotes periodically during the event—don't wait until you get home! Tweet key quotes that you've captured, mention the speakers by Twitter username, and be sure to include the event's hashtag. Try to take your photos during the day in natural light—just throw your notebook on the floor in front of a big window, or go outside!
Carl and I recently attended the Inc 500|5000 conference in Washington DC, and of course, I did sketchnotes. You can see them all on Flickr and Instagram.
A little more than a week after the Inc conference, what's sticking with me the most? Well, actually it's a talk about food! The Inc crew smartly included a breakout session on critical healthy lifestyle habits "that fuel our success." Norm Brodsky introduced us to his nutritional consultant Barbara Mendez, a registered pharmacist in New York City. Among other great advice, Barbara suggested that we eat a good breakfast every day—ideally consisting of eggs, tomatoes, and green vegetables. I've started doing this, as have a few of my colleagues!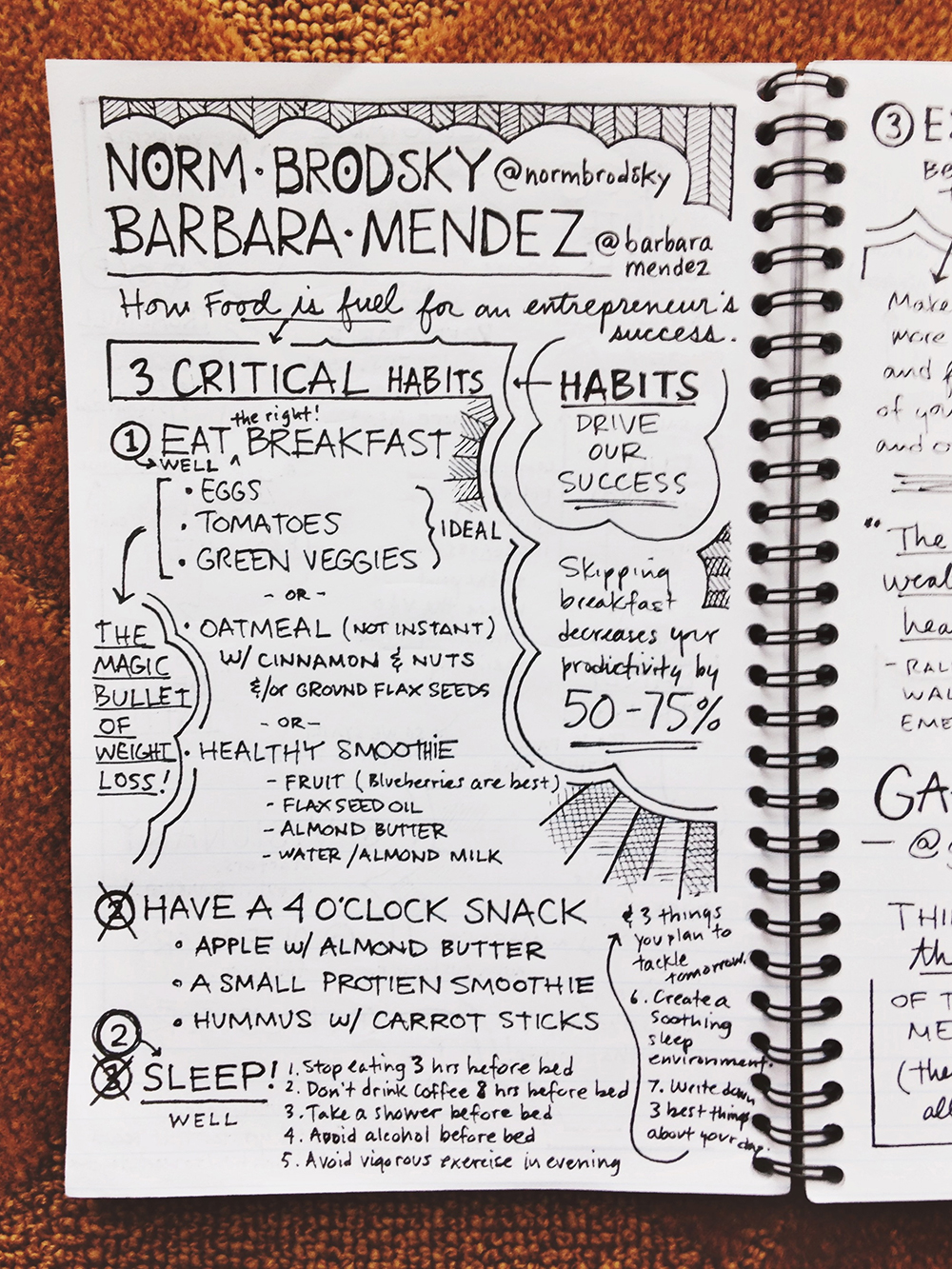 Check out the rest of my sketchnotes for more inspiring insights on topics related to health, business, and leadership from this year's Inc 500|5000 conference. And if you're a sketchnoter too, share a link to your stuff in the comments below!
---
Send us a postcard, drop us a line
Interested in working with us?
We scope projects and build teams to meet your organization's unique design and development needs. Tell us about your project today to start the conversation.
Learn More