About three weeks ago, I spent an excessive amount of time in a Verizon Wireless store and finally made the decision to order the new HTC Incredible. I've been in the market for a smart phone (my first!) for some time now. I played with a couple of friends' iPhones when they first came out and really loved the touch interface and the variety of apps. Then another slew of friends picked up Motorola Droids and, once again, I found myself green with envy. Yet I waited, wrestling with the knowledge that the next best thing is always 3 or 4 months away from being released.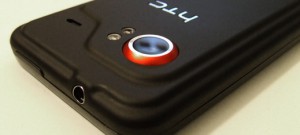 The HTC ended up winning out over other smart phones for a few reasons:
I was already a Verizon customer so it was a simple upgrade
It was being touted as a multiple app running beast (very appealing to the multi-tasker in me), and
I thought there might be more interesting apps coming out of Google's Market than the more strictly moderated iTunes Store
After running around all holiday weekend with it by my side, I think I made the right choice.
Observations:
Easy setup: Even though I was upgrading from an older model phone (Motorola W385), I was able to transfer my contacts without any issues using Verizon's Backup Assistant app. The Incredible downloaded them all, sorted through the rather disorganized mess of numbers/addresses/emails and did a great job of linking everything together into an usable directory (finally!).

Fun apps: I immediately downloaded a number of apps that I had heard about, like Barcode Scanner, Pandora Radio, FourSquare, Google Sky Map, and a new battery widget that let me easily manage the WiFi, GPS, Bluetooth, and screen brightness. I'm really taken with the Barcode Scanner, as it ties right into Google Shopping so you can quickly check out price ranges on anything you can scan. It also supports QR Codes, which you may or may not have seen before. They can be used to quickly share a URL or short message and are great for accessing something quickly on a mobile device without having to type anything.
Holy 8MP Camera, Batman: I'm exceedingly impressed with the camera. It's not the high megapixel count that does it for me, but the performance of the autofocus. My last phone came with a VGA camera which was useless unless I wanted to know what something would look like if I was underwater with a clear plastic bag over my head. The Incredible on the other hand takes great pictures and the Photo app is very intuitive. I also like the app FxCamera which provides a number of filters to apply to photos to make them look like Polaroids (nostalgic), overexposed (hipsterific), or Warhol-esque (groovy).

Battery usage: The battery life seems to be alright. I'm very aware that anything I decide to do will use it up but I've been good about enabling/disabling services as needed. I can definitely go through the whole day on less than one charge. (As I'm typing this, the phone has been up and running with moderate usage for 8 hours and I still have 70% of the battery left). Because my previous phone could go for 3 or 4 days without a charge, I initially felt cheated – but the Incredible has far more in common with a laptop than a phone. That point of view helped massage my expectations into something more reasonable.
I feel the need – the need for speed: Thus far I've experienced nothing but great performance while navigating features and running apps. The phone is very responsive and the haptic feedback (the buzz whenever you click or type) is very nice. Last night I started running all sorts of apps to see if I could make the phone sweat and, even while using Google Earth, Layars, generating directions in Navigator, playing music, and recording a video; the phone never stuttered. I don't know if that should be expected but I was impressed.
Call quality and messaging: To be honest, the calling is only so-so. My last phone was unable to do anything but make calls and double as a doorstop, but it did both of those things exceedingly well. The Incredible falls down a bit here. I do like the way it handles SMS messages, however. It displays them like a chat log, increasing the feeling of natural conversation rather than uni-directional texts.
~~~~
Anyway, my iPhone lovin' friends at Think Brownstone were interested in my gut-level thoughts on usability with this very alien device after the first 72 hours and I thought maybe you would be, too. Has the battle for the smart phone throne just gotten even more intense? For me, it's over. For now, anyway.
---
Send us a postcard, drop us a line
Interested in working with us?
We scope projects and build teams to meet your organization's unique design and development needs. Tell us about your project today to start the conversation.
Learn More