At Think Brownstone, we don't shy away from the fact that the most common Experience Design targets tend to be applications (mobile, tablet, desktop, etc.) and web technology – there's a lot of exciting and important work being done there, and it's the way in which we first engaged with many of our long-term clients. But lately we've been having more and more conversations outside of that realm, talking about things like recruiting methods, informal learning strategies, charity events, and non-profit donation experiences (among others).
Recently, we spoke with a client who is anticipating a major organizational change and is looking for strategies to facilitate the shift internally. The change will be on a scale that it will affect every individual in the organization in many different ways. The impacts will be felt on a continuous basis, in a manner that will require quick and agile response to keep the organization in alignment. It's what you might call, in official terms, a "wicked problem".
The client team needed to prepare themselves to adapt, react, and shepherd employees through the uncertainty and turmoil to achieve the business goals that are triggering the change. A problem like this may sound overwhelming, intimidating, or even insurmountable. To an Experience Designer, however, it's the kind of challenge that gets us out of bed in the morning. So, we scheduled a session with the client team, and pulled out all of the stops – including round trip transportation to the Think Space via party bus and free reign of the space after the scheduled portion wrapped up. We were going to tackle some heavy problems, and we wanted the experience with us to be as easy and comfortable as possible.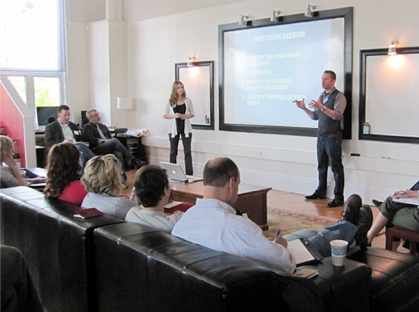 There are, of course, many different ways to approach this issue and plenty of respected and long-standing organizational theories and models to consider that can help guide the process of managing change. But our natural response to approaching a problem like this, while it may be informed by organizational psychology and related fields, stems from our holistic Experience Design perspective. We truly believe that any challenge can be successfully addressed at a fundamental level by following the design process, even if certain steps might require tweaking based on the specifics (something Carl brought up repeatedly during the Deepwater Horizon oil spill). We also believe that the arguments around Design Thinking being dead or alive tend to boil down to yet another battle of semantics – the fundamentals are sound no matter what you call it – and have learned from experience that teaching our clients the fundamental tenets of Design Thinking gives them some additional arrows in their quiver to point at organizational problems that need solving.

So, that's what we did – providing a reusable structure that can not only help define the problem, business objectives, and employee needs, and drive appropriate solutions, but it can also help the client team navigate through unexpected challenges and determine appropriate solutions throughout the change process. It's all in a day's work for…Think Brownstone! Let us know if you'd like to learn more.
---
Send us a postcard, drop us a line
Interested in working with us?
We scope projects and build teams to meet your organization's unique design and development needs. Tell us about your project today to start the conversation.
Learn More