I'm not always a huge fan of Apple's Mail client, but for a series of reasons that can be rolled up into the master excuse of "Sometimes Phil is kinda lazy," I use it.
I was a huge Mac fan back when a color 8″ monitor caused crowds to gather and the folks in the university computer lab I ran would wait in line to use the Mac II with the 20Mb hard drive. But then I joined the corporate world and the PC became my friend.
We've made the welcome decision to standardize everyone at Think Brownstone to Macs. It's been a learning experience (yes, there are things you need to learn how to use on a Mac) but it's also been like a reunion with a long lost friend. The kind of friend that brings you small gifts you'd never think of buying for yourself, but once you get it, you never put it down…
The other day, I emailed an old friend asking for his mailing address. When I hovered over it to copy/paste it into my address book, I saw this: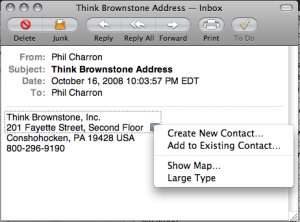 It even found matches between the content of the email and any fields in my address book and suggested existing contacts to add the address… phone number… email address to.
You see, it's smart enough to recognize patterns… phone numbers, emails, addresses… and it knows that hovering over it is usually the precursor to the acts of highlight, copy, open address book, paste, rearrange into correct fields (zip, area code, etc.). So my new Mac has just saved me a frustrating series of clicks, drags and edits that I've done a thousand times before. I'm oh-so-happy.
I know, I know, you lifetime Mac users are snickering at me… "Silly PC Phil, Macs are our friends." You're right, this is very friendly. It kills me because a computer is just a tool. There's no reason that any computer I touch can give me little bouts of joy like this… It shouldn't be specific to a Mac – but it is… I'm just grateful it's there.
---
Send us a postcard, drop us a line
Interested in working with us?
We scope projects and build teams to meet your organization's unique design and development needs. Tell us about your project today to start the conversation.
Learn More