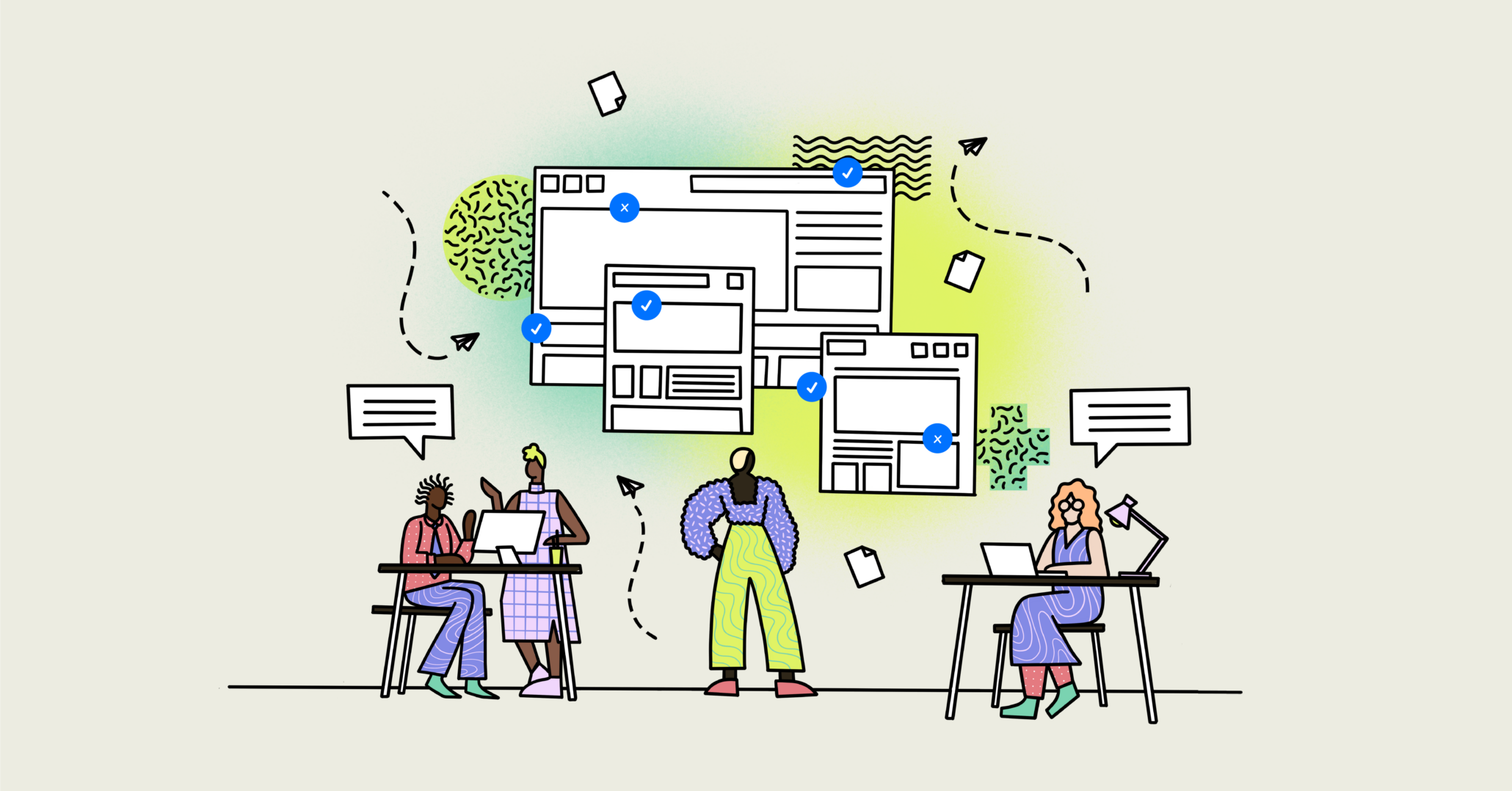 Many people assume that UX research takes a long time to execute meaningfully. Because of this, many teams bypass a critical component of product building because they don't want to delay time to market. Research can feel like an unnecessary luxury or something for other teams with bigger budgets. 
But research isn't a luxury—and doesn't have to hold up your project or delay your time to market. In our experience, we've seen more delays happen in projects that don't integrate research into their production process. These projects usually see extended timelines, project bloat, and tech debt.
Without meaningfully centering the user in your creation process and testing as you go, many teams find themselves with products that aren't as effective or well-received as they'd hoped.
At Think Company, we integrate UX research into every project we take on. We're strong proponents of centering the user experience so you can streamline your processes, build more flexible and dynamic products, and generate meaningful business wins over time. If you've been skeptical about how practical it is to integrate UX research into your project and still be able to meet your deadlines, we want to show you how much you can accomplish in as little as 12 weeks.
Your UX research options
There are many research tactics and methodologies out there, but if you're looking to maximize your effectiveness in a short amount of time, we've put together a menu of your four primary options.
In-Depth Interviews ("IDIs")

Process

: 1:1 interviews are conducted by a facilitator with a notetaker and participant. The facilitator guides the participant through a list of curated and client-approved questions. IDIs are meant to be free-flowing, casual conversations. 

Benefit

: IDIs allow you to gain a deeper understanding of user goals, expectations, wants, and pain points. They also allow you to collect high-density data through a flexible interview structure and explore unknowns. 

Result

: IDIs can be used to help to inform roadmaps and feature prioritizations. 
Intercept Surveys

Process:

A series of questions are placed in different sections of

user journeys

to gather in-the-moment feedback from the user's perspective. We like using

Hotjar

for this.

Benefit:

The main benefit of an intercept study is to "meet people where they are." Unlike a survey, the user does not have to leave the application to provide feedback. And if you need to learn how users feel about a particular part of the application, you can place questions directly on it and intercept real users as they land on it. 

Result:

These surveys can be highly targeted, and because they're so non-disruptive, you tend to get more feedback than other tactics.
Usability Testing and Validation

Process:

Tests where observers can see how users interact with the product at various design stages. These sessions can be moderated or unmoderated.

Benefit:

Your team can run usability tests throughout the design process to help identify pain points before getting to development. These tests can be

quantitative or qualitative

and can be as sophisticated as incorporating sentiment analysis, heatmaps, and more.

Result:

With programs like

UserTesting

and

Maze

(two of our favorites) that have their own panels, getting participants is relatively quick once the test plan is in place.
Focus Groups

Process:

A group session with a moderator for participants to give their feedback on a design, experience, or process.

Benefit:

Focus groups are a time-saver. If you or your stakeholders are running a super tight schedule and need answers yesterday, a focus group is the way to go. 

Result:

You can get insights in as few as 1 to 2 sessions. Just be careful about the participants falling into groupthink and be aware you may lose some of the details you might get in a more intimate 1:1 setting. 
Setting a research timeline
Once you've selected the right research tactics for you, it's time to implement them. It's important to note that any research should be an ongoing process that happens throughout pre-launch and should continue once the product is live. You can never stop learning from your users.
Here we've highlighted what it could look like to integrate UX research into your pre-launch process and everything you could ideally accomplish in 12 weeks. A few factors can influence this: recruiting participants, team bandwidth to organize surveys and analyze results, etc. But in our experience, this is a realistic timeline of what you can accomplish in just 12 weeks.
Weeks 1-2: Planning and strategy
Conversations with stakeholders to understand what you want to learn

Formulating a research plan

Writing and collaborating on a discussion guide or questionnaire
Week 3: Recruiting
Using the recommendations laid out in the research plan to recruit the appropriate people to test with or talk to 

Scheduling sessions with participants 

Creating a notetaking document to streamline data input and optimize synthesis 
Weeks 4-5: Fielding
Carrying out interviews, surveys, user testing or focus groups 

Debriefing with teammates to begin identifying any emerging trends, common usage patterns, and pain points for users
Weeks 6-8: Synthesis
Mind mapping, sorting, and categorizing of findings 

Abstracting findings to uncover higher level themes

Identifying actionable recommendations and opportunities 
Weeks 9-11: Report writing
Organizing findings, high level themes, and recommendations into a visually pleasing, informative, and digestible presentation 

For user testing, add heatmaps, clickmaps, and any other relevant data-rich imagery to visualize how users interact with the product or service
Week 12: Readout
Presenting findings and actionable recommendations to client stakeholders

Allowing time for questions and providing relevant materials for next steps
Troubleshooting
Snags are inevitable. Especially if you're running on a tight timeline, it's essential to keep an eye out for trouble spots and have a plan in place to adjust to or mitigate any delays. Here are some of the most common delays we see in implementing UX research on a tight schedule—and how we overcome them.
Finding qualified research participants

Problem:

Sometimes, it's challenging to find the right mix of people to target for IDIs. If you can't recruit participants promptly, your whole timeline can be thrown off. 

Solution:

If you know ahead of time that you want to do qualitative research in the form of IDIs, the sales team can help identify groups of people they can ask to participate. It's also a great idea to offer incentives (like e-gift cards) that fit within your company's budget. Easy and surprisingly effective.
Making decisions without enough data

Problem:

There's a fine line between lean research and insignificant data. While it can feel efficient to get feedback and immediately run with it, sometimes this can backfire, resulting in further delays down the line.

Solution:

If you're on a tight timeline and need to contextualize research findings fast, try looking into existing data and past insights to gain more perspective. 
Rushing at the end

Problem:

If you're running tight on time, many teams make the mistake of getting through a research process and not leaving enough time for compiling findings and analysis at the end. Without this, your research can't drive strategic recommendations.

Solution:

Budget plenty of time for analysis at the end. Even if you run over in earlier stages of the research process, you still need to make sure you have enough space to make all that hard work count. Otherwise, you just delayed your project to research for data you didn't use.
Research saves time and money 
At Think Company, we integrate UX research into every project we take on and champion centering the user experience in every build. Research isn't a luxury—it's a vital component of every product pre-launch and necessary on an ongoing basis. Research helps you streamline your processes, build more flexible and dynamic products, and generate meaningful business wins over time. And making this investment in research early on saves you time in the long run and helps you avoid costly delays down the line. 
Research can save you months and years of reconfiguring and rebuilding inflexible, inefficient products down the road. You can do a lot in just 12 weeks.
---
Send us a postcard, drop us a line
Interested in working with us?
We scope projects and build teams to meet your organization's unique design and development needs. Tell us about your project today to start the conversation.
Learn More